Weaving Studio Collection Cameo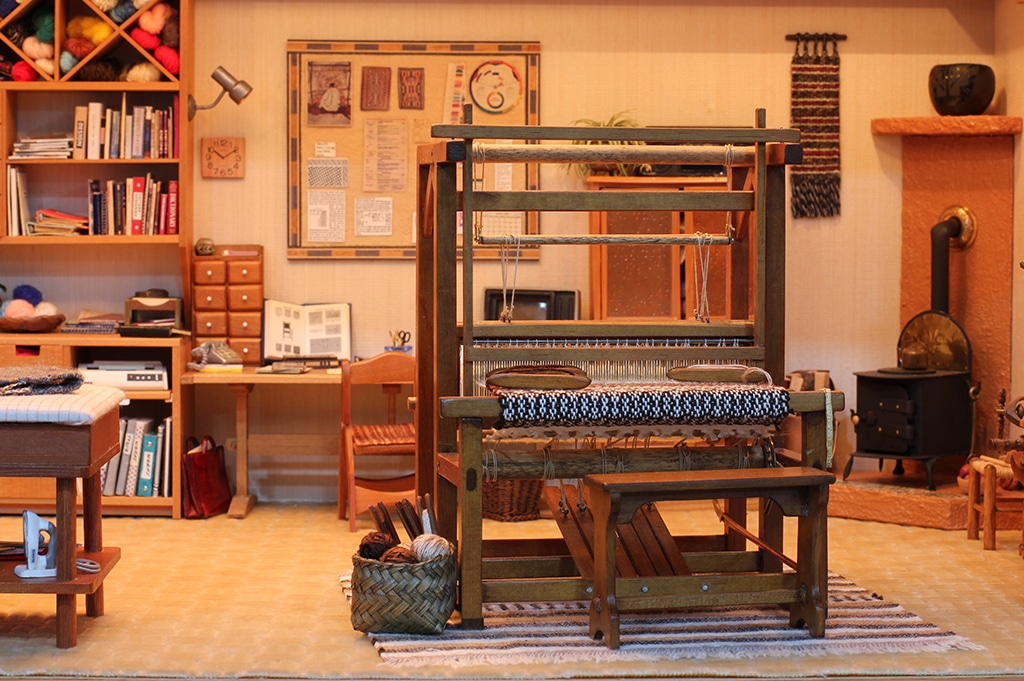 Weaving Studio, Annie Herzfeld, 1991, mixed media, 1:12 scale, gift of Annie Herzfeld, 2020.2.2
---
---
Weaving Studio was donated to The Mini Time Machine Museum by miniaturist Annie Herzfeld. Completed in 1991 and created in 1:12 scale, where one inch in miniature equals 12 inches in full-scale, this contemporary piece was designed by Annie after she became enamored with a fully functional, 4-harness miniature loom made by IGMA* artisans Bert and Norma Oldham of Oldham Studios.
Although Annie knew very little about the art of weaving at the time, she was utterly fascinated by the exquisite miniature model and was determined to make her own weaving studio to house the show-stopper piece. It took the Oldhams six months to create the floor loom featured in Annie's roombox – it came with an actual miniature weaving in progress! And in that time, Annie immersed herself completely in the time-honored traditions of spinning, weaving, and dyeing.
Annie understood her studio would require four essential components: a desk for designing patterns and research; a sink with the needed supplies for dyeing yarn; looms of various sizes and purposes; and a sewing area to convert woven fabrics into finished pieces. The Oldhams also built the functional warping mill and spinning wheel but the remainder of these astonishing fiber art tools of the trade were crafted by Annie herself, using various bits of wood, plastic, and metal to create nonworking replicas. These surprising and unusual models include an inkle loom and Bedouin-style ground loom as well as countless bobbins, and even a bobbin winder- which has an earring-screw as its counter clamp. Annie made all the shelving, counters, tables and cabinets, as well as the handsome wood stove and pie safe with copper doors. Most spectacular of all however, is knowing that Annie herself made all the displayed miniature weavings. Using a 4" x 6" handloom, Annie produced rugs, wall hangings, tote bags and ponchos, and the other weaving projects found throughout the room. Annie later reflected that this petite weaving process was so enjoyable it became addictive, and she delighted in making miniature tapestries as accent pieces for many of her later roomboxes.
*IGMA is the International Guild of Miniature Artisans
---
The Mini Time Machine Museum of Miniatures is a nonprofit 501(c)3. Our mission is to preserve and advance the art of miniatures. A donation to our Collection Fund allows us to properly care for, and expand, our permanent collection for the enjoyment and education of people around the world for generations to come. Please consider making a donation to support this work.