The Carriage House Antique Store Collection Cameo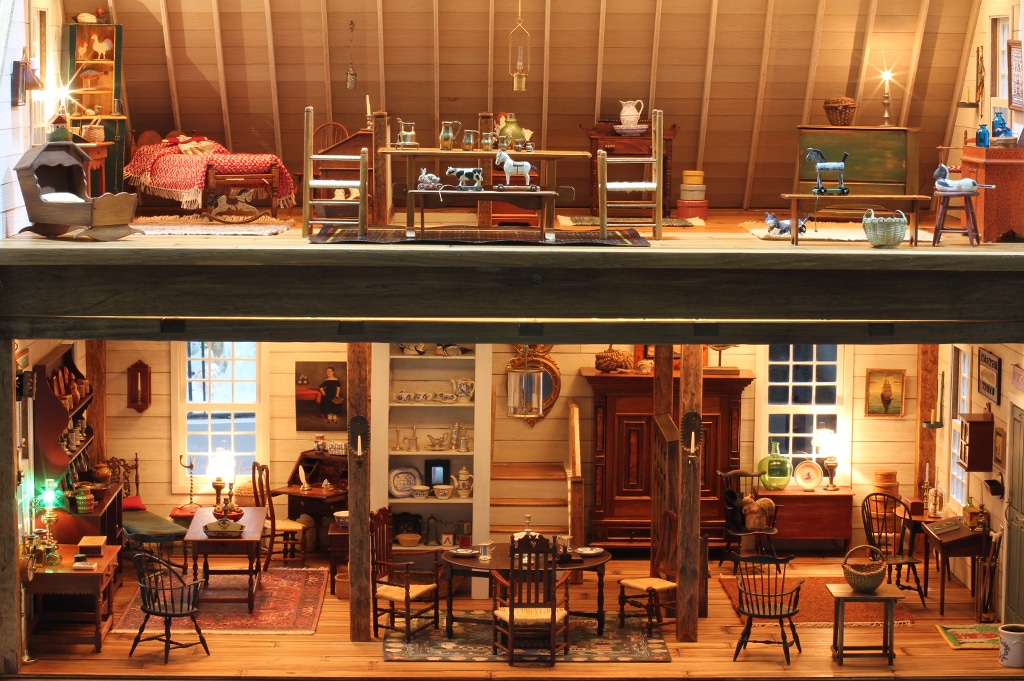 The Carriage House Antique Store, Ron and April Gill (building), Mary Paul Yankey (concept and interior design), 2006, mixed media, 1:12 scale, gift of the Yankey Family honoring the memory of Mary Paul Yankey, 2020.3.1
---
---
Carriage House Antique Store was donated to The Mini Time Machine Museum by the Yankey family, honoring the memory of the late Mary Paul Yankey. Completed in 2006 and created in 1:12 scale, where one inch in miniature equals 12 inches in full-scale, Mary Paul Yankey commissioned this carriage house from IGMA* artisans Ron and April Gill, to serve as a setting to house Mary's growing collection of fine scale Americana items, including needlework, glassware, basketry, and furniture.
Mary drew her inspiration from an actual carriage house, which she saw while driving through Connecticut. Working with photographs and reference books, Mary and the Gills designed this two-story shop, which features white-washed walls, exposed beams, and double doors at the front entry. Two sides of the shop open out for inside access, which allowed Mary to design the layout of the interior shop space. Mary filled the store with outstanding artisan pieces, including Delft pottery by IGMA* artisan Lee-Ann Chellis Wessel and silver pieces by IGMA* artisans Pete Acquisto and Obadiah Fisher.
There is also redware pottery by IGMA* artisan Jane Graber, a miniature painting by IGMA artisan Paul Saltarelli, and a desk by renowned IGMA* artisan Ernie Levy, whose extraordinary furniture and miniature clockwork are highly prized internationally. Electrified, replica brass oil lamps by Ray Storey, which have mouthblown glass shades and hand-turned brass finishing, provide soft illumination alongside the frosted glass hidden between the ceiling beams, installed by the Gills.
Mary Paul Yankey was an avid craftsman and collector of fine miniatures, a passion which offered solace from her lifelong chronic health concerns, and which provided joy and strength in the miniaturist community. This Carriage House was Mary's second commission with Ron and April Gill, who are also long-time friends of the museum and the creators of some of our most well-loved pieces, including Forget-Us-Not Fairy Castle (1998) and Academy of Enchantment (2002) and Dark Side of the Moon (2013).
*IGMA is the International Guild of Miniature Artisans
---
The Mini Time Machine Museum of Miniatures is a nonprofit 501(c)3. Our mission is to preserve and advance the art of miniatures. A donation to our Collection Fund allows us to properly care for, and expand, our permanent collection for the enjoyment and education of people around the world for generations to come. Please consider making a donation to support this work.