The Ball-Paylore Miniature House Project Phase 1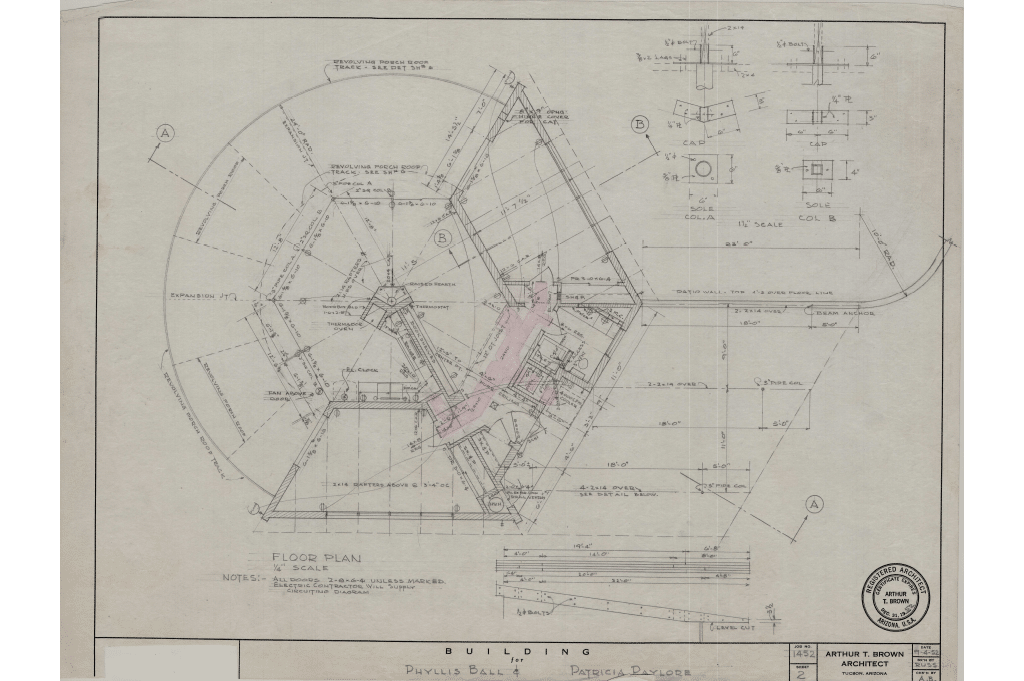 The Mini Time Machine Museum of Miniatures checks in with miniature artist Michael Yurkovic with some questions about Phase 1 of constructing the half-inch scale replica of the Historic Ball-Paylore House.
TMTM: You recently stayed at the Ball-Paylore House when you were doing a site visit. What was your impression of the house?
Michael Yurkovic: My first impression upon entering the Ball-Paylore home was how spacious it felt for a house of only 1200 square feet! The hexagonal form is immediately apparent in the interior, echoing the external shape. The open floor plan of the common spaces is enhanced by the glass exterior of the south facing walls, merging interior and exterior spaces, and increasing the spacious feeling. The private bed and bath areas feel warm and intimate with their low ceilings and carefully considered built-ins. The sparse decoration gave the space a peaceful and uncluttered feel.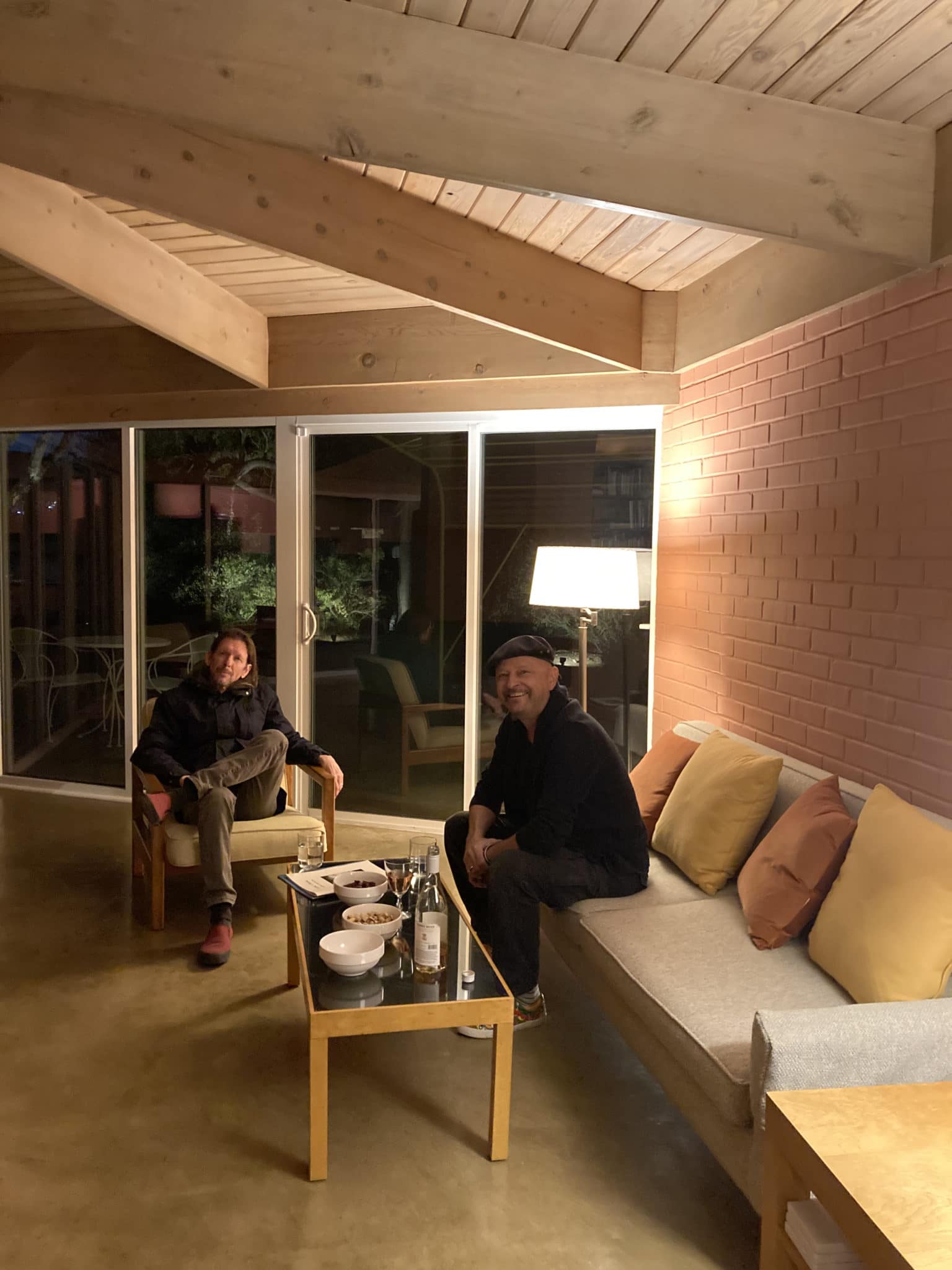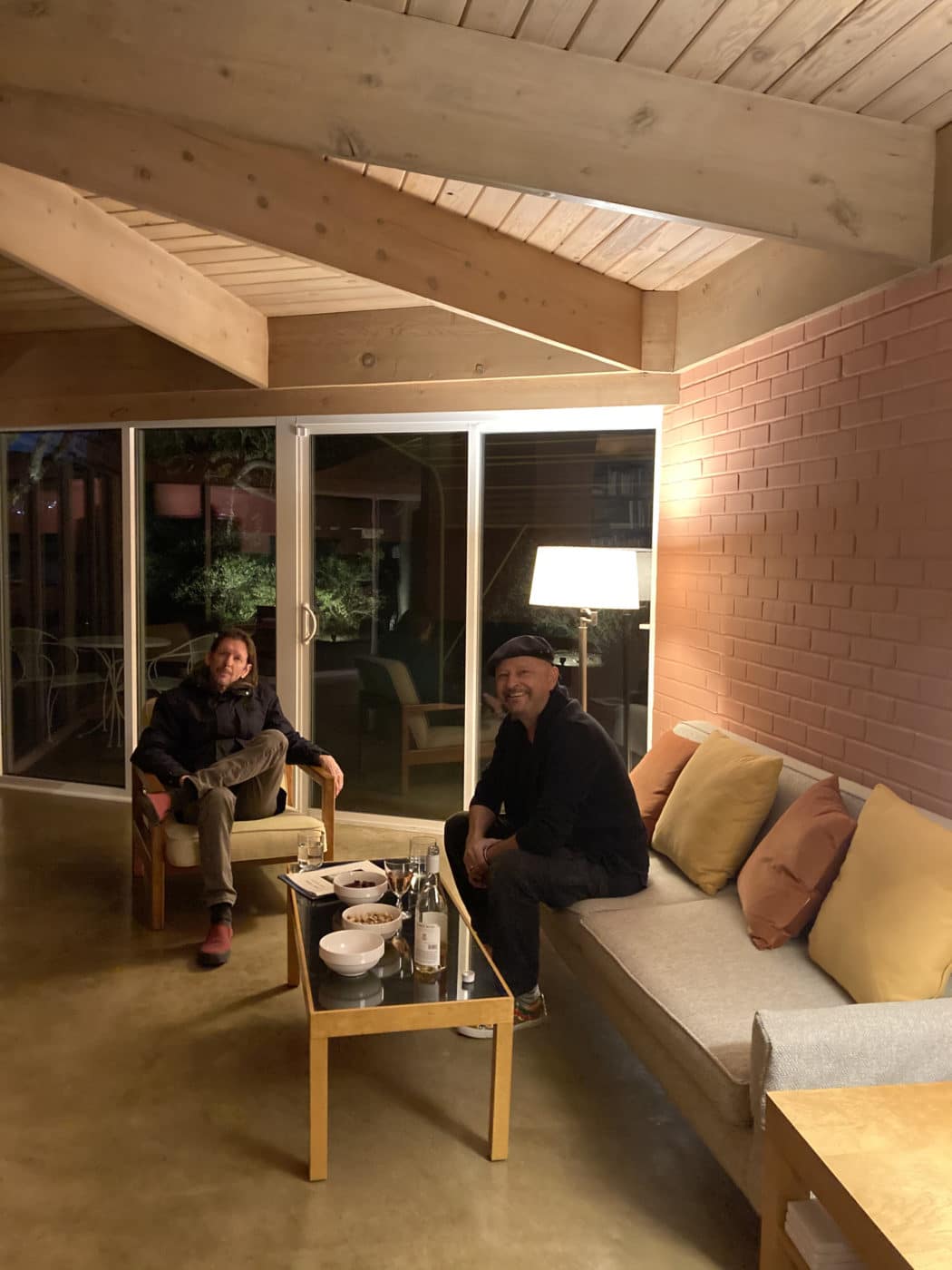 TMTM: What are some of your first steps when beginning a project of this scope?
Michael Yurkovic: I found it helpful to review some of the other projects created by the architect Arthur T. Brown. His body of work gave me insights into his way of thinking, as well as some of the motifs shared between various projects. Having his original design drawings for the house helped me determine the best size for the finished model and gave me additional clues into how he approached the project. The passive solar concept became even more apparent when I could study the design from the plan (or bird's-eye) view.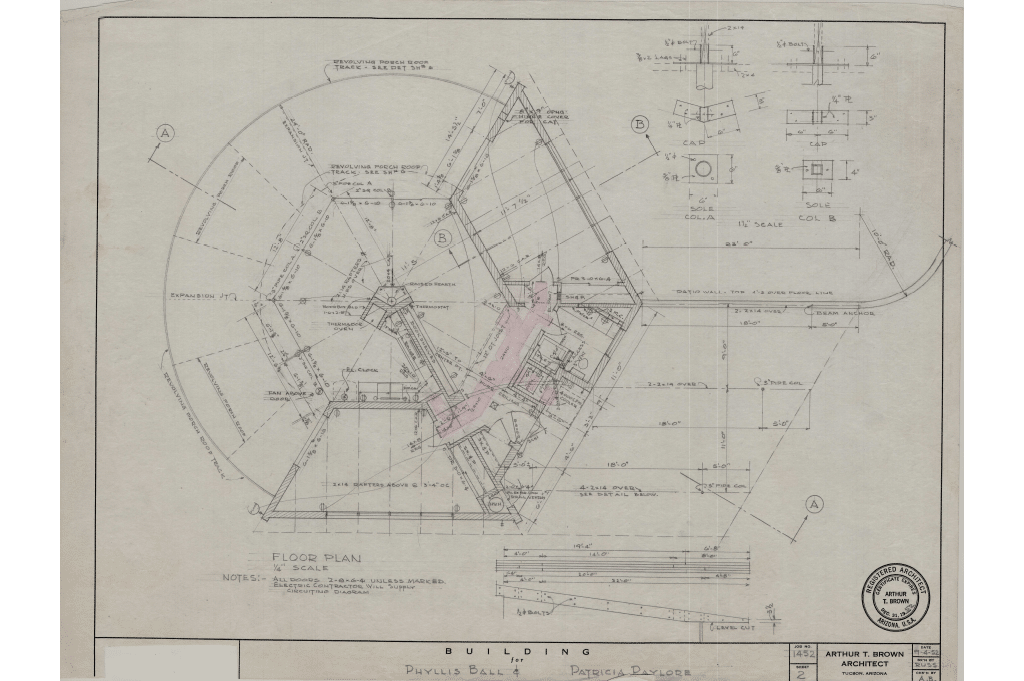 TMTM: In phase 1, you are building a maquette of sorts, what is that made of, and how does that fit into the process?
Michael Yukovic: The maquette is constructed almost entirely of foamcore board. This material is easy to cut and form and was especially suited to the large flat plains of this project. This process required careful measurement of all the surfaces and was especially helpful in confirming measurements and angles. Bringing the drawings to life in the third dimension gave me a new level of understanding of this clever design and the logic behind it, while exposing areas in the miniature which will be especially challenging. I intend to have features like the solar shades movable from outside the display case. This model helped me visualize and plan for those features.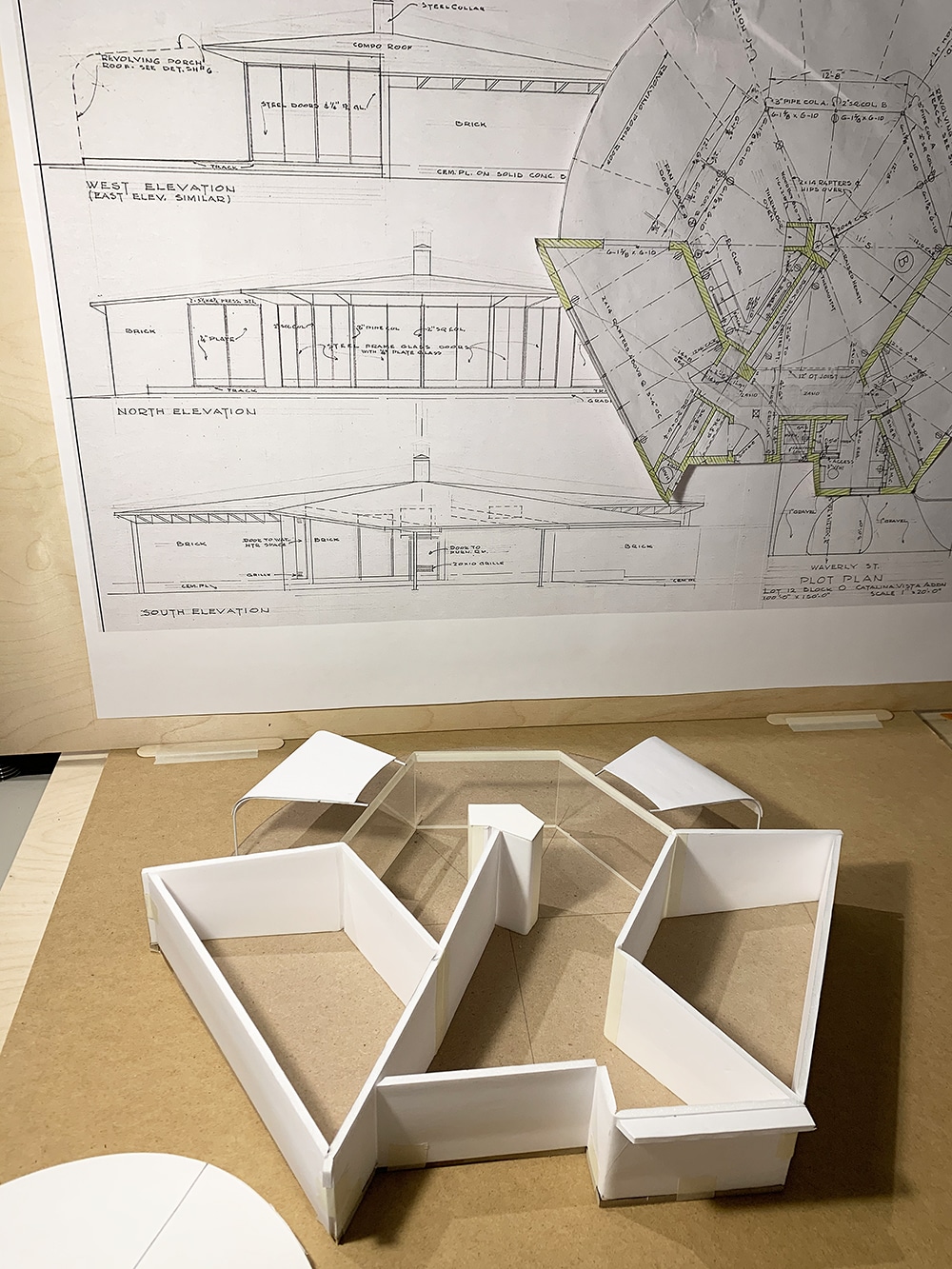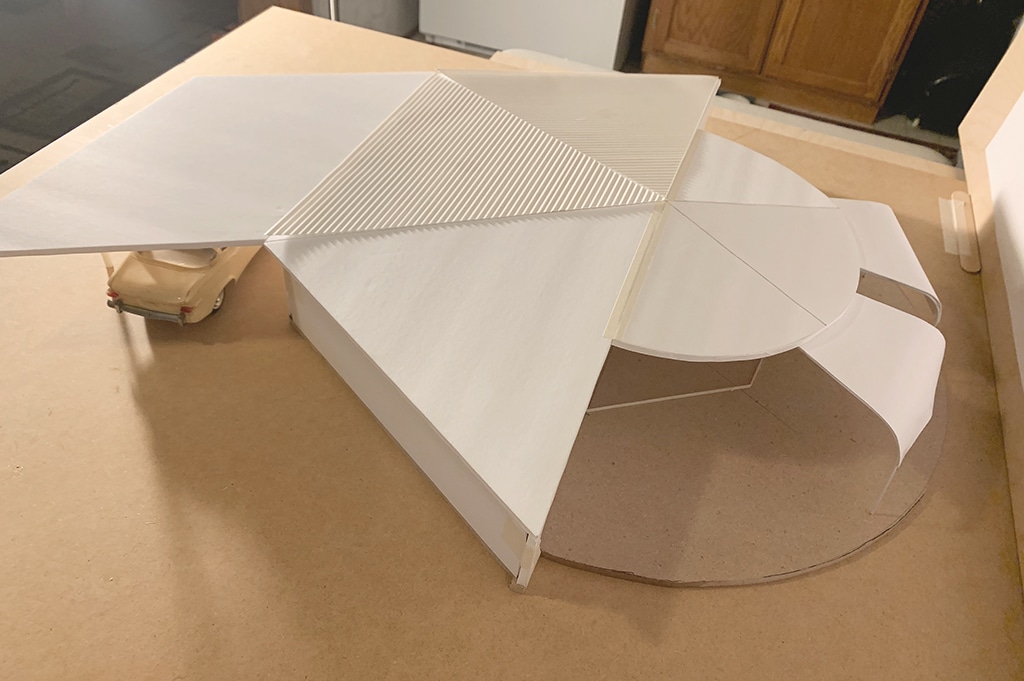 TMTM: What's next?
Michael Yurkovic: In the next phase I'll be looking at replicating colors and finishes for both the exterior and interior surfaces. This will include the various brick paint colors, wood stains/finishes, and the poured concrete floor. I will also begin construction of the final project, erecting walls and creating some of the built-in elements of the bedrooms, kitchen, and bath.
For further updates, or to learn more about the historic Ball-Paylore House and this project, visit us here.