Our week-long summer camps for ages 5–12 incorporate hands-on STEAM (science, technology, engineering, art, and math) concepts in a fun environment designed for campers to build, explore, and create.
Our weekly, half-day summer camp sessions take place Mondays through Fridays in July from 9am–12pm or 1pm–4pm. Each session explores a different theme and all materials and supplies to complete each project are provided. To ensure a quality experience, each camp is limited to 18 participants.
Registration:
Tuition is $135 per child, per session. Museum Members receive a 10% discount on tuition.
Advance registration is required for this program. Please see 'Important Information' at the bottom of this page prior to registering for information on our COVID policies & procedures, refunds, financial aid, and more.
2021 Summer Camp Descriptions
Camps for Ages 5–12
The complexity of the projects in these camps can be adjusted to suit a broader range of ages and abilities from beginner to advanced.
To be added to a wait list for a sold out session, please email our Education Director Mackenzie Massman at mackenziem@theminitimemachine.org
Here's a look at some of the projects we will be making this summer: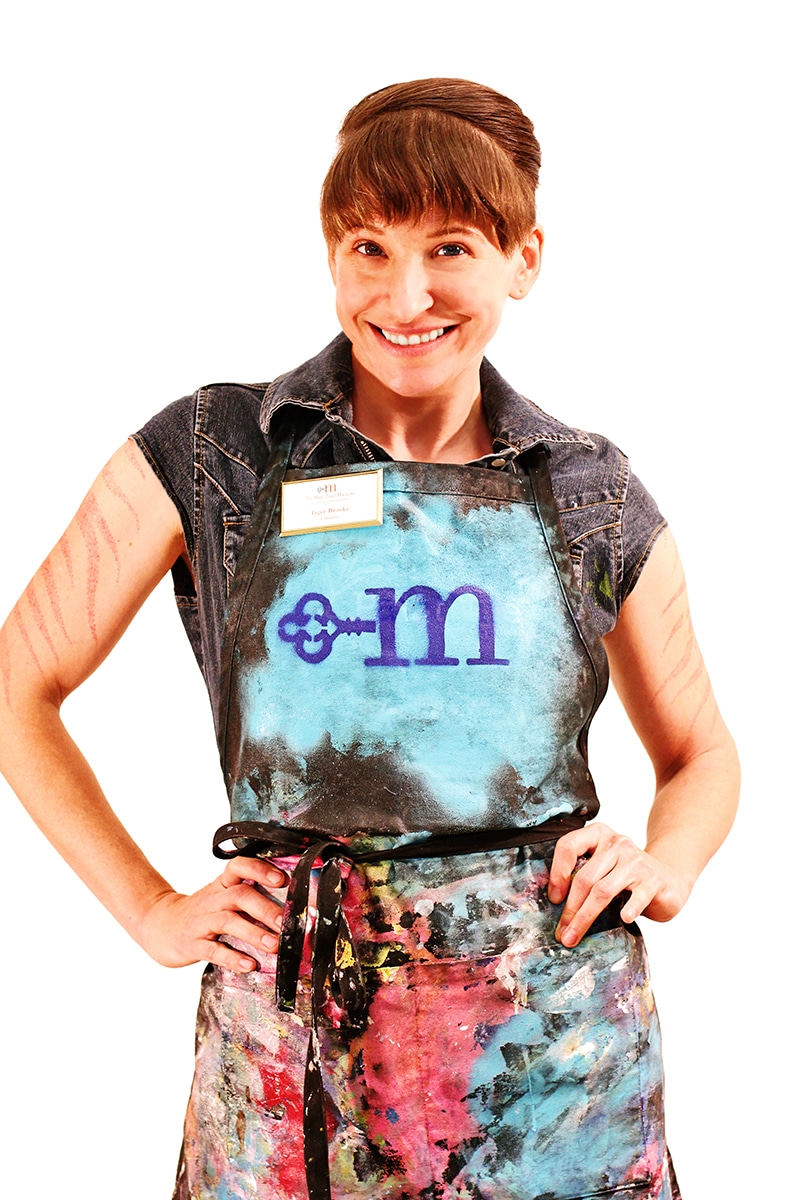 Tiger Brooke currently works as the Creative Director for Portly Pig Studios in Portland, Oregon and as an Owner of Dream Street Boutique in Hood River, Oregon. She teaches painting to both children and adults during her weekends and evenings, and her spare time is devoted to the support of The Mini Time Machine Museum of Miniatures.
Tiger has her MFA in sculpture from California College of the Arts in San Francisco, sat in on an entire MFA program in Interactive Media from University of Southern California in Los Angeles and received her BS in Printmaking, Drawing and Painting from Portland State University. Earlier in her college career she simultaneously earned three degrees in Engineering Technology: Civil, Mechanical and Architectural, where she honed her interests in inventing, construction, mathematics, practical sciences, and also minored in both theater and environmental studies. Tiger is a docent at the museum and has taught the following camps at the museum: Summer Camp 2019, Rodeo Break Camp 2020, Fall Break Camp 2020, Rodeo Break Camp 2021, and Spring Break Camp 2021.
But Don't Just Take Our Word For It...
"[camper's name] really enjoyed that she got to learn a lot of different artistic techniques and that it was all much more than just cutting and gluing and painting."
– Parent/Guardian
2019 Anonymous Post-Camp Survey
"My child loved everything about the camp and had nothing but good things to say. They were excited to go every morning and excited to share their progress with me each day." 
– Parent/Guardian
2019 Anonymous Post-Camp Survey
"She enjoyed it all! At the beginning of camp she told me she was not looking forward to the circuitry part of the project but after she did it she said she ended up really enjoying that part and learned a lot. Kudos to Tiger for being able to teach it and make it interesting and enjoyable! 
– Parent/Guardian
2019 Anonymous Post-Camp Survey
"The actual projects that the kids created were next-level as far as the thought put into them and the materials and processes used."
–Parent/Guardian
2019 Anonymous Post-Camp Survey
"The camp exceeded my expectations, both in terms of content as well as structure. I had expected that it was going to be pretty loosey-goosey art project based. I was pleased to find that the projects were planned out and that there was an itinerary for each week. I think it's important for kids to maintain at least a little bit of structure during the summer." 
– Parent/Guardian
2019 Anonymous Post-Camp Survey