Our week-long summer camps for ages 5–12 incorporate hands-on STEAM (science, technology, engineering, art, and math) concepts in a fun environment designed for campers to build, explore, and create.
Our weekly, half-day summer camp sessions take place Mondays through Fridays in July from 9am–12pm or 1pm–4pm. Each session explores a different theme and all materials and supplies to complete each project are provided. To ensure a quality experience, each camp is limited to 18 participants.
Registration:
Tuition is $135 per child, per session. Museum Members receive a 10% discount on tuition.
Advance registration is required for this program. Please see 'Important Information' at the bottom of this page prior to registering for information on our COVID policies & procedures, refunds, financial aid, and more.
2021 Summer Camp Descriptions
Camps for Ages 5–12
The complexity of the projects in these camps can be adjusted to suit a broader range of ages and abilities from beginner to advanced.
Themes: Biology and the natural environment
For ages 5–12
Create a soft felt home and tiny rabbit family while exploring The Velveteen Rabbit by Margery Williams. Campers will learn some basic sewing and textile skills while investigating the behaviors of fictional anthropomorphic animals, wild rodents, and domesticate pets. We will learn the difference between a pet rabbit and the wild jack rabbit we see in our backyards. Additional projects may include making a sensory bag, decorating and "planting" a knitted soft cactus, and designing "shrinky dink" recycled flowers to decorate our rabbit habitats.
Themes: Environmentalism, conservation, and reptiles
For ages 5–12
Turtles are regularly incorporated into mythologies from around the world and are often included in creation stories regarding the origin of the Earth and as symbols of environmentalism. Campers will create a turtle on a rolling base with a shell that opens with a tiny city inside. They will also interact with a real desert tortoise and learn more about reptiles.
Themes: Gardening, recycling, upcycling, lighting, storytelling
For ages 5–12
Campers will be using string lights, recycled plastic water bottles, and recycled papers, to make a beanstalk with flower and bean pod homes for magical fairy creatures to live. Create your own figure of Jack who can race down the zip line for a quick escape! Additional activities may include sprouting real beans, making homemade cloud sand, creating a spectroscope from recycled CDs and discovery bottles filled with treasure, and block printing to decorate recycled papers.
Themes: Puppetry, performing arts, storytelling
For ages 5–12
Explore different types of puppets. Build a mini theater and plan a performance. Write a script for a puppet production. Use recycled materials to make marionettes and black knit gloves for Kabuki style performance.
Themes: Animal life and mechanical engineering
For ages 8–12
Using recycled materials, campers will build a moving elephant based on simple hydraulic principals. Each camper will sculpt out their elephant with paper mache and give them personality using the traditions of egg shell mosaic. Additional projects may include creating balancing cork gymnasts and a custom head dress for each elephant, marbleizing our own paper, and finally designing and painting our own circus posters.
Themes: Aquaponics, buoyancy, and gardening
For ages 8–12
Grow a green thumb this summer by making a simple mini aquaponics system featuring an underwater City of Atlantis. Design your city and populate it mermaids and perhaps a superhero. Learn to grow herbs over the top of the city ruins as part of a sustainable habitat. Additional activities include experiments with a cartesian diver and Pythagorean cup, PH water testing, and balloon boats.
Themes: Magic, fantasy, mechanical/electrical engineering
For ages 8–12
Explore the great creatures, beasts, and characters of the magical world by creating a goblin style vibrating coin sorter, casting a latex dragon, making a treasure cache, and constructing trolls. Create our favorite magical creatures working in a whimsical bank that sorts coins on its own, with a dragon in the bowels of the vault that guards your most valued mini treasures!
Theme: Ancient Egypt, archaeology
For ages 8–12
Design your own pyramid board game based on the lives of the pharaohs! Construct a foam core pyramid that folds out into a game about ancient Egypt. Create an Egyptian sarcophagus and learn about mummification.
To be added to a wait list for a sold out session, please email our Education Director Mackenzie Massman at mackenziem@theminitimemachine.org
Here's a look at some of the projects we will be making this summer: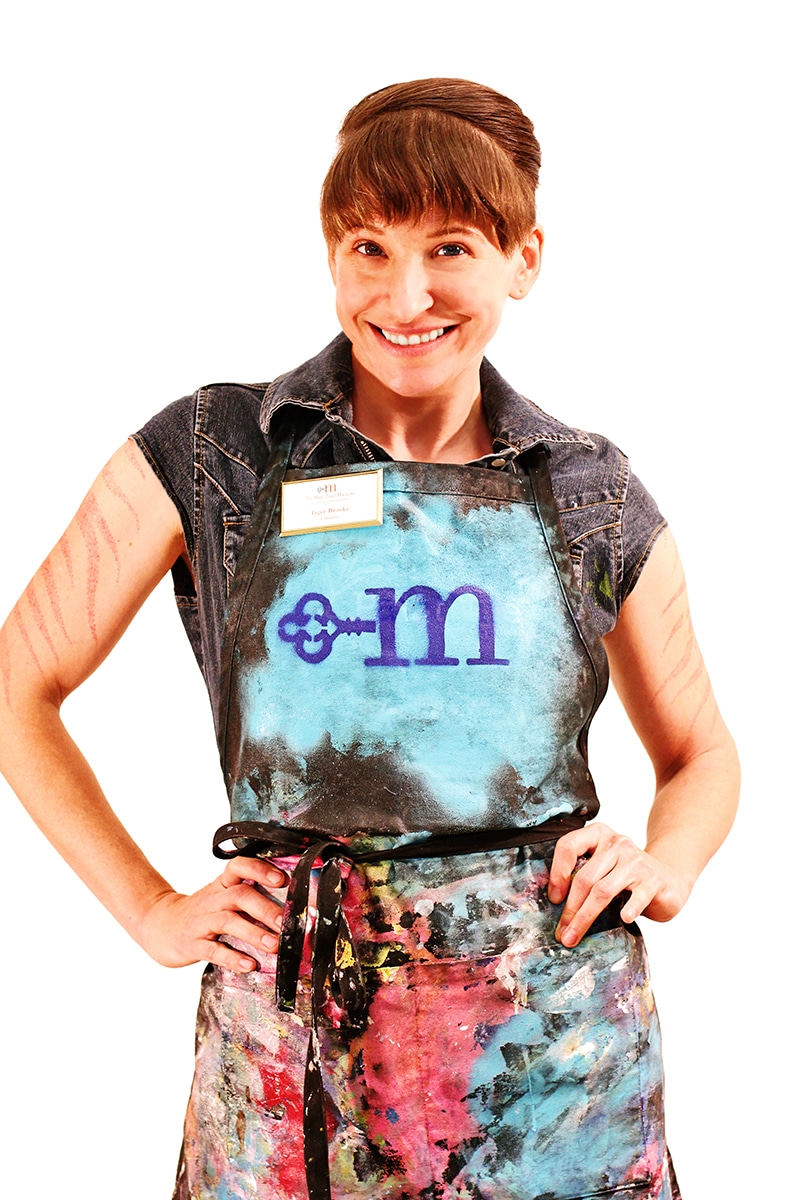 Tiger Brooke currently works as the Creative Director for Portly Pig Studios in Portland, Oregon and as an Owner of Dream Street Boutique in Hood River, Oregon. She teaches painting to both children and adults during her weekends and evenings, and her spare time is devoted to the support of The Mini Time Machine Museum of Miniatures.
Tiger has her MFA in sculpture from California College of the Arts in San Francisco, sat in on an entire MFA program in Interactive Media from University of Southern California in Los Angeles and received her BS in Printmaking, Drawing and Painting from Portland State University. Earlier in her college career she simultaneously earned three degrees in Engineering Technology: Civil, Mechanical and Architectural, where she honed her interests in inventing, construction, mathematics, practical sciences, and also minored in both theater and environmental studies. Tiger is a docent at the museum and has taught the following camps at the museum: Summer Camp 2019, Rodeo Break Camp 2020, Fall Break Camp 2020, Rodeo Break Camp 2021, and Spring Break Camp 2021.
Our current COVID related policies and procedures were developed based on recommendations from the Arizona Department of Health Services, Pima County Health Department, the Centers for Disease Control (CDC), and the American Alliance of Museums. We will continue to follow their recommendations.
Current Safety Policies & Procedures Include the following:
Per the CDC's recommendation, all individuals who are not fully vaccinated are advised to wear face coverings. Program participants who have not been vaccinated should plan to wear masks or other appropriate face coverings during the majority of the camp sessions.
Tools, furniture, and materials will be cleaned after use. Each participant's belongings will be kept separated from others' belongings. Participants must bring their own water bottles and snacks.
Frequent hand-washing breaks will be scheduled. Hand sanitizer will also be available.
Before attending camp sessions, participant guardians or caregivers should make sure their child/children do not have a sore throat or other signs of illness, like a cough, diarrhea, severe headache, vomiting, or body aches. Children with a temperature of 100.4 degrees or higher should not attend this program. If your child has had close contact to a COVID-19 positive case, they also should not attend camp. If a participant or a participant's family member becomes ill or receives a positive COVID-19 test result during the week before camp or the two week period after the camp program, please contact The Mini Time Machine Museum's Education Director, Mackenzie Massman, at mackenziem@thetimemachinemuseum.org
Any changes to these policies will be communicated in advance to registered participants to allow refunds to be requested as needed.
By visiting The Mini Time Machine Museum of Miniatures or participating in one of our programs you agree to abide by our policies and procedures and voluntarily assume all risks related to exposure to COVID-19. 
Guardian(s) will be required to complete The Mini Time Machine Museum of Miniatures camp registration documents in full including a waiver of liability related to the COVID-19 pandemic. These documents will be emailed in advance to the email address listed in this registration and will also be available to be completed on the first day of camp. All forms must be fully completed in order to participate.
You can register for summer camp online using the button on this page, by phone at 520-881-0606 or in person at the museum. A completed Participant Information Form is required for each child attending camp by the Friday prior to the first day of camp. Participant Information Forms will be emailed to you along with registration confirmation after purchase. Space is limited for each camp. Transfers between sessions will be applicable only if space is available.
PLEASE NOTE, YOU WILL NOT BE CONSIDERED REGISTERED UNTIL PAYMENT HAS BEEN MADE IN FULL.
Refund policy: The Mini Time Machine Museum of Miniatures will provide a refund of paid tuition minus a $25.00 administration fee if cancellation is received 15 business days or more prior to camp start date. The museum cannot offer refunds for sessions missed as a result of student illness, emergencies or other events beyond our control.
If the minimum enrollment in a camp is not met, the museum reserves the right to cancel the camp up to 7 days before the camp's start date. A full refund will be made to any registered participant.
Scholarships based on financial need are available. These scholarships are available thanks to generous donors. The museum offers two scholarships per camp session on a first-come, first-serve basis while funds last. Partial scholarships may also be awarded.  Applicants may request to be placed on a waiting list if the scholarships for their preferred camp session have already been allocated. The scholarship application deadline is Friday, May 22, 2020. To qualify, you must prove need based on the 2021 Federal Poverty Guidelines (https://aspe.hhs.gov/poverty-guidelines). Applicants must fall at or under the 250% range based on household size and income and prove need with qualifying documents: 2020 personal tax return or a letter showing active benefits from WIC, SNAP, EIC, AHCCCS or other government assistance.
To Apply:
If you qualify based on your family/household income, please email the items below to Mackenzie Massman at mackenziem@theminitimemachine.org:
Documentation proving need. Examples of qualifying documents include: 2020 personal tax return or a letter showing active benefits from WIC, EIC, AHCCCS or other government assistance. (Please email Mackenzie if you have questions regarding a qualifying document.)
Provide a few written sentences about why your son or daughter would like to attend, what he or she would gain from the experience, and indicate 1st, 2nd and 3rd choice for preferred camp session.  
If a scholarship is awarded you will be sent a confirmation email along with the summer camp Participant Information Form. All forms must be completed and returned by mail, email, or drop-off by Friday, June 11, 2021.  If these documents are not completed by this deadline, the scholarship may be reallocated to applicants from the waiting list.
Please note a maximum of two scholarships per family can be awarded. Please contact Mackenzie to request a waiver for your family if you wish to apply for scholarships for more than two children.  
Contact Mackenzie Massman, Director of Education, with questions on how to apply for a scholarship at 520-881-0606 ext. 113 or by email massmanm@theminitimemachine.org
Please send appropriate snacks labeled with your child's name along with a bottle of water. Note that children may become messy during some camp activities; participants should dress in comfortable clothing appropriate for play.
Items not directly related to camp activities or at risk of loss or theft should be left at home (i.e., toys, cell phones, personal music players, games, cards, etc.). The Mini Time Machine Museum of Miniatures assumes no responsibility for lost or stolen personal items; however, any found items will be kept in the lost/found at the admission desk.
The Mini Time Machine Museum of Miniatures may use trained and screened volunteers as a supplement to our regular camp staff to assist with projects or activities. Volunteers will not have unsupervised access to minors at any time during camp sessions.
Your donation can help provide a scholarship to a child who wouldn't otherwise be able to experience these enriching programs.
But Don't Just Take Our Word For It...
"The camp exceeded my expectations, both in terms of content as well as structure. I had expected that it was going to be pretty loosey-goosey art project based. I was pleased to find that the projects were planned out and that there was an itinerary for each week. I think it's important for kids to maintain at least a little bit of structure during the summer." 
– Parent/Guardian
2019 Anonymous Post-Camp Survey
"My child loved everything about the camp and had nothing but good things to say. They were excited to go every morning and excited to share their progress with me each day." 
– Parent/Guardian
2019 Anonymous Post-Camp Survey
"The actual projects that the kids created were next-level as far as the thought put into them and the materials and processes used."
–Parent/Guardian
2019 Anonymous Post-Camp Survey
"She enjoyed it all! At the beginning of camp she told me she was not looking forward to the circuitry part of the project but after she did it she said she ended up really enjoying that part and learned a lot. Kudos to Tiger for being able to teach it and make it interesting and enjoyable! 
– Parent/Guardian
2019 Anonymous Post-Camp Survey
"[camper's name] really enjoyed that she got to learn a lot of different artistic techniques and that it was all much more than just cutting and gluing and painting."
– Parent/Guardian
2019 Anonymous Post-Camp Survey