Our week-long summer camp sessions for ages 5–12 incorporate hands-on STEAM (science, technology, engineering, art, and math) concepts in a fun environment designed for students to build, explore, and create. Half-day camp sessions take place from 9am–12pm or 1pm–4pm Monday through Friday, include one snack per day, and all materials and supplies to complete each project are provided. To ensure a quality experience, each camp is limited to 15 participants. Pre-registration is required for both morning and afternoon sessions.
Early Bird tuition is $125.00 per child, per session (through April 1, 2019). After April 1, 2019, tuition is $135 per child, per session. Museum Members receive a 10% discount.
June 3–7, 2019 | 9am–12pm
Themes: Up-cycling/recycling, and Surface Tension
Build an enchanting castle for our frog friends in this fairytale session! Using recycled plastics, paper and foam, campers will learn about "up-cycling" techniques, cleaning our waterways, and the concept of surface tension. Campers will construct a two-level pond scene, complete with a kelp castle that "floats" on a lily pad and a magical pond landscape below the surface of the pond. Additional projects include sculpting a Frog Prince and Princess, castle accessories, prince and princess crowns for the campers, and a floating paperclip surface tension activity.
June 3 – June 7, 2019 | 1pm–4pm
Themes: Up-cycling/Recycling and Engineering
Adventure into the open water this summer in an edgy, steampunk pirate ship! Using recycled plastics, campers will learn about "up-cycling" by building a pirate ship with masts, sails, a canon, flags and more. Additional projects include creating personalized pirates and building a surrounding seascape. Basic engineering concepts - rocking mechanisms and gear functionality- will be taught allowing campers to literally rock their boat!
June 10 – June 14, 2019 | 9am–12pm
Themes: Magnets and Space
Alien space cows have traveled to earth to find their farm friends and take them back to their home planet! In this session, campers will learn about the power of magnets while building a cow-shaped spaceship. Campers will build their spaceship, and sculpt alien cows, earth cows, and various farm and space accessories for their spaceship. A magnetic tractor beam extending from the spaceship allows campers to "beam-up" the earth cows and place them into "anti-gravity" beds. Additional projects include creating a home planet for the space cows and a "moo-ing" nebula jar.
June 10 – June 14, 2019 | 1pm–4pm
Themes: Basic Circuitry and Space
Our alien friend has crash-landed on earth and needs help returning to outer space! In this session, campers will learn about basic circuitry while constructing an alien spacecraft. A control panel that lights-up and an electrical reactor that spins will make this spaceship something from out of this world! Additional activities include sculpting a cuddly alien, making accessories for the spaceship, creating slime and launching a model rocket.  
June 17 – June 21, 2019 | 9am–12pm
Themes: Botany and Solar Science
Grow a green thumb this summer and plant a whimsical fairy garden. In this session, campers will build a fairy house and plant succulents inside a terrarium globe. While learning about the sun, campers will install a solar panel to electrify fairy lights and create unique sun paintings on their terrariums. Additional activities include creating a simple sun-powered water purification system, making mason jar microscopes, and sculpting small gnomes to populate the garden!
June 17 – June 21, 2019 | 1pm–4pm
Themes: Desert Ecology
The desert night will come alive in this black light themed camp session! Inside a globe terrarium, campers will create a desert garden landscape with faux cactus, flowers, and succulents made from rocks and paper. Each camper will receive a black light flashlight and fill their terrarium with individualized, hand-crafted critters that glow. Additional activities include creating a mason jar microscope and learning about desert critters by studying real scorpions (safely housed in a secure terrarium) throughout the week.
June 24 – June 28, 2019 | 9am–12pm
Theme: Mythology
Become immersed in Greek mythology and build a miniature version of the Trojan Horse! In this session, campers will learn the mythological story of the Trojan War while constructing their own Trojan Horse. A wood and papier-mâché horse body, with a hidden compartment in the belly, will be constructed on a rolling base. Additional activities include creating figures of Helen of Troy, Achilles, and an army of soldiers using armatures and molds.
June 24 – June 28, 2019 | 1pm–4pm
Themes: Color Theory and Mythology
Build a whimsical rainbow castle on top of Mt. Olympus in this colorful camp session! Basic color theories and Greek mythology will be taught as campers construct their playful creations. A color-matching board game serves as the base of Mt. Olympus and a hand-crafted castle becomes the perfect home for colorful mythological creatures. Additional activities include conducting color experiments and creating cartoon versions of mythological creatures such as Pegasus.
Tiger Brooke
Tiger Brooke currently works as the Creative Director for Portly Pig Studios in Portland, Oregon and as an Owner of Dream Street Boutique in Hood River, Oregon. She teaches painting to both children and adults during her weekends and evenings, and her spare time is devoted to the support of The Mini Time Machine Museum of Miniatures.
Tiger has her MFA in sculpture from California College of the Arts in San Francisco, sat in on an entire MFA program in Interactive Media from University of Southern California in Los Angeles and received her BS in Printmaking, Drawing and Painting from Portland State University. Earlier in her college career she simultaneously earned three degrees in Engineering Technology: Civil, Mechanical and Architectural, where she honed her interests in inventing, construction, mathematics, practical sciences, and also minored in both theater and environmental studies. Read More
You can register for summer camp online using the button below, by phone at 520-881-0606 or in person at the museum. A completed registration packet is required for each child attending camp by the Friday prior to the first day of camp. Registration forms will be emailed to you if you purchase camp online or you can pick one up in person at the museum or download it here.
PLEASE NOTE, YOU WILL NOT BE CONSIDERED REGISTERED UNTIL PAYMENT HAS BEEN MADE IN FULL. REFUNDS POLICY: THE MUSEUM WILL PROVIDE A REFUND OF PAID TUITION MINUS A $25.00 ADMINISTRATION FEE IF CANCELLATION IS RECEIVED 15 BUSINESS DAYS OR MORE PRIOR TO CAMP START DATE. THE MINI TIME MACHINE MUSEUM CANNOT OFFER REFUNDS FOR SESSIONS MISSED AS A RESULT OF STUDENT ILLNESS, EMERGENCIES OR OTHER EVENTS BEYOND OUR CONTROL.
Scholarships based on financial need are available. The museum offers two scholarships per camp session on a first-come, first-serve basis. To qualify, you must prove need based on the 2019 Federal Poverty Guidelines (https://aspe.hhs.gov/poverty-guidelines). Applicants must fall at or under the 250% range based on household size and income and prove need with qualifying documents: 2018 personal tax return or a letter showing active benefits from WIC, EIC, AHCCCS or other government assistance.
Instructions on how to apply for a scholarship can be found here. If you have questions or concerns regarding scholarships, please contact Director of Education and Registrar, Moira McGee at 520-881-0606 ext. 113 or by email.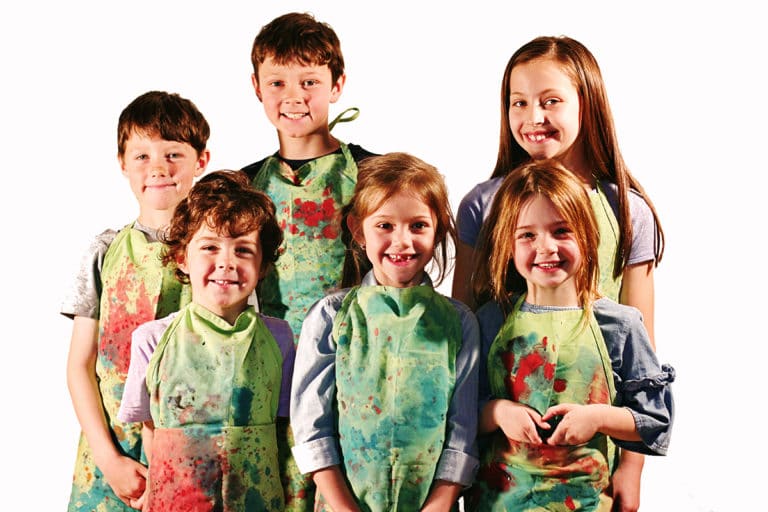 We will continue to add pictures of our 2019 camp projects as they become available.
Your donation can help provide a scholarship to a child who wouldn't otherwise be able to experience these enriching programs.