Silver Queen Collection Cameo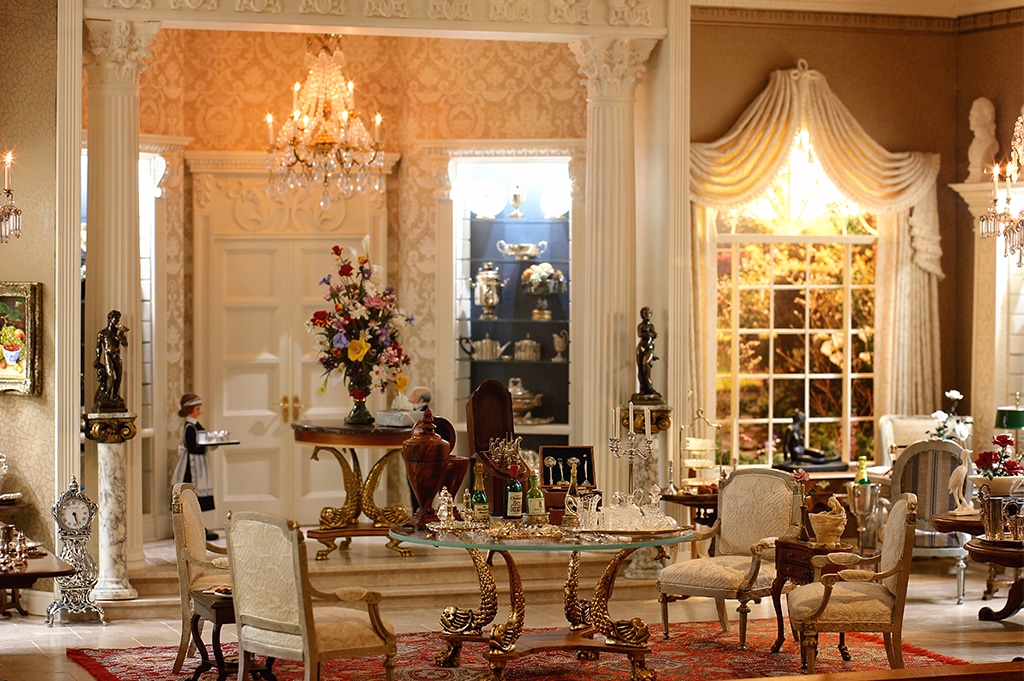 Silver Queen, Ray Whitledge-Burgess, ca. 1990s, gift of Barbara Halverstadt, 2015.1.3
---
---
There is no shortage of tiny wonders in this fanciful roombox, built by the renowned Ray Whitledge-Burgess and filled with miniature masterpieces collected by Barbara Halverstadt. Using mirrors and light to great effect, this roombox is positively luminous, each glass and silver surface glittering and beckoning to the viewer.
Among the treasure trove of silver are pieces by two IGMA* Fellows, Obadiah Fisher and Pete Acquisto, both of whom got their start as jewelers. There are over 30 pieces of Fisher's work, including his stunning Silver Georgian Sauce Boat, and over 20 pieces by Acquisto, including his showstopper 8-piece Cruet Set. Equally striking are the antique glass reproductions by IGMA* artist Ferenc Albert. Born in Hungary, Ferenc received his formal training in scientific glassblowing at the Budapest Institute of Technology, working for decades producing highly specialized glass instruments before retiring early and pursuing miniature glass reproduction. This roombox features over a dozen pieces by Ferenc, including his signature reproductions of Old English Hobnail glassware. Also of note are several porcelain pieces by IGMA* Fellow Andrea Fábrega, who works on a full-sized potter's wheel with only a teaspoon of porcelain at a time. With so many incredible pieces on display, this roombox is truly fit for a queen!
*IGMA is the International Guild of Miniature Artisans
---
The Mini Time Machine Museum of Miniatures is a nonprofit 501(c)3. Our mission is to preserve and advance the art of miniatures. A donation to our Collection Fund allows us to properly care for, and expand, our permanent collection for the enjoyment and education of people around the world for generations to come. Please consider making a donation to support this work.