Sally Hemings Collection Cameo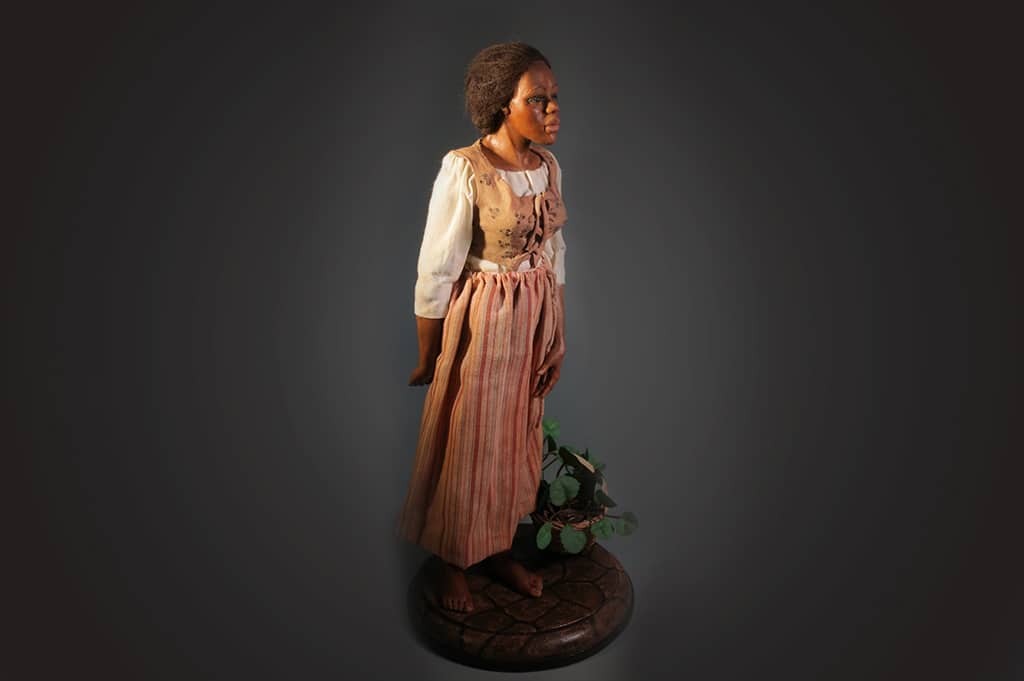 Sally Hemings, Ellen Poitras, ca. 2002, donated by the National Miniature Trust, 2019.2
---
---
Recently formally acquisitioned by the museum, this 2" scale figure by Ellen Poitras represents Sally Hemings as portrayed by the actress Carmen Ejogo, in the television miniseries: Sally Hemings: An American Scandal, which aired in February of 2000.
Sally Hemings was an enslaved woman owned by President Thomas Jefferson, who also became the father of her children. Decades ahead of the Emancipation Proclamation, at the young age of 16, Hemings negotiated an arrangement with Jefferson which ultimately secured the freedom of her future children and provided a certain extent of freedom for herself.
Ellen Poitras is a self-taught doll maker and IGMA* Fellow known for her one-of-a-kind realism. Starting with the skeletal structure of each figure, Poitras makes sure the anatomy is accurate first; she then determines the posture of her characters, as though frozen in time. Even before the "fleshing out" process, beads are placed in the eye sockets, after which she hand-paints the iris and pupil of each eye. Poitras uses a combination of polymer clays over a fully articulated skeletal armature, sculpting each figure with aluminum knitting needles. The final touch is adding acrylic paints to accent the facial features as well as tonally embellishing the skin.  
Poitras works in a variety of different scales; this Sally Hemings figure was made in the 2" scale, where 2 inches in miniature equals 1 foot in the real world. Having no photos of Sally Hemings to reference, Poitras used Carmen Ejogo and her wardrobe from the miniseries to portray Hemings. The figure is barefoot and accompanied by a basket filled with greenery. Her expression is enigmatic; she is leaning forward, as if intently listening to what her viewers might be saying about her life.
This figure was accepted into our collection for its quality, its unique scale, and because it offers an opportunity to open a dialogue about the history of slavery in America. The dramatization of Hemings and Jefferson's relationship in the miniseries points to the powerful way in which media can influence our understanding of the past and impact our current views of racial disparity today.
To learn more about Sally Hemings, we encourage you to visit Monticello Estate's resource page.
https://www.monticello.org/sallyhemings/
*IGMA is the International Guild of Miniature Artisans
---
The Mini Time Machine Museum of Miniatures is a nonprofit 501(c)3. Our mission is to preserve and advance the art of miniatures. A donation to our Collection Fund allows us to properly care for, and expand, our permanent collection for the enjoyment and education of people around the world for generations to come. Please consider making a donation to support this work.