Our half-day Rodeo Break Mini Camp for ages 6–12 allows kids to build and create, while incorporating hands-on STEAM (science, technology, engineering, art, and math) concepts in a fun environment!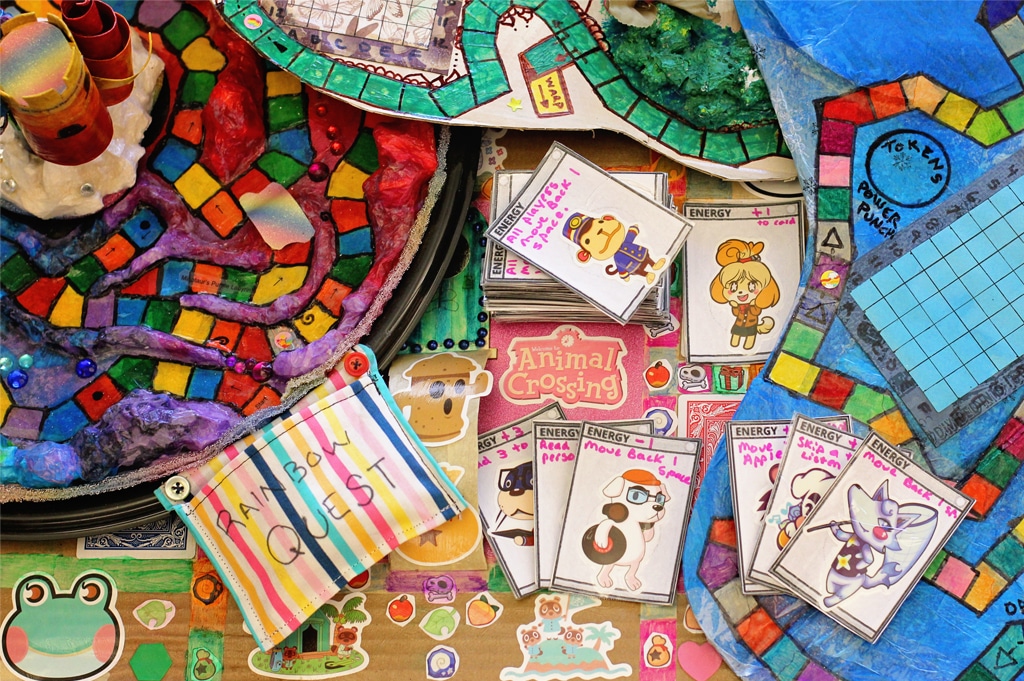 Design Your Own Game Board
When:
Thursday, February 24, 2022 and
Friday, February 25, 2022
9:00am-12:30pm each day
Where:
In-person at The Mini Time Machine Museum of Miniatures
Cost:
$55 per child / $49.50 Museum Members
Advance registration is required for this program. Space is limited to 15 campers. Please be sure to review the important information below before registering.
Design Your Own Board Game
for ages 6–12
Themes: Up-cycling/recycling, game mechanics and design, storytelling, problem solving/decision-making, mathematical concepts including probability and geometry, and sportsmanship.
Tired of staring at screens, but love gaming?   Join us for our Rodeo Break Mini Camp where you can imagine and design your own game with customized cards and miniature playing pieces. You make the rules and determine the game mechanics based on other card and table-top style games. Using upcycled materials, campers will create a game board with materials and accessories along with developing the artistic game content and details.
All materials and supplies to complete each project will be provided.
Instructors: Mackenzie Massman and Djamila Jean-Charles
Important Information
This camp takes place in-person at the museum. Please review the following information prior to registration.
Mackenzie Massman
Mackenzie Massman is the Education Director at The Mini Time Machine Museum of Miniatures. She has over 25 years of experience working in history, art, and children's museums. Her excitement about miniatures began when her grandfather made her a dollhouse as a child, and it is an interest that has continued into adulthood that she shares with her own family.
Djamila Jean-Charles
Djamila Jean-Charles is TMTM's Kids Create Program Coordinator and Visitor Services Associate as well as a stop motion animator, fabricator, and sculptor. Djamila received her B.F.A. in Animation from the Savannah College of Art and Design. As an artist and educator, Djamila is excited to share her passion for miniatures and filmmaking with others.
Questions?
Have questions about this program or need help registering? Please contact our Education Director, Mackenzie Massman, at 520-881-0606 ext. 113 or by email.