Our half-day Rodeo Break Mini Camp for ages 8–12 allows kids to build and create, while incorporating hands-on STEAM (science, technology, engineering, art, and math) concepts in a fun environment!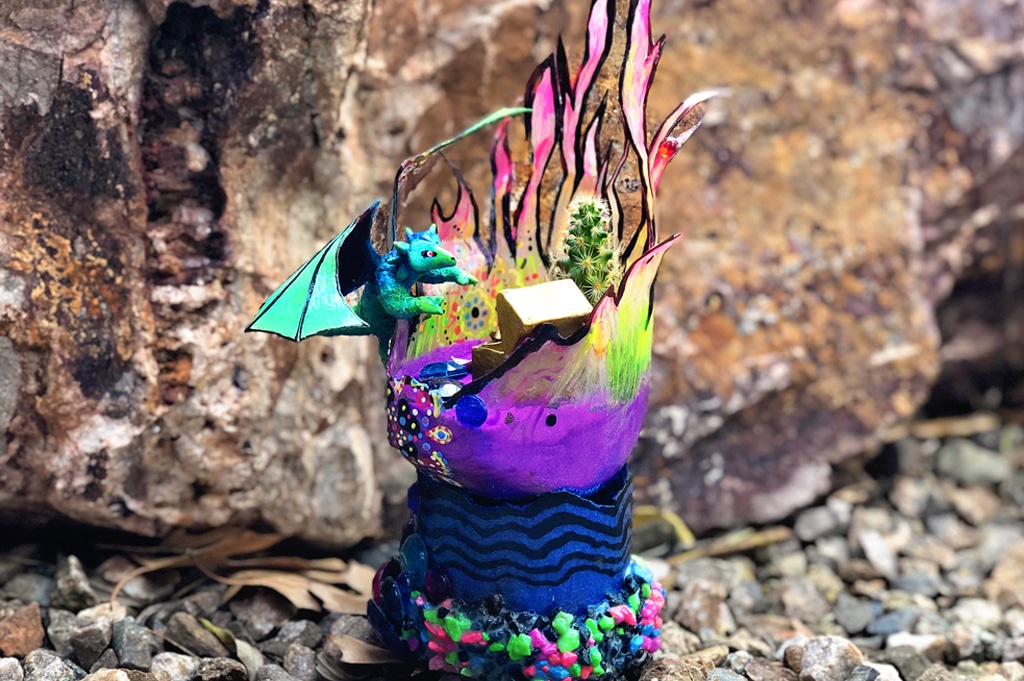 Glow Dragon Terrarium
When:
Thursday, February 20, 2020 and
Friday, February 21, 2020
9:00am-12:30pm each day
Cost:
$55 per child / $49.50 museum members
Advance registration is required for this program. Space is limited.
Glow Dragon Terrarium Mini Camp
Themes: Up-cycling/recycling and Desert Ecology
Using recycled plastics, campers will create a desert terrarium home for a dragon friend they sculpt themselves.  Campers will produce a landscape featuring a small cactus and a dragon treasure horde made from paper, rocks, and faux gems.  Each camper will receive a black light flashlight and decorate their dragon's lair with luminescent paint to make it glow. Additional activities include blown egg designs and creating a miniature dragon painting. Campers will also learn about real desert critters by studying a scorpion in a safely housed and secure terrarium.
Important Information
All materials and supplies to complete each project will be provided.
To ensure a quality experience, the camp is limited to 18 participants. Pre-registration is required.
Instructor: Tiger Brooke
Refunds will be issued if cancelled 15 more days prior to the start of camp. Refunds will not be issued for sessions missed as a result of illness, emergencies, or events beyond our control.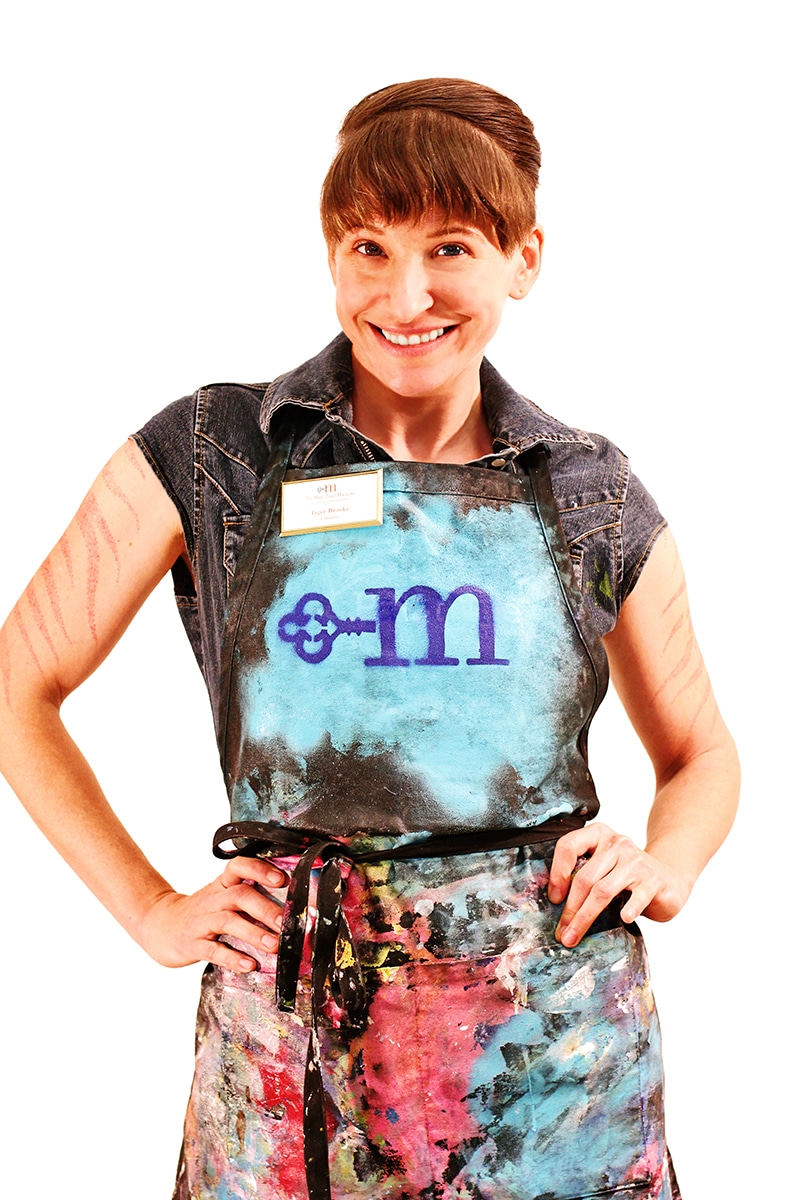 Tiger Brooke currently works as the Creative Director for Portly Pig Studios in Portland, Oregon and as an Owner of Dream Street Boutique in Hood River, Oregon. She teaches painting to both children and adults during her weekends and evenings, and her spare time is devoted to the support of The Mini Time Machine Museum of Miniatures.
Tiger has her MFA in sculpture from California College of the Arts in San Francisco, sat in on an entire MFA program in Interactive Media from University of Southern California in Los Angeles and received her BS in Printmaking, Drawing and Painting from Portland State University. Earlier in her college career she simultaneously earned three degrees in Engineering Technology: Civil, Mechanical and Architectural, where she honed her interests in inventing, construction, mathematics, practical sciences, and also minored in both theater and environmental studies. Tiger taught Summer Camp at the museum in 2019.
Questions?
Have questions about this program or need help registering? Please contact our Education Director, Mackenzie Massman, at 520-881-0606 ext. 113 or by email.
You Might Also Like... Spring Break Mini Camp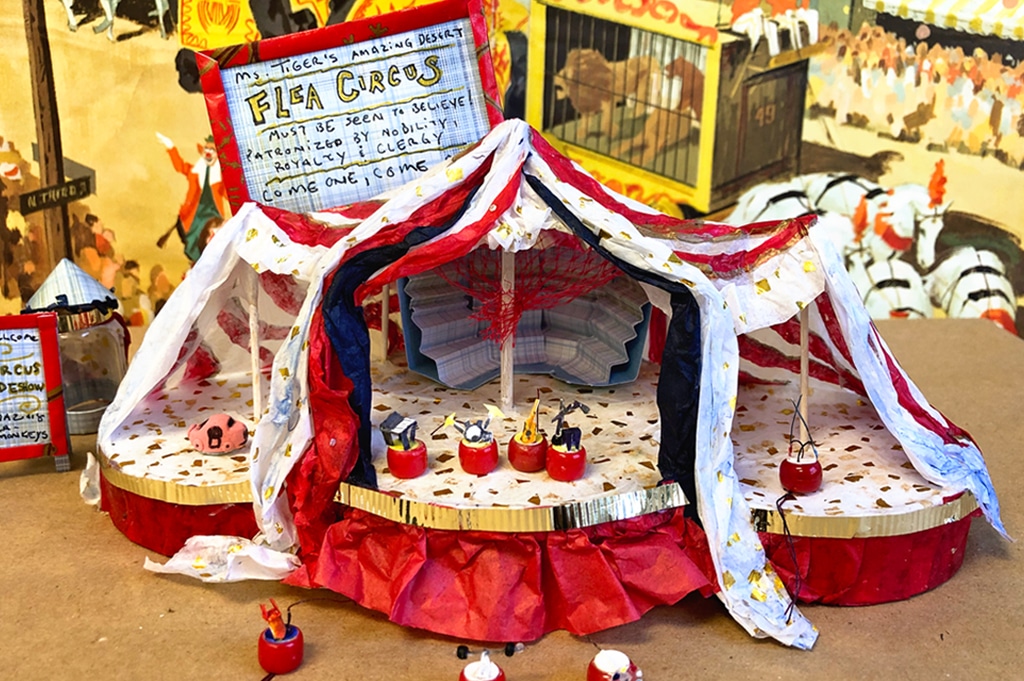 Flea Circus
When:
Thursday, March 19, 2020 and
Friday, March 20, 2020
9:00am-12:30pm each day
Cost:
$55 per child / $49.50 museum members
Advance registration is required for this program. Space is limited.