Meet local artists, John A. Ackerman and David Fischer, and watch their restoration efforts on a model fireboat built by Tom Showers in 1964 in this series of demonstrations.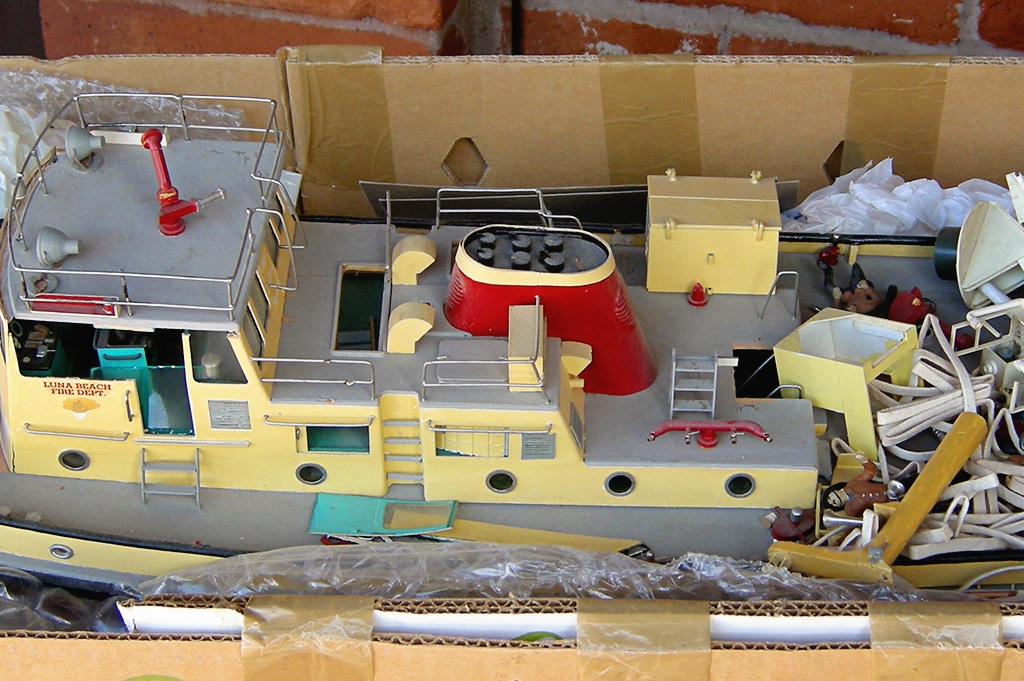 When:
The second and third Saturdays of the month
9am–3:30pm, beginning February 8, 2020 until completion of the project.
Call ahead for confirmation 520-881-0606.
Cost:
Included with museum admission. Free for Museum Members.
About The Model Fire Boat
Tom Showers made this model Fireboat 1964. It is accurately based on the Los Angeles City Boat 4, with a few modifications to suit his mythical fire department of Luna Beach. The model was scratch-built in a 1/32nd scale from balsa wood, bass wood and other mixed media.
The Artist: Tom Showers (1917-1996)
Tom Showers began building replica scale-model fire apparatus in the early 1940s when he began a career as a firefighter for the military. After his service, he joined the Los Angeles County Fire Department where he spent the next 25 years, retiring as a Captain. Over a span of approximately fifty-six years, he created more than four hundred 1:32 scale model firefighting apparatus as well as twelve fire stations and support structures, six fire boats and one training tower, all while advancing in his career as a firefighter.
Originally, Showers created these scale models recreationally. However, when he became a fire training officer, he began using his models as fire training aids. He gained a reputation and praise for the fine quality of his craftsmanship. His pieces also came to be used by manufacturers and inventors to aid in developing and improving the design of full-size fire apparatus. Tom was a member of IAAM (International Association of Automotive Modelers), FAMBA (Fire Apparatus Model Builders Association) and IPMS (International Plastic Modelers Society). His work has been featured in numerous model publications and is included in several museum and private collections throughout the United States.
About The Restoration Artists
John A. Ackerman
John A. Ackerman worked in the fire service, owned a publishing company called Fire Publications Inc. and is a noted creator of scale replica fire apparatus and fire stations. His work has been displayed at numerous model shows around the country. He has also written magazine articles and presented how-to demonstrations on the many facets of scratch-building scale replica fire apparatus.
John is among the funding members of the Los Angeles Fire Department Historical Society. He served as chair of various committees and as a member of the board of directors. He was an active participant in the successful restoration efforts to turn Old Fire Station 27 into the LAFD Historical Society Fire Museum. His LAFD scale replicas are on permanent display in the LAFDHS Fire Museum. His work is also in the Miniature Engineering Craftsmanship Museum, Carlsbad California, as well as other private museums. John is actively retired and lives in Green Valley Arizona.
David Fischer
Miniature artisan David Fischer started building plastic models the summer before kindergarten, and models have been a fixture in his life ever since. In fact, it was his childhood fascination with the work of airbrush artist Ray Gaedeke, who illustrated the box covers of Lindberg models in the 1950s, that pointed him toward a career in graphic design and illustration.
As a teenager David began researching authentic paint and marking schemes for his models, altering and augmenting the details of plastic kits to recreate a specific airplane or vehicle at a certain time and place. Pursuing a bachelor's degree in graphic design in the pre-computer era helped him to develop important hand-rendered skills which adapted well to model building. Eventually, he determined that altering and augmenting plastic kits to suit his needs was becoming ludicrous, so he decided to eliminate the kit altogether. Building a model from scratch opened a broad new range of possibilities, and the search for materials and methods became as much a part of every project as the creation of the model itself.
In addition to model building David now collects kits from the 1950s. Opening a well-preserved old kit, with its dramatic cover art and simple, often brightly colored parts, stirs the same excitement for him that it did when he was six.
Restoration of a Miniature 2019- Model Fire Station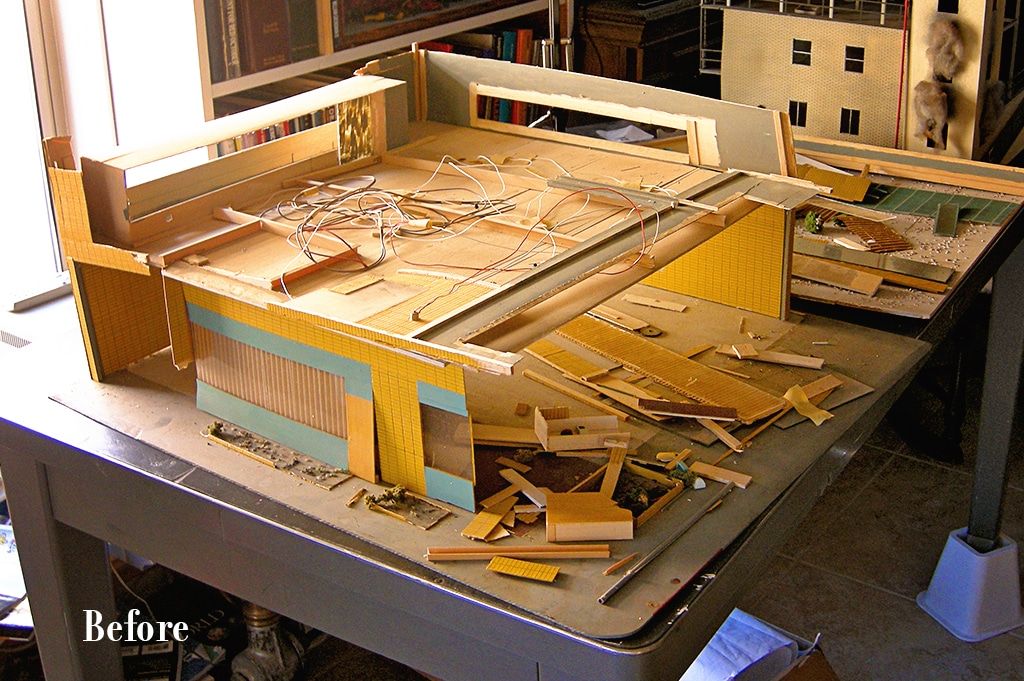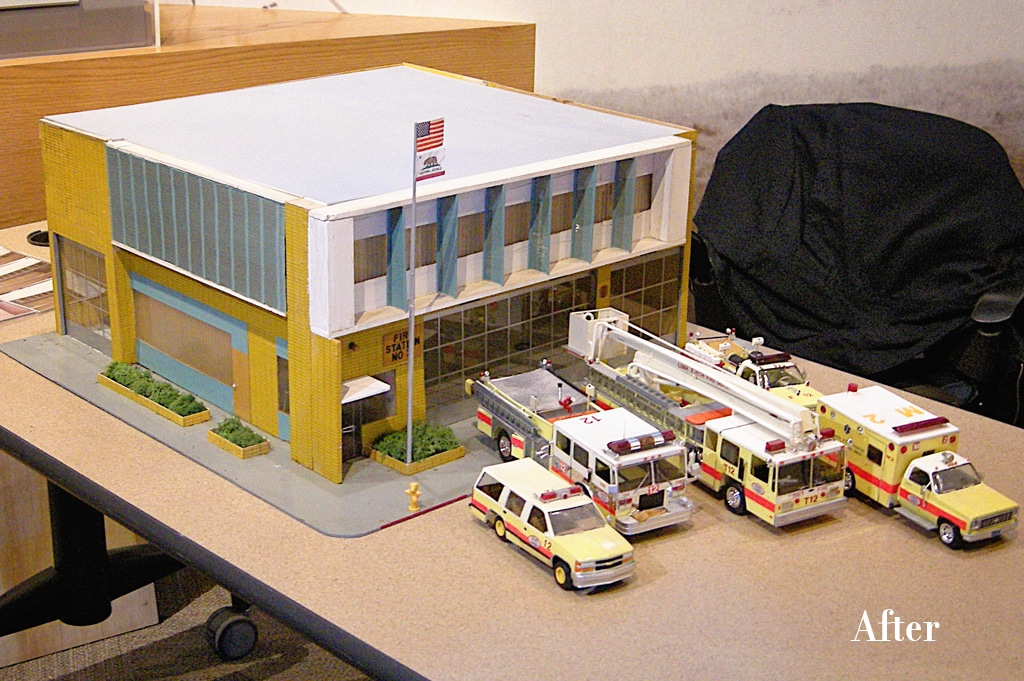 This model fire station was built in 1/32 scale by Tom Showers in 1965 out of balsa wood, bass wood, and other materials.
In 2019, John A. Ackerman and David Fischer worked on its restoration in a series of live demonstrations at the museum. The restoration process took approximately 300 hours.
When asked about what particular challenges they faced during this restoration, Ackerman noted that the biggest challenge was the fragility of the basswood construction- joking that Showers was a good model maker, but not engineer. Ackerman and Fischer used a liquid latex to reintroduce some moisture to the wood and needed to make reinforcements all over the structure. Another challenge was matching the color of the existing superstructure. Using enamel model paint, the artists would gradually add coats of an acrylic black wash, resulting in the aged look they were striving for.
Ackerman added that he and Fischer's diverse experience and backgrounds helped them collaboratively brainstorm creative solutions. Throughout the process, there were serendipitous moments when fellow model makers, who happened to be visiting, were able to lend a helping hand.
After the completion of the project, Ackerman delivered the fire station, along with fire apparatus he completed, to the Los Angeles County Fire Museum, where it will be on display.