"Oasis" Gas Pump Workshop
Create a 1:12 scale miniature vintage gas pump with wildlife in this 3-day workshop led by renowned miniaturists Michael Yurkovic and Beth Freeman-Kane at The Mini Time Machine Museum of Miniatures.
Dates: October 6–8, 2019, 9am to 4pm each day
Instructors: Michael Yurkovic and Beth Freeman-Kane
Workshop Fee: $650 / $585 for museum members
Location: The Mini Time Machine Museum of Miniatures, 4455 East Camp Lowell Drive, Tucson, AZ 85712.  Caitlin Suite Classroom
Advance registration is required for this workshop. Space is limited. Don't delay!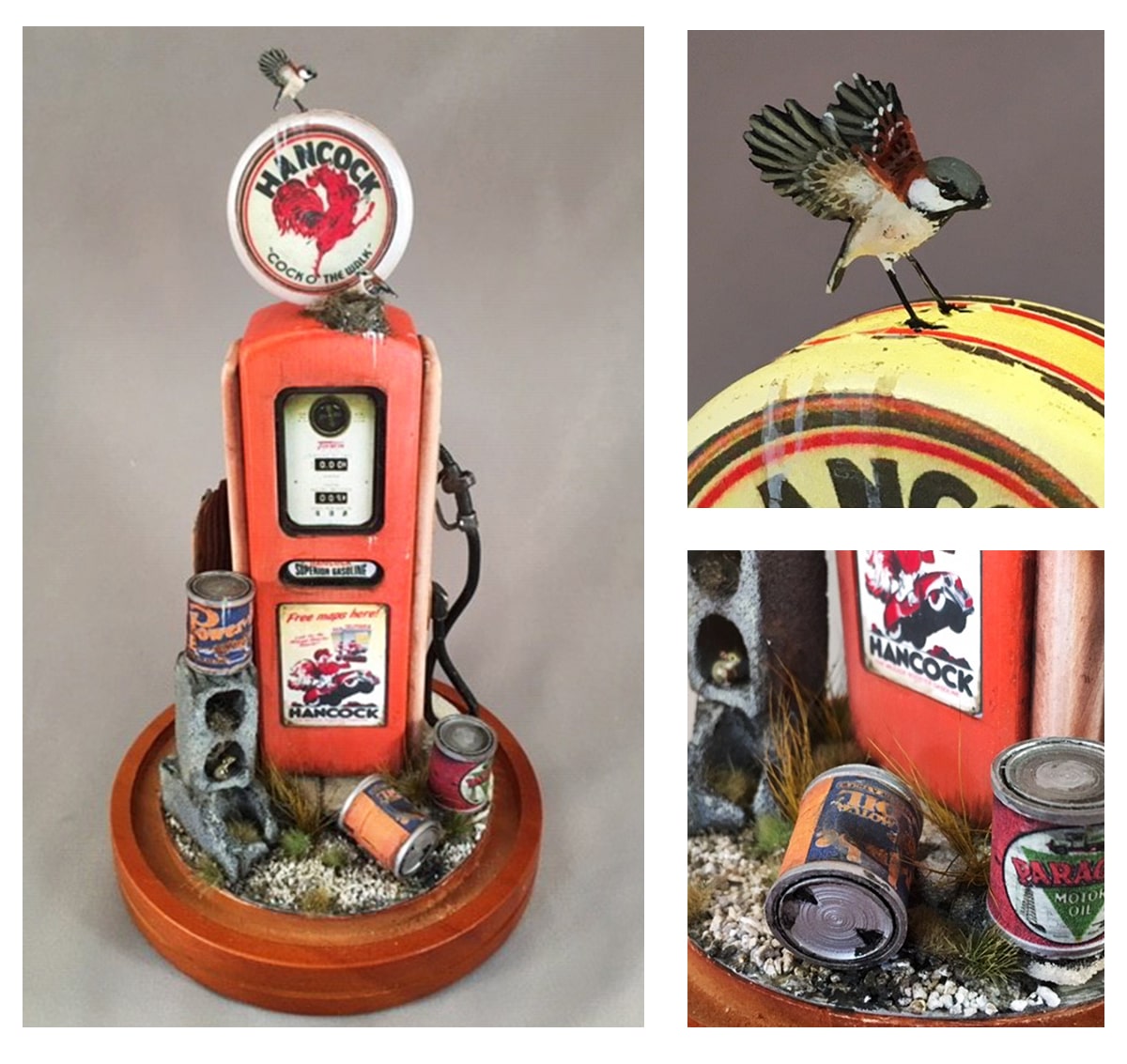 Oasis is a vintage gas pump, abandoned for decades in the desert, finding itself home to new residents. The finished piece stands about 8" tall, and the globe atop the pump lights up with a self-contained battery. Nesting Sparrows and a little mouse find themselves tucked in around the vintage oilcans and concrete blocks.
Students will be split into two groups, spending about half their time with Beth Freeman-Kane working on the wildlife elements, and the rest with Michael Yurkovic, creating the gas pump and scenery. Michael will provide his custom-made resin castings of all the parts for the pump and oil cans. Students will paint and finish all the parts and apply weathering to the degree they desire. Several sets of decals and markings will be provided so that students will have the ability to personalize their project. The gas pump can be painted in your choice of colors, with matching decals, for Mobilgas (Pegasus) for example. The instructor will provide the custom water slide decals and other markings. An LED lights the dome and will be pre-wired for easy installation in the cavity of the gas pump.
Beth's group will start by painting the supplied bird and mouse castings, and then will move onto landscaping the base of the project. Detailed instructions will be provided as usual by Beth for correct decoration of the sparrows, nest, and mouse. Landscaping materials will be provided so that each student can add tall grasses, gravel, and tufts of grass to the base of the piece. Beth will also demonstrate the use of washes and weathering to enhance the three-dimensional aspects of the piece.
Students will change instructors part way through the project, so that both groups will emerge with a finished piece. The project also includes the base and dome, and a box for packing after the class.