Our half-day Rodeo Break Mini Camp for ages 6–12 allows kids to build and create, while incorporating hands-on STEAM (science, technology, engineering, art, and math) concepts in a fun environment!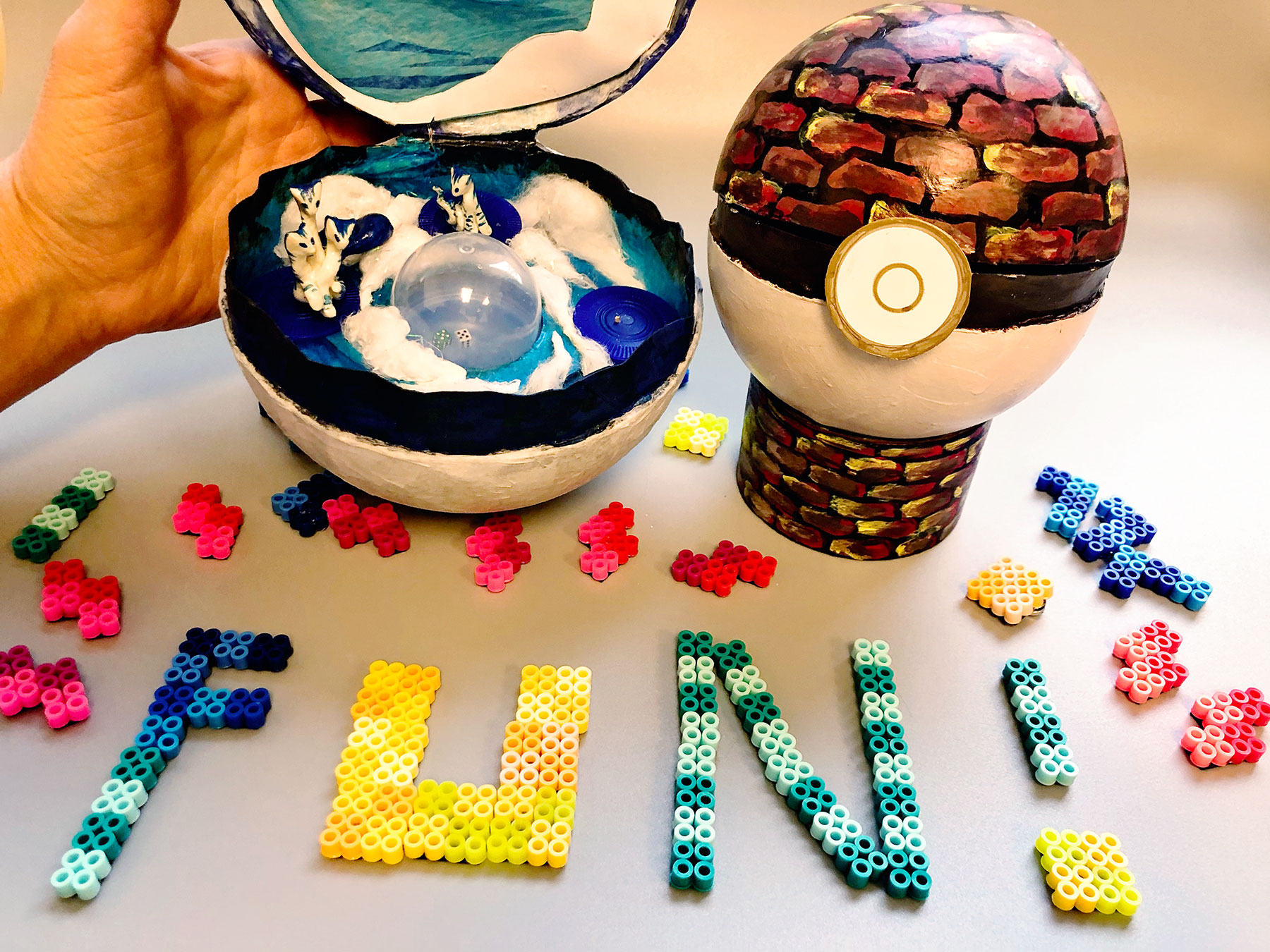 Game World Creator
When:
Thursday, February 25, 2021 and
Friday, February 26, 2021
9am-12:30pm, each day
Cost:
$55 per child / $49.50 museum members
Advance registration is required for this program. Space is limited.
Game World Creator Mini Camp
for ages 6–12
Themes: World building/story development, pixel design basics, game mechanics, basic math and logic functions, upcycling/recycling, and sportsmanship
Tired of staring at screens, but love gaming?  Join us for our Rodeo Break Mini Camp where you can imagine and design your own game world. Campers will build a table-top game by designing miniature creatures, tiny sphere-habitats with a dice mechanism and matching custom game cards with character stats and actions. Participants will also learn vocabulary for sportsman-like gameplay and emotional tools to practice for both winning and losing.
If time permits, additional activities will include non-electronic logic puzzles, pixelated 2D magnets reminiscent of early games such as Tetris, an up-cycled "non-screen," and hand-sculpted dice and miniature game pieces.
All materials and supplies to complete each project will be provided.
Instructor: Tiger Brooke
Important Information
In order to provide an in-person experience in the safest manner possible, this camp is limited to 10 participants and new safety procedures are in place. Please review the following information regarding new policies and procedures.
To provide an in-person experience in the safest manner possible, this camp is limited to 10 participants. Wellness and temperature checks will be conducted for instructors/staff and participants before entering the building. 
Masks are required for all persons in the museum over the age of two. This will apply to all participants and staff. Masks must be worn for the duration of the program.
Participants will be seated at their own worktable, spaced appropriately throughout the classroom. Participants and staff will be advised to maintain physical distancing as best as possible throughout the program.
Each participant will receive their own supplies. All tools, furniture, and materials will be disinfected after use. Each participant's belongings will be kept separated from others' belongings. Participants must bring their own water bottles and snacks.
Frequent hand-washing breaks will be scheduled. Hand sanitizer will also be available.
Before attending camp sessions, participant guardians or caregivers should make sure their child/children do not have a sore throat or other signs of illness, like a cough, diarrhea, severe headache, vomiting, or body aches. Children with a temperature of 100.4 degrees or higher should not attend this program. If your child has had close contact to a COVID-19 positive case, they also should not attend camp. If a participant or a participant's family member becomes ill or receives a positive COVID-19 test result during the week before camp or the two week period after the camp program, please contact The Mini Time Machine Museum's Education Director, Mackenzie Massman, at mackenziem@thetimemachinemuseum.org.
Refunds will be issued for any cancellation with notice to The Mini Time Machine Museum of Miniatures prior to the start of camp. Please provide as much notice as possible if you are requesting a refund.  Refunds cannot be processed after the start of camp except in extreme circumstances.  Refund requests must be submitted to The Mini Time Machine Museum's Education Director, Mackenzie Massman, at mackenziem@thetimemachinemuseum.org. 
Guardian(s) will be required to complete The Mini Time Machine Museum of Miniatures camp registration documents in full including a waiver of liability related to the COVID-19 pandemic. These documents will be emailed in advance to the email address listed in this registration and will also be available to be completed on the first day of camp. All forms must be fully completed in order to participate.
The museum reserves the right to refuse service to those who do not comply with our policies. By visiting The Mini Time Machine Museum of Miniatures and/or participating in TMTM programs, you agree to abide by our policies and procedures and voluntarily assume all risks related to exposure to COVID-19.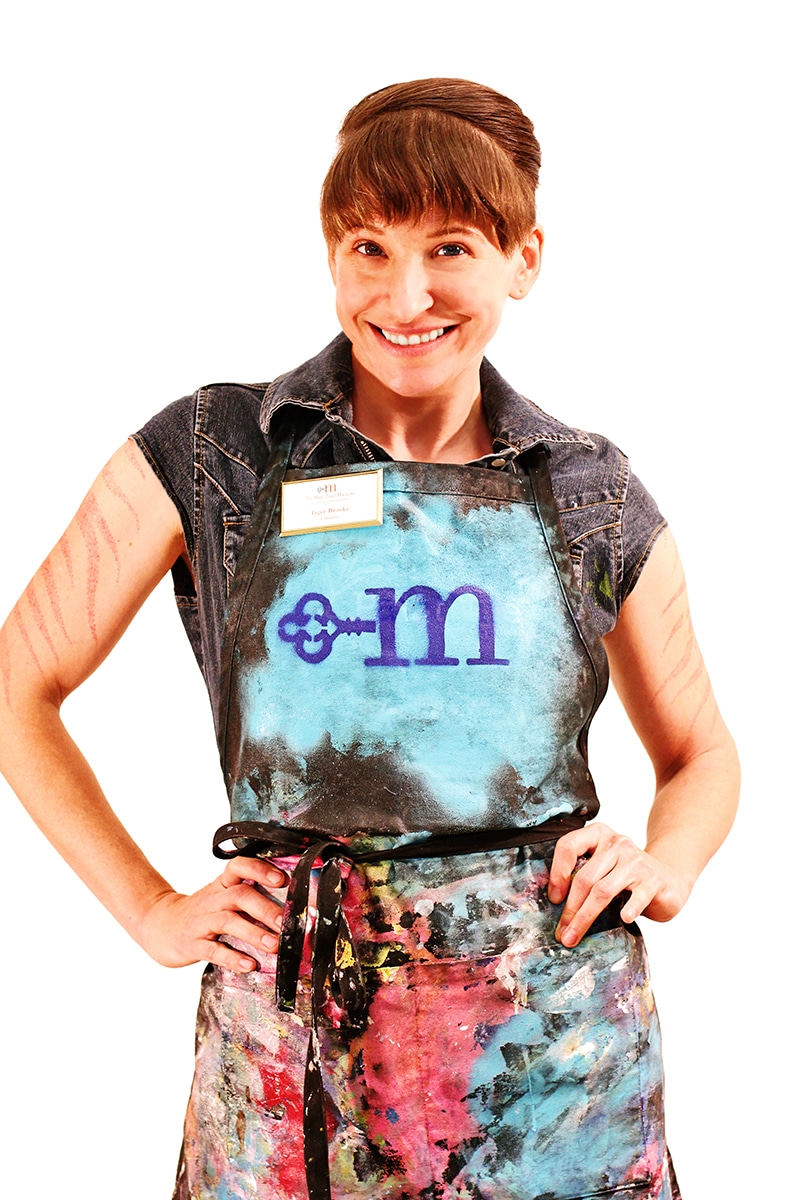 Tiger Brooke currently works as the Creative Director for Portly Pig Studios in Portland, Oregon and as an Owner of Dream Street Boutique in Hood River, Oregon. She teaches painting to both children and adults during her weekends and evenings, and her spare time is devoted to the support of The Mini Time Machine Museum of Miniatures.
Tiger has her MFA in sculpture from California College of the Arts in San Francisco, sat in on an entire MFA program in Interactive Media from University of Southern California in Los Angeles and received her BS in Printmaking, Drawing and Painting from Portland State University. Earlier in her college career she simultaneously earned three degrees in Engineering Technology: Civil, Mechanical and Architectural, where she honed her interests in inventing, construction, mathematics, practical sciences, and also minored in both theater and environmental studies. Tiger taught Summer Camp at the museum in 2019.
Questions?
Have questions about this program or need help registering? Please contact our Education Director, Mackenzie Massman, at 520-881-0606 ext. 113 or by email.