Yellow Rose of Texas- a Season of Lights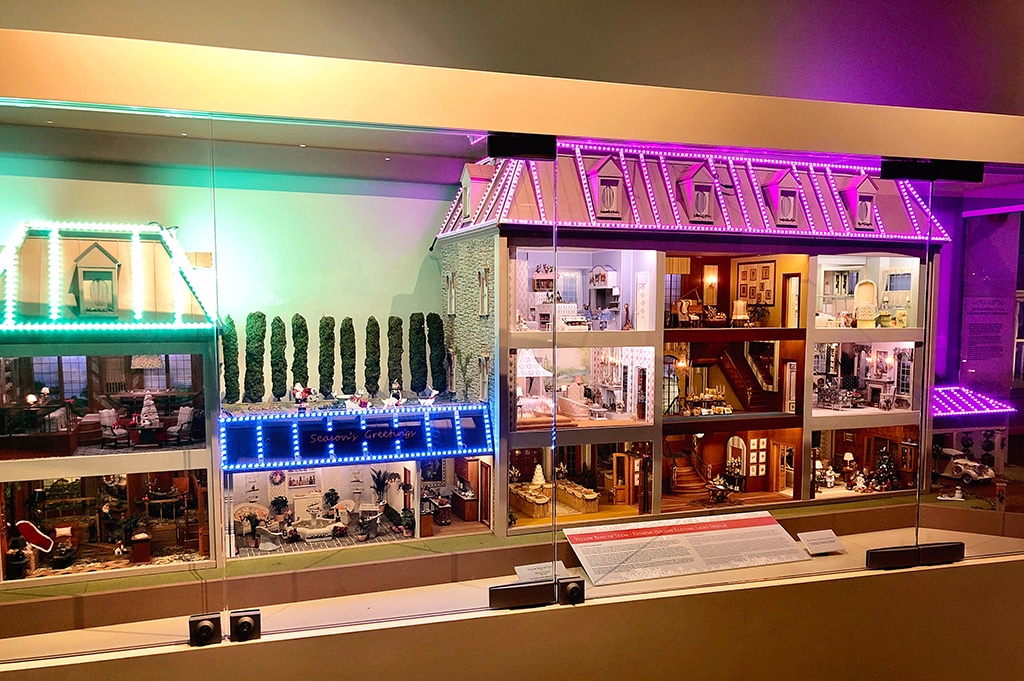 Decorated with a festive holiday light show during a Wee Winter Wonderland as part of Holidays Around the World and Through Time.
Brooke Tucker
1985
1:12 scale
HAUL OUT THE HOLIDAY LIGHTS!
The tradition of decorating in and around the home with Christmas lights grew out of the German tradition of lighting the Christmas tree with candles, which began in the early 1800s. The first electric Christmas tree lights were lit on December 22, 1882 by Edward Johnson, vice president of Edison Electric Light Company. Johnson's marketing gimmick caught the public's attention, but the price tag - $12 a string, the equivalent of $300 today, meant that only the very wealthy could afford Christmas tree bulbs at the turn-of-the-century.
After President Grover Cleveland sponsored the first electrically lit Christmas tree at the White House in 1895, enthusiasm for electrically lit trees mounted. However the idea of separating the lights from the trees didn't catch on until the 1920s. The expansion of lights from the Christmas tree to buildings began with shop keepers who put the lights around their window displays. General consensus is that the first electric holiday Christmas display was arranged by Fredrick Nash and the Pasadena Chamber of Commerce. The display was called "Christmas Tree Lane" and was located on Santa Rosa Avenue in Altadena, CA- where it continues today. Soon communities around the country were having holiday lighting competitions, but it wasn't until the 1950s when mass production brought down the cost of the lights, that the average American household started using electric Christmas lights to decorate their homes and yards.
By the 1960s families began decorating their homes with multiple strands of white and multicolored Christmas lights. The tradition has grown into elaborately decorated homes featuring blinking lights and sound and whole neighborhoods band together to offer extravagant light displays throughout the holiday season. Here in Tucson, the Winterhaven neighborhood (located west of The Mini Time Machine Museum on Fort Lowell) is known for its annual Festival of Lights.