Tori West: Medley of Miniatures in Creative Paperclay®

August 24, 2021 – January 9, 2022
In this Community Corner exhibition, miniature artisan and Tucsonan Tori West demonstrates a wide variety of skills using her favorite medium, Creative Paperclay®, which she carves, models, and sculpts into a medley of subjects from skeletons and adobe casitas to fantasy and fairytale-themed miniatures.
Exhibition Overview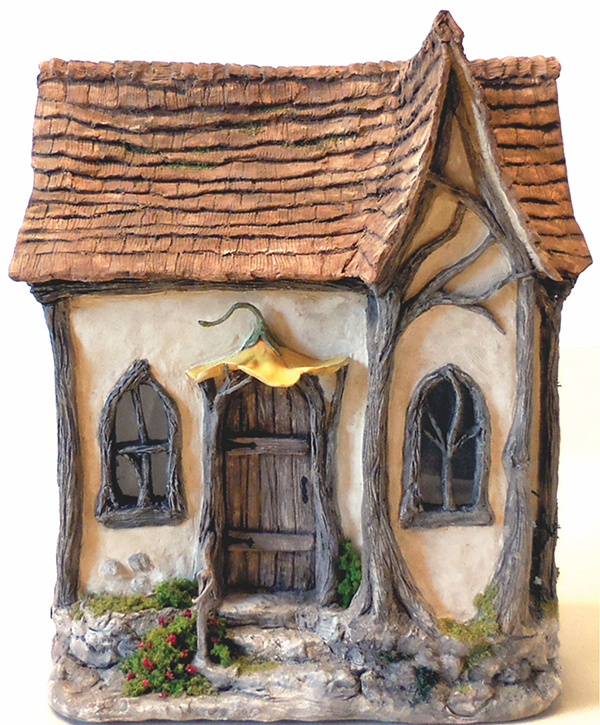 You could say a miniature artisan is a jack-of-all trades. In order to create realistic miniature scenes to scale, an aptitude for mathematics and interest in history are foundational. Skills in woodworking, electrical wiring, metalsmithing, needlework, casting, sculpting, and painting may also be called upon to bring the vision to life. Miniature artisan Tori West brings these skills and more, along with creativity and resourcefulness, to her practice of making miniatures. Though she has used numerous techniques and materials in the thirty years that she has been involved with this art form, her favorite material to work with by far is Creative Paperclay® modeling material– a medium she discovered in the 1990s.
Tori is completely enamored with Creative Paperclay® due to its versatility. "It can be made to look like just about anything and can be sculpted, molded, carved, sanded and more," she says. "I continually experiment with it and have developed methods of working with the medium– including coming up with a process that allows me to turn it on a miniature lathe." The diverse subject matter of this exhibition, which includes skeletons, adobe casitas, and fantasy and fairytale themed miniatures, demonstrates Tori's curious mind and eclectic interests, while showcasing the versatility of her preferred modeling medium.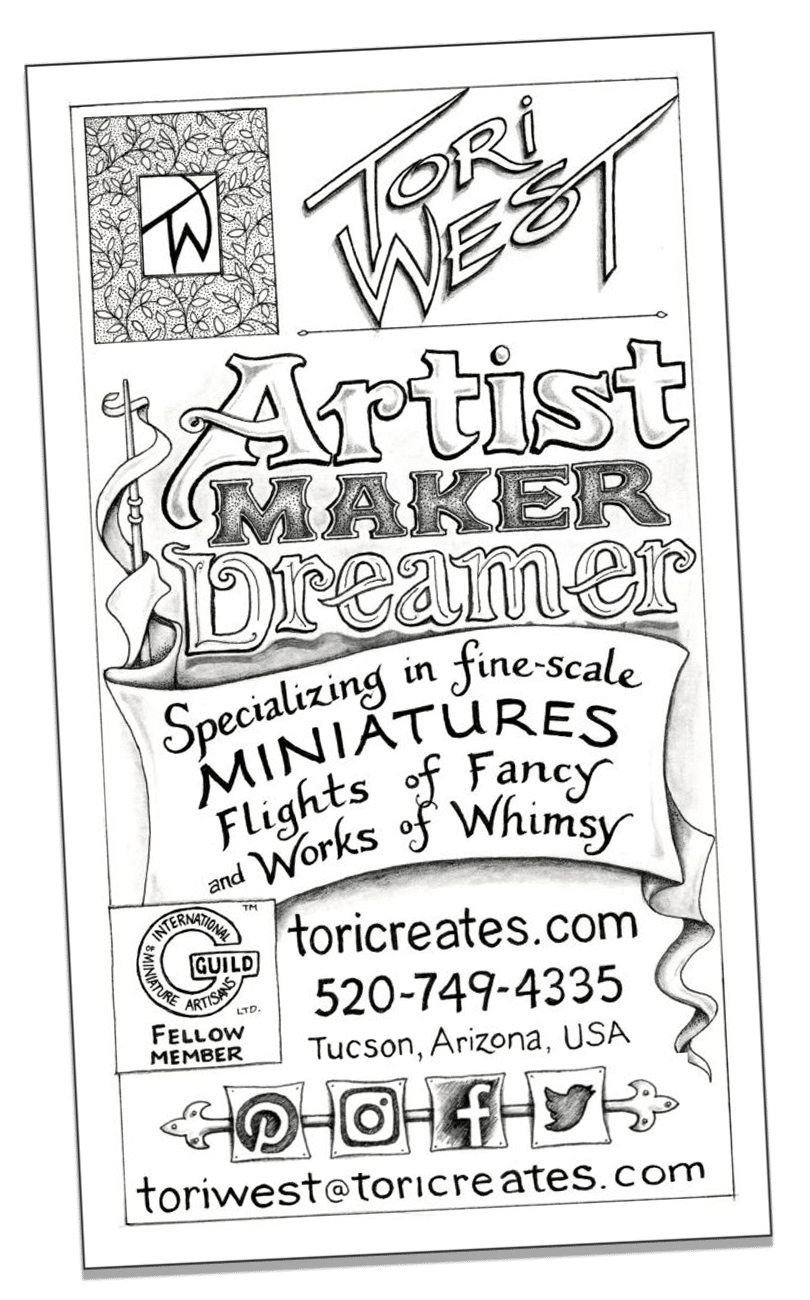 Tori West was introduced to scale miniatures when her grandmother showed her an article about the Fairy Castle by Colleen Moore, on display at the Chicago Museum of Science and Industry. The article made a deep impression on the teenaged Tori. She says, "I think I started taking miniatures seriously and then wanting to make them because of that article. It was the first time I realized they could be a true art form, and I don't believe I had seen any miniatures prior to that experience that weren't the plastic or cheap-wood-manufactured-type for kids to play with."
Tori grew up in a family of creatives and was encouraged by her mother to explore many arts and crafts. From the moment she could hold a pencil in her hand, she could be found drawing and painting. As a youth, she dabbled in numerous creative pursuits: leather work, casting, metal shaping, pottery, sewing, candle making, crochet, weaving, embroidery, rug hooking, macrame, beading, wood carving, wood burning, and model building. "This would be the short list of some of the craft crazes we went through while I was growing up," she says. When she began making miniatures it was a perfect fit, allowing her to utilize all the skills and knowledge she has garnered over the years. It is the opportunity to learn new things that she enjoys the most of about this artform.
In 2001, Tori became a Fellow member of IGMA (International Guild of Miniature Artisans). Only "those who strive for perfection" will earn Fellow membership status in this organization. Tori reflects on her involvement with IGMA, noting "The greatest effect on my work due directly to my involvement with the Guild has been the inspiration, help, and enthusiasm of the other members I have met through the years, many of whom have become good friends. I don't know where this quote came from, but it is fitting; Surround yourself with people that reflect who you want to be and how you want to feel – energies are contagious."
Connect with Tori West
Visit Tori's website at toricreates.com. Connect with her via Facebook, Instagram, or Pinterest.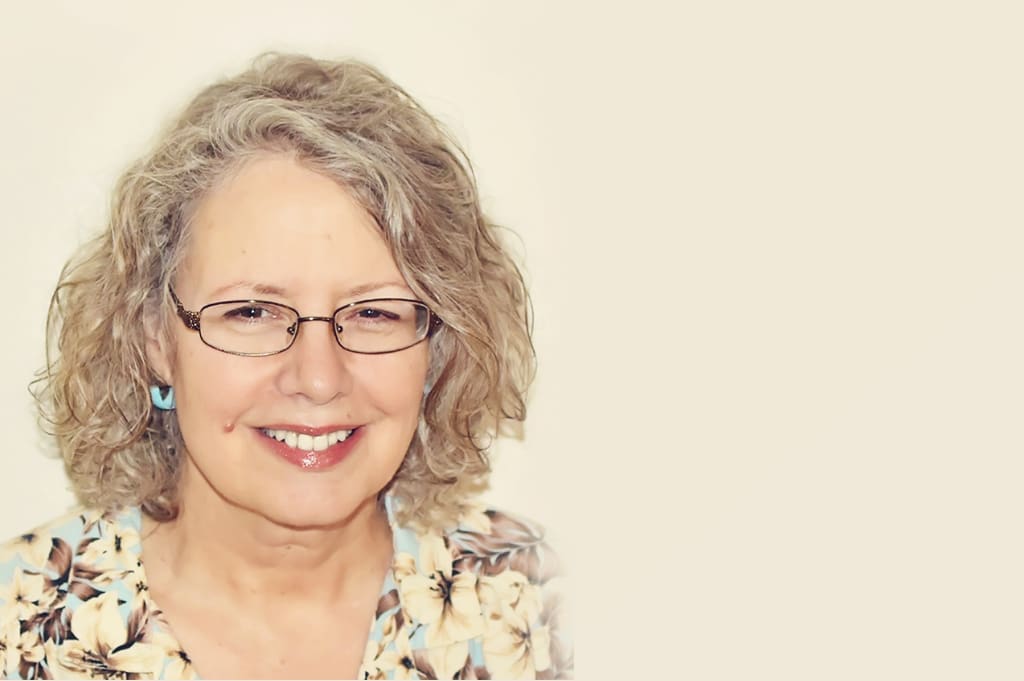 Virtual Artist Talk with Tori West
Join us from the comfort of your home while miniaturist Tori West joins us live from her studio to share with you more information about her work and take questions from the audience.
Thursday, August 26, 2021 @ 6:30pm
This is a free program. Please register to receive an email with details to join the Zoom presentation.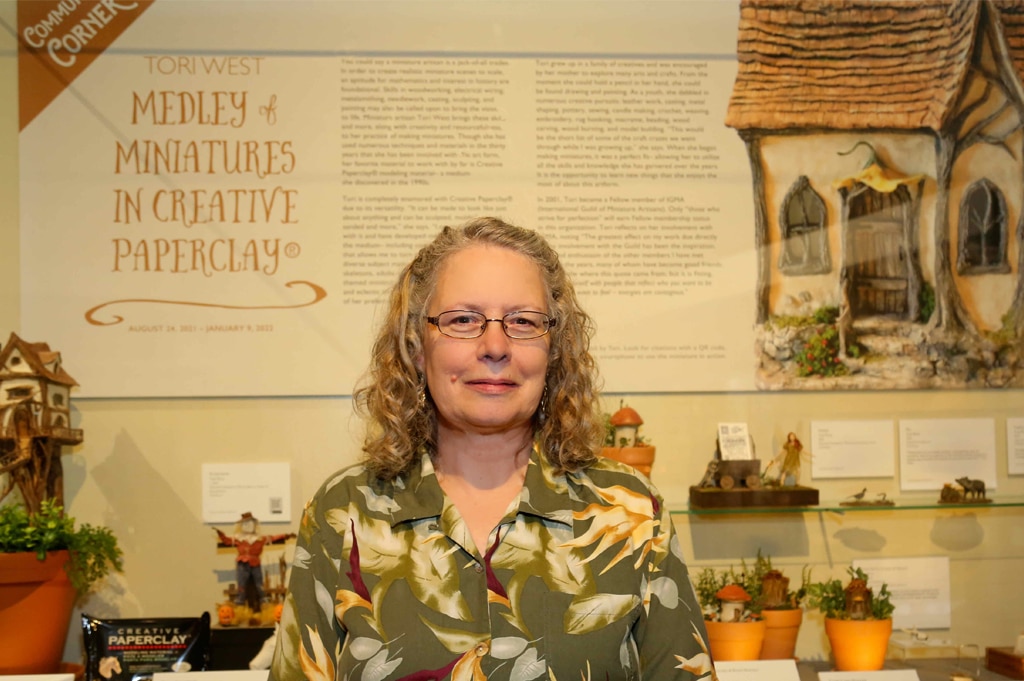 Artist Demonstration: Tori West
Meet artist Tori West as she demonstrates her techniques for using Creative Paperclay® in making miniatures. Tori will be demonstrating in our Contemporary Gallery near this current exhibition of her work.
Sunday, November 14, 2021 @ 1pm-3pm
Included with museum admission. Free for Museum Members.
About the Community Corner
The Mini Time Machine Museum of Miniatures' Community Corner is exhibit space dedicated to featuring the work of Tucson-area artists working in miniature. Exhibitions are selected to demonstrate the diversity of miniature artwork that is being created in our community.