Tordis Hus- A Danish Christmas Celebration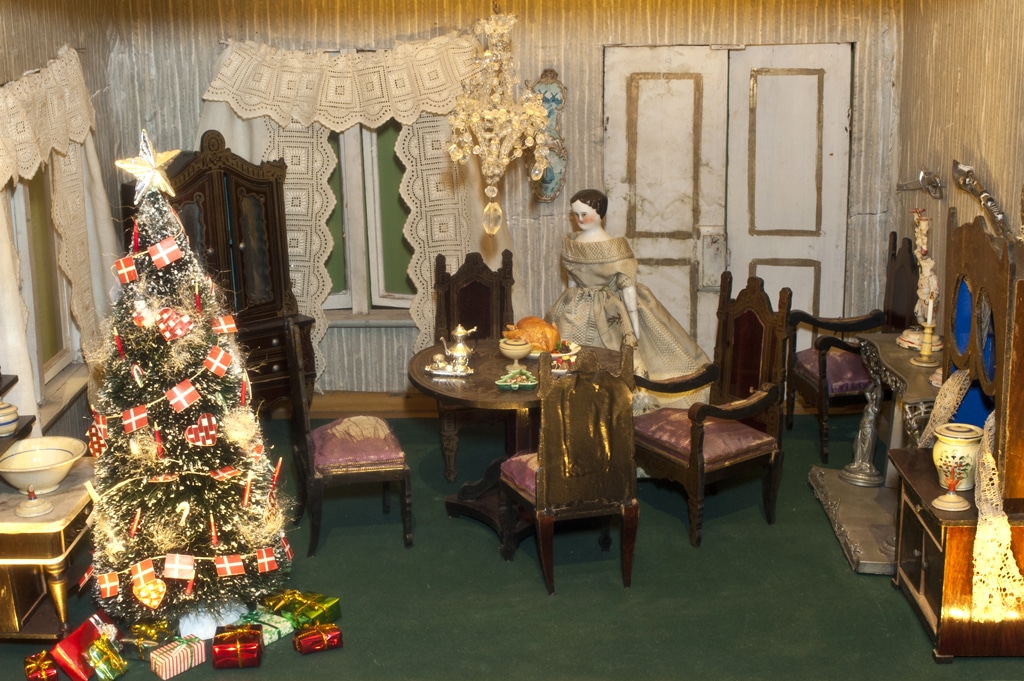 Decorated for a Danish Christmas celebration during a Wee Winter Wonderland as part of Holidays Around the World and Through Time.
Artist unknown
ca. 1875
A Danish Christmas celebration is rooted in Christian and Nordic customs. In Denmark Christmas is the main festival of the year. Jul the Danish word for Christmas means "feast" and is a Nordic tradition that pre-dates the birth of Christ. From the 18th through 20th centuries customs of various countries were introduced such as the Christmas tree from Germany, mistletoe and holly from Great Britain and Santa Claus from the United States, forming the contemporary celebration of the holiday.
Danes start the Christmas holiday by celebrating Advent which begins on the first of the month. On December 1st, children start counting the days until Christmas by opening their Advent calendar (also known as a Christmas calendar). Every child has a calendar which is made of paper and filled with chocolates, small gifts or pictures hidden behind twenty four little doors. Each day you open a door on your calendar and enjoy a delight.
Adults may mark the weeks before Christmas by lighting candles on an Advent wreath beginning on the fourth Sunday before Christmas Eve. On the first Sunday of Advent the wreath is hung and the first candle is lit, each Sunday after an additional candle is lit so that by Christmas Eve all the candles are lit.
Danes also have a calendar candle which is marked like a tape measure with number twenty four at the top down to the number one at the bottom. The candle is lit daily but must be blown out before it burns down to the next date. Children usually have the job of blowing out the flame. Find the Christmas calendar, Advent wreath and Calendar candle in the parlor on the second floor of Tordis Hus.
The Christmas tree in Tordis Hus is decorated in 20th century style with a gold star on top, (never an angel), candles, festoons of national flags, cornets with fruit, cookies and candy, small toy musical instruments and white fairy hair. One special Danish Christmas ornament is the Christmas heart. The heart is made of red and white paper, the colors of the Danish flag, woven together. The hearts are put on the Christmas tree or used as a mobile.
The Christmas tree is not brought in the house until Christmas Eve. Following a sumptuous goose dinner on Christmas Eve, Danish families light the candles on their Christmas tree, join hands and dance around the tree singing songs. A gift exchange follows the singing and the evening wraps up with everyone enjoying coffee and sweets before retiring for the night.
Christmas day is generally a quiet family time. Luncheons and visits with relatives and friends usually begin on December 26th.