The Whimsical Village of Medow
October 7, 2020 – January 10, 2021
This featured exhibition includes 20 hand-crafted, whimsical miniature dwellings designed and created by Sedona-based wood sculptor Mike Medow.
Exhibition Overview
Mike Medow has been carving and painting for 51 years. Four years ago, he became a grandpa and was inspired to build a dollhouse for his granddaughter. This little abode catalyzed the creation of a whole village of whimsical cottages. As he worked, Mike let the beautiful wood inspire the design of his creations. Soon he found himself enhancing his cottage exteriors with stone and paint, and even furnished some of the interiors with chairs and tables that he whittled.
The imaginary buildings gave way to creating real-world abodes based on places he lived or visited over the years. Most notably, Mike was inspired to create the house his older brother Diki Medow occupied in Formentera, Spain from the 1960s until his passing in 2018. Formentera is the smallest of Spain's Balearic Islands in the Mediterranean Sea. The homes on the island feel as fable as the whimsical village in Mike's imagination. He constructed a miniature of his brother's beach home, which had no running water or electricity, and a couple other buildings on the island. These structures fit seamlessly into the Whimsical Village of Medow.
Artist Biography
Mike Medow was born in Chicago Illinois in 1944. Fifty-two years ago, he began sculpting wood and it has been a love and central focus of his life ever since. For him, the artistic journey has been a process of growth, evolution, and maturation. In 1979, Mike moved west and eventually settled in Sedona. He was awestruck by the magnificent landforms of the desert. The rock formations are echoed in full and robust carved figures he creates which he calls Figurescapes. The duality of land and female form that Mike sculpts is, of course, the most ancient subject of all art–the earth mother. In addition to his whimsical wee buildings and figurative sculptures, Mike paints and carves animal subjects and abstract forms from regional wood. He also carves and constructs marionettes and string instruments–many of which he plays.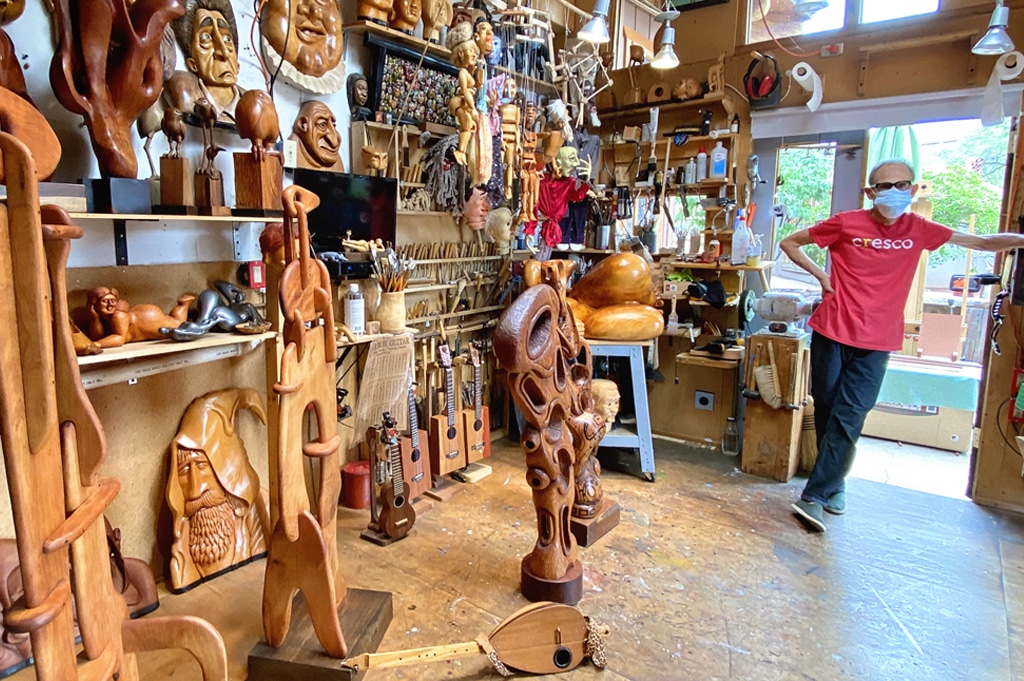 Virtual Studio Visit with Mike Medow
Join us from the comfort of your home while artist Mike Medow joins us live from his studio in Sedona, Arizona to share with you more information about his work and take questions from the audience.
Thursday, October 8, 2020 from 6:30pm–8pm
This is a free program. Please register to receive an email with details to join the Zoom presentation.
Our 2020 Exhibition Season is supported in part by Tucson Lifestyle Magazine. Tucson Lifestyle Magazine is Tucson's only glossy, monthly city magazine, targeting Southern Arizona's affluent residents. With over 35 years of publishing experience, Tucson Lifestyle is committed to highlighting the people, places, cuisine, and attractions that make our city unique.