Sentinels of the Sea: Miniature Merchant Clipper Ship Figureheads by Lloyd McCaffery
January 27, 2022 – May 1, 2022
Lloyd McCaffery carves scale replicas of real-world figureheads from the bowsprit of clipper ships that once sailed the seas and were believed to watch over the vessel. This Featured Exhibition will include sixty of McCaffery's miniature figureheads– all replicas from 19th century merchant ships.
Exhibition Overview
Lloyd McCaffery is an internationally acclaimed miniature artist, renowned for his scratch-built model ships and his exquisitely carved miniature ship figureheads. McCaffery frequents maritime museums studying their collections, historic paintings, drawings, and documents to identify the most attractive and historically significant ships and figureheads, which he then masterfully recreates in miniature. This exhibit features figureheads from his clipper ship series. The clipper ship was a narrow vessel with a concave bow under which a figurehead was mounted.  What the clipper lacked in cargo capacity, it made up for in speed - making it a viable and popular ship for fast delivery of profitable goods, such as tea transport from China to Europe and the US, in the early 19th century.
The history of figureheads dates to ancient times, when mythology explained natural phenomenon. The Phoenician, Egyptian, Greek, and Roman seafarers had a slew of myths and superstitions that provided a sense of security for sailors on the open sea.  Among those beliefs was the notion that a ship was a living being with a spirit. To represent the spirit of the ship, Phoenicians and Egyptians placed fierce beasts on the hulls. The Greeks believed a ship needed eyes to make her way safely across the open sea, so they painted eyes on the sides of a ships bow; later, the Romans transformed this practice into the creation of a figurehead mounted on the bow itself. The belief that a figurehead guided the ship and protected the crew was a world-wide phenomenon, making the mounting of figureheads on seafaring ships standard practice in most countries for centuries. Figurehead subjects can include religious personages, national emblems, prominent political figures, or a figure symbolizing the ship's name.
Up until the latter part of the 19th century, figureheads were considered an essential part of a ship though, in all practicality, figureheads hindered the maneuvering of the vessel due to their size and weight. But it wasn't the lack of stability they created which summoned their demise; rather, it was advancements in shipbuilding coupled with the rise of science. When scientific fact diminished attachments to superstition, and ship construction moved away from sail and wood to metal and steam, figureheads were ill-fated. The new steamers of the late 19th century were more reliable than clipper ships, and with their metal construction and straight hulls, the bowsprits and figureheads that accompanied them became extinct. However, thanks to McCaffery's diminutive historical carvings, we can still get a glimpse of some of the most interesting figureheads of this bygone era.
Lloyd McCaffery's Creative Process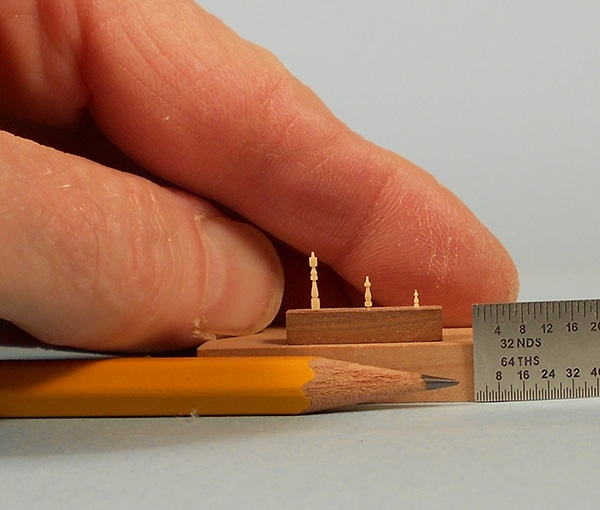 A consummate artist, McCaffery selects a subject based on three principles: good looks, historical significance, and thorough documentation. Once a decision of what to create is made, he spends a quarter to a half of his time on the project conducting research. After considering every angle, he illustrates the plan by creating an accurate, detailed scale drawing from which he will scratch-build his model ship or figurehead. He works in a range of scales from 1:12 down to 1:768. The carving process involves selection and preparation of wood, paper, metal, plastic, and glass among other items. After the materials are prepared, he uses a carefully curated selection of hand tools designed for working on a small scale, to carve and construct his pieces.
About Lloyd McCaffery
Surprisingly, Lloyd McCaffery grew up nowhere near the ocean, in the landlocked state of Oklahoma. He distinctly remembers his first encounter with a model ship: a photograph of an old, British dockyard model. Although just an illustration, it was love at first sight. Looking back, McCaffery recalls poring over pictures and paintings of ships and creating his own imagined versions through drawings. As a youth, he had a voracious appetite for the mariner novels of CS Forester and Alan Villiers. While in high school, he discovered a passion for mechanical drawing, metal shop, and especially woodworking. These early experiences would become the drivers fostering his future career as a miniature ship modeler.
After graduating high school, McCaffery attended various schools and institutions, selecting any courses that interested him. He says, "There is no 'career track' for becoming an artist, much less a specialist in miniatures. It took me several years to 'find myself' and begin to shape a career where I could make a living as a starving artist." In 1963, he "began to get serious" about pursuing a creative life, and moved to Oregon in 1964, where he met Dr. Bernard Berenson, who would teach him about ships. While there, he became acquainted with model ship collectors, and soon after was commissioned to make his first model ship. His skill and talent developed quickly, bringing him to the attention of serious collectors. By 1969, he had built a clientele that made it possible for him to work full time as a professional artist.
Over his 50-year career, McCaffery has created a plethora of model ships and over 100 ship figureheads in two collections: one of the US Navy, and the other comprised of clipper ships. His work can be found in both private and public collections, including the National Museum of Toys and Miniatures and the Mystic Seaport Museum. In addition to his craft, McCaffery has also published a book, Ships in Miniature, and has written dozens of articles for journals, including the Nautical Research Journal, Model Shipwright, and Shipwright. Reflecting on his journey as a miniaturist, McCaffery states, "All the while I continually developed my knowledge, skills, and techniques. Having achieved a state of mastery I am focused on fulfilling my legacy, tackling major, complex projects which of economic necessity were deferred for decades. Now, at 72, I look forward to many more years of creating."
Live Presentation by Lloyd McCaffery
This video features selections from artist Lloyd McCaffery's January 2022 presentation at The Mini Time Machine Museum of Miniatures.
Our 2022 Exhibition Season is supported in part by Sterling Investment Management, LLC, a private, independent, employee owned investment management boutique. For over 25 years, this Tucson-based firm has created sophisticated portfolios of individual securities designed to meet each client's financial planning objectives. Their long-standing tradition of growing and safeguarding their clients' wealth on a risk-adjusted basis has defined the success of both their clients and Sterling since 1995.
Zona Mechanical is an HVAC/R company in Southern Arizona who provides reliable industrial and commercial services for your heating and cooling needs. Knowledgeable in their trade, Zona focuses on cost control for facilities and their structures by proactively managing the health of equipment for optimal efficiency. Efficiency in their line of work means you can expect comfort and stabilized maintenance cost with complete assurance your capital investments are in the right hands. (ROC #317222)
Our 2022 Exhibition Season is supported in part by the Arizona Commission on the Arts, which receives support from the State of Arizona and the National Endowment for the Arts.