On Point: Sculptures on the Tips of Lead Pencils
February 1, 2018 – April 15, 2018
On Point: Sculptures on the Tips of Lead Pencils running February 1, 2018 through April 15, 2018 at The Mini Time Machine Museum of Miniatures, features over thirty micro miniature sculptures, carved on the tips of lead pencils, created by artists Cindy Chinn, Salavat Fidai, and Dalton Ghetti.
Featured image above: pencil carvings by Salavat Fidai.
Exhibit Overview
Working independently from one another, artists Cindy Chinn, Salavat Fidai, and Dalton Ghetti each carve pencil lead, working directly on the tips of carpenter and No. 2 pencils to create intricate, micro-miniature sculptures, averaging around only half-an-inch high. These sculptures are created using surprisingly few tools– mostly an X-Acto knife, a strong light, and occasionally a magnifier. Unlike the other two artists, Dalton will also use a needle. What each artist has in great supply is patience, focus, excellent hand and eye coordination, and tenacity. There is no doubt about it: the process of carving pencil graphite is delicate. Cindy Chinn will tell you that trial and error are the best teachers and that not every subject will translate into this medium. Likewise, the artist must learn how much pressure the fragile lead can withstand. Dalton Ghetti positions that mind over matter is vital when working on such a small scale. He explains the challenge, "It would drive me mad when I would be just a bit too heavy-handed and the pencil's tip would break. I would get very nervous sometimes, particularly when the piece was almost finished, and then I would make a mistake. I decided to change the way I thought about the work – when I started a new piece my attitude would be 'well this will break eventually but let's see how far I get.' It helped me break fewer pencils, and although I still do break them, it's not as often."
Carving micro miniatures might seem tedious; however, if you talk to the artists, they will tell you it is actually relaxing, relating it to meditation. As with meditation, micro carving requires the artist to be in the moment, giving unhurried attention to his or her practice. Since the slip of a tool can destroy a nearly completed sculpture, staying focused but not overthinking is essential in order to maintain control of the material and tools. Artist Salavat Fidai explains, "It's like meditation and a challenge: to make a micro sculpture and not break it! It is indeed very fragile and tiny and that excites me the most."
Cindy Chinn
Cindy Chinn is an artist based in Nebraska who works in a variety of media including paint, clay, assemblage, wood, metal, and most recently, pencil lead. She discovered the art of carving pencil lead in 2015, while surfing the web. Cindy was immediately intrigued because the pencil lead carvings are similar to her practice of carving images into the blades of tools including saws, shovels and rakes. Cindy cuts away the metal of the blades rendering the tools useless but transformed into works of art. It is the same with lead pencil sculptures; the pencil becomes a useless tool but a stunning work of art. Cindy decided to add pencil carving to her repertoire of transformed tools. Having never carved so small before, Cindy discovered that the micro-scale presented new challenges. She persisted despite failures and treated each attempt as a learning opportunity. The more she worked, the better she understood the limitations and possibilities of the scale and the medium.
Cindy's original plan was to enter her lead pencil sculptures in a miniature show at a local gallery but it evolved beyond a single miniature exhibit after sharing them on the internet. In late 2015, she posted a photo of her first Train Pencil on Facebook. To her surprise, the photo went viral. The enthusiasm for her pencil carving was encouraging and she continued to explore different ways of carving away the wood and sculpting the lead. In June of 2016, Cindy shared another piece on the internet, Elephant Pencil, and this image went viral, too. Before she knew it, numerous inquiries and commissions started coming her way, forging a new profile for the artist: she is now unquestionably a micro miniature pencil lead sculptor.
Salavat Fidai
Salavat Fidai uses his index finger as an easel and an X-Acto knife as his chisel, to carve intricate and detailed sculptures into pencil graphite. The self-taught sculptor explains his technique: "The technology is very simple, I take a pencil and remove the extra." Salavat also enlists a microscope for the smallest details and sometimes works for days on a single piece. He began this unique form of sculpting in 2014. His subjects include commonplace objects like a ladder-back chair or a camera, fictional characters from film and television, such as Yoda, WALL-E, Batman, and characters from Game of Thrones. He also reduces colossal architecture like the Eiffel Tower, the Chrysler Building, and Big Ben, to an average height of ¾".
Depending on the complexity of the subject, it can take Salavat from six and twelve hours, or up to a couple of days, to complete one pencil. "I love experimenting in various art forms," says Salavat. "Miniatures I like because of the complexity. I carve out the micro sculptures from the lead of a pencil because it is very difficult and it is a unique art form. It is a challenge for me: Will I be able to make micro sculpture and not to break the fragile graphite?"
Salavat Fidai grew up a small village at the foot of the Ural Mountains in Russia. Salavat's parents are artists and although he had an interest in art, he ultimately chose to study law. He built a successful career as a lawyer and businessperson, but at the height of his career, he felt uninspired and unfulfilled in his work. At this time, Salavat encountered an old friend who asked him if he was still painting and making art. It was a transformational question for Salavat. He explains, "At this moment something had changed. Something switched or clicked inside me. And I knew - time has come to change my life." After some soul-searching, Salavat made the decision not to return to the office and to instead pursue a career as a freelance artist. It was a risk to forego the security of a steady job, but one he was compelled to take. With his family's support and dedication to his calling, Salavat has found success and the fulfillment he was lacking. As a micro miniature sculptor, he has gained an international reputation for his sculptures on the tips of lead pencils. In addition to his pencil carvings, Salavat also makes microcopies of famous paintings on pumpkin seeds, sunflower seeds, and rice. "But most of all I like to work with pencils," he says.
Dalton Ghetti
Dalton Ghetti is a carpenter who has been making tiny graphite carvings on the tips of lead pencils for about 25 years. His interest in carving pencils goes back on his childhood growing up in Sao Paulo, Brazil. He recalls learning to use a razor blade or pocket knife to sharpen pencils for drawing and writing when he started school at the age of six. After receiving a set of metal tools from his parents when he was just nine years old, he started to make sculptures with the knives, chisel, and hammer. Ever since his youth he has continued to make all kinds of objects from a variety of materials, including pencils. He recollects, "At school I would carve a friend's name into the wood of a pencil and then give it to them as a present."
Dalton moved to the United States in 1985. At the time, he was carving large sculptures out of wood. In 1986, his interest in small living things inspired him to create the smallest possible carvings that he could see with his naked eyes. One day, he picked up a pencil and started carving the lead. Making micro miniature sculptures from pencil lead proved challenging; he learned that attitude provides aptitude to steady your hands when you are working on a tiny scale. Dalton loves the challenge of working small, but works in short intervals: 1 to 2 hours maximum per day, slowly removing specks of graphite. It might take him months or sometimes years to complete a sculpture.
To create his miniature sculptures, he holds the pencil in his hand under a strong light source such as a table lamp or sunlight, and carves with a razor blade, sewing needle, and sculpting knife. Dalton describes his process: "I use the sewing needle to make holes or dig into the graphite. I scratch and create lines and turn the graphite around slowly in my hand."
Though Dalton's work has been exhibited in museums and galleries around the world, and has been featured in many publications including the New York Times, Times for Kids, and Weekly Reader, he still considers sculpting pencils a hobby and a form of meditation. He sculpts pencils mostly for himself and his art comes from his heart. He does not do commissions or commercial advertising. His original pencil carvings are not for sale. His focus is solely the art – and he wants to keep it that way.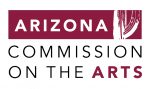 This exhibition is supported in part by the Arizona Commission on the Arts, which receives support from the State of Arizona and the National Endowment for the Arts.