Mouse Habitat- Visions of Sugar Plums Danced in their Heads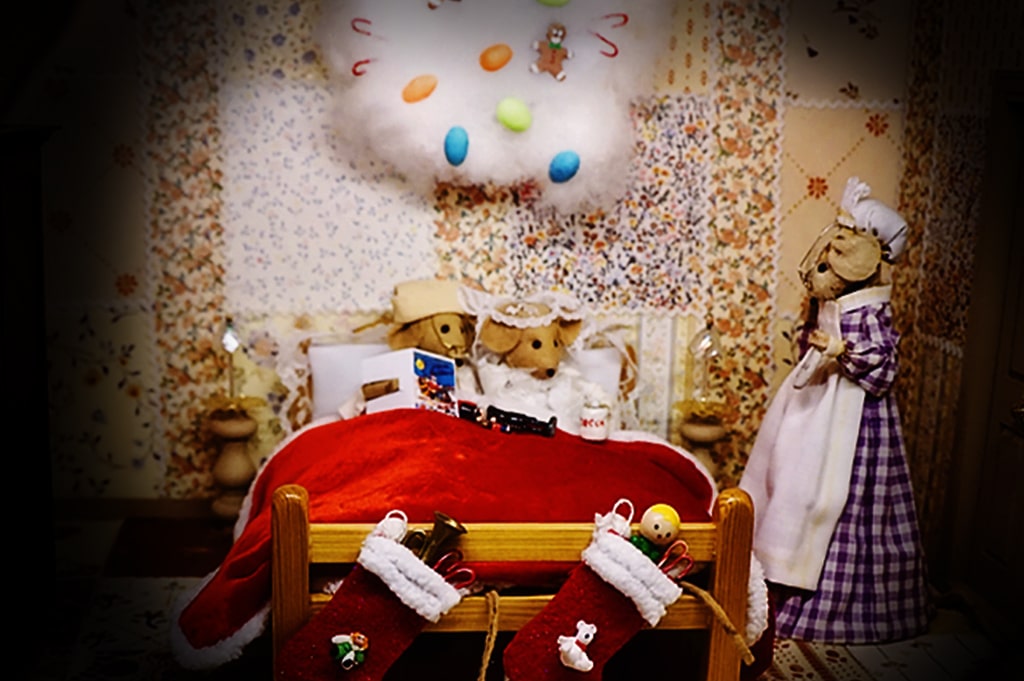 Decorated with visions of sugar plums during a Wee Winter Wonderland as part of Holidays Around the World and Through Time.
Pat Arnell
1980s
A SEASON FOR OUR SWEET TOOTH
When we think of the holiday season, candy treats certainly come to mind. During the 19th and early 20th century, candy was a precious commodity, something children usually only received during the holiday season. Holiday stories from the period are a testament to children's excitement about having candy treats. For example, The Nutcracker, written in 1892, is the story of Clara, who receives a nutcracker as a Christmas gift. In the tale, Clara's nutcracker comes to life and battles the Mouse King. Clara intervenes at a crucial moment and saves the Nutcracker from peril.  The Nutcracker rewards Clara by taking her to the Land of Sweets, an enchanted kingdom where everything and everyone is made of candy or sweets. Sugar Plum Fairies greet Clara with a captivating dance when she arrives in the candy city. In the 1823 holiday poem, 'Twas the Night Before Christmas, we hear about sugar plums again. "The children are nestled all snug in their beds while visions of sugar plums dance in their heads." What are sugar plums you might be wondering? A sugar plum is not a plum; it is a piece of candy popular during the 17th through 19th centuries. It is similar in shape and size to a plum, which is how it got its name. To make sugar plums, a confectioner places almonds, caraway or cardamom seeds in a hot pan. Sugar is poured over the almonds or seeds while the pan is kept in motion rotating them. The layers of sugar form a hard sugar shell over the nuts or seeds. The candy is similar to a Jordan almond or Jawbreaker.