Miniatures by Members of the Southern Arizona Miniature Enthusiasts
May 1, 2018 – August 26, 2018
This Community Corner exhibit features a variety of miniatures made by members of the Southern Arizona Miniature Enthusiasts (SAME) club.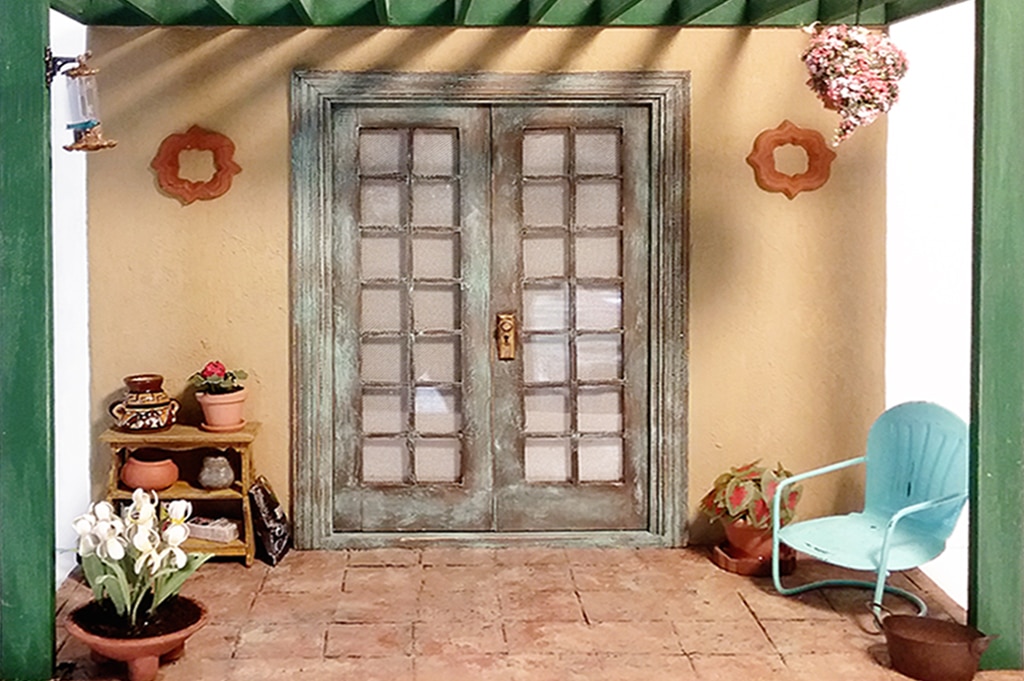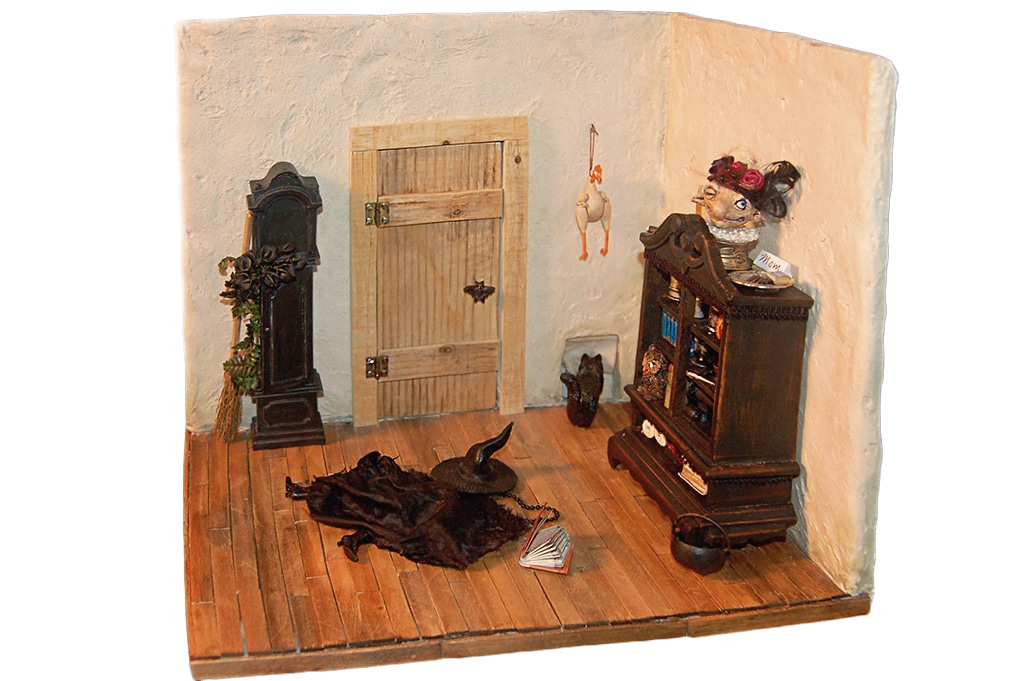 History of SAME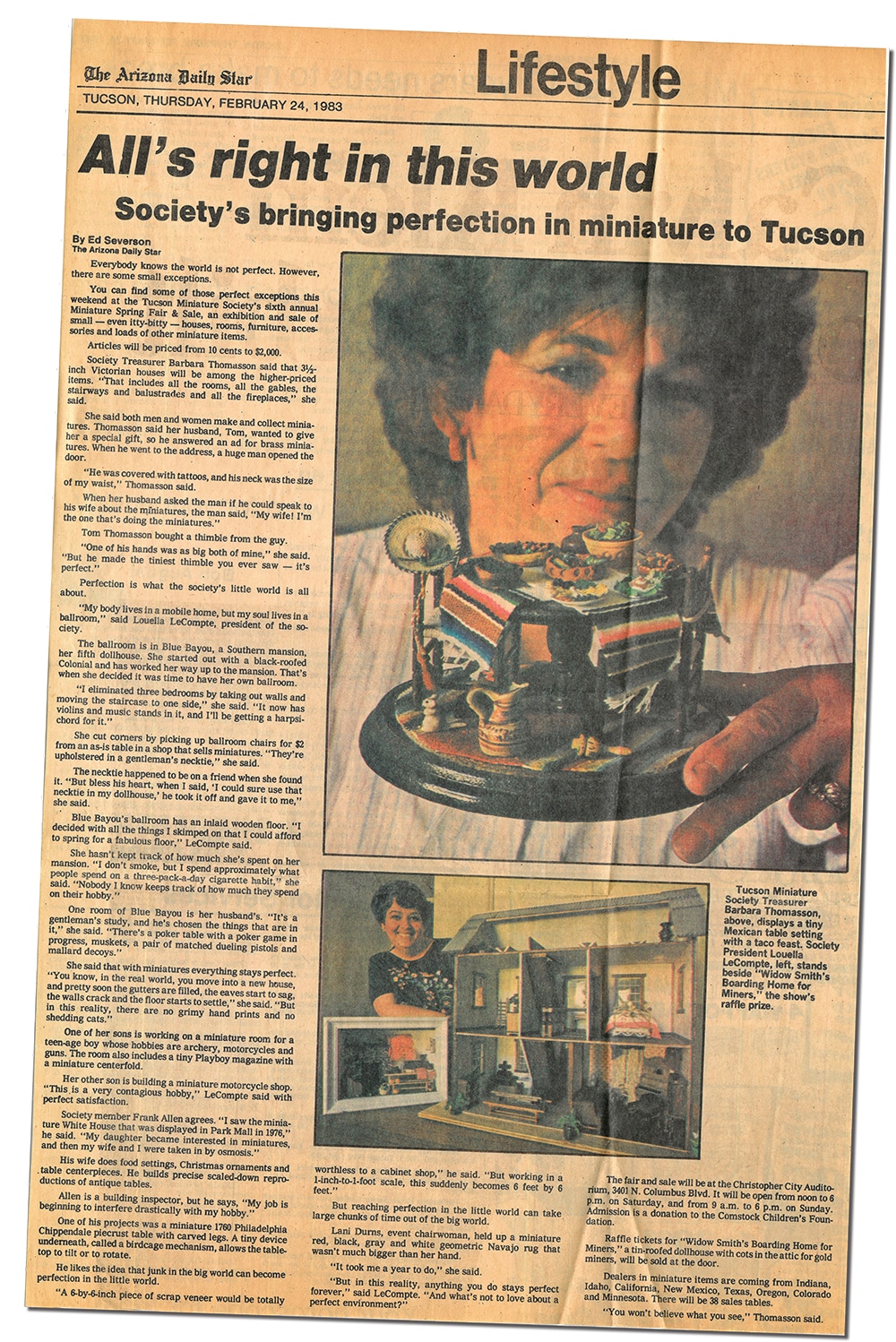 Miniatures have been around since ancient times, but the dollhouse and fine scale miniature hobby reached a zenith in the early 1970s. Stores selling miniature furniture, accessories, and kits for the everyday person popped up across the county and enthusiasts desiring to share their work with one another established local and national clubs.
Tucson was no exception, and by 1975, there were a couple of miniature stores in the city. Irene Kahn, the proprietor of the miniature store called the Treasure Hunt, started taking names of patrons who were interested in forming a club. This led to a meeting of approximately thirty-seven people, who desired to share their passion for miniatures. The group initially met once a month, each time at a different member's home, to talk about and create miniatures. Before long, the grouped dubbed themselves the Tucson Miniature Society (TMS).
TMS members wanted to share their creations and enthusiasm for miniatures outside of their circle, so they decided to have a miniature yard sale at a member's home. Community response was encouraging and in April of 1977, the group resolved to establish a formal Show and Sale. They identified a proper venue and agreed to donate proceeds from the Show and Sale to a children's charity. The local miniature Show and Sale became an annual event. TMS adopted Square & Compass Crippled Children's Clinic (later renamed Comstock Children's Foundation) as the recipient of proceeds and it remained the beneficiary of the Show through 2014.
With a growing membership and the popularity of the annual Show and Sale, the group decided to join the National Association of Miniature Enthusiasts (NAME) in 1977. It is the mission of the National Association of Miniature Enthusiasts to promote miniatures through education and to build friendships and skills through the sharing of experience and ideas.
TMS's affiliation with NAME offered opportunities to connect with miniature enthusiasts across the country. As a result, the Show and Sale grew, and TMS members began attending national conventions and contributing to miniature publications. In 2012, TMS disbanded in order to strengthen its relationship to NAME, by establishing itself as the Southern Arizona Miniature Enthusiasts (SAME), an official Section 501(C)3 charitable organization.
Currently SAME has twenty-five active members who meet the first Saturday of the month to create and share their miniatures. SAME still holds an annual show and sale, now called the Tucson Miniature Showcase. The event is held during the month of October, and beginning in 2016, SAME began donating the proceeds to The Mini Time Machine Museum to support collections care and management, acquisitions, and exhibitions.
Meet the Artists
Several members of SAME will be at the museum demonstrating their work and taking questions from the public on select Thursdays throughout the exhibit. Come on out and meet them and learn more about their work and the club. See below for the schedule of artists.
| DATE | ARTIST | TIME |
| --- | --- | --- |
| May 10, 2018 | Jeannie Patino & Myrna Williams | 1pm–4pm |
| May 17, 2018 | Tori West | 10am–1pm |
| May 24, 2018 | Kathy Grissom | 10am–1pm |
| May 31, 2018 | Lani Smith | 1pm–4pm |
| June 7, 2018 | Lani Smith | 10am–1pm |
| June 14, 2018 | Kathy Grissom | 10am–1pm |
| June 21, 2018 | Tori West | 10am–1pm |
| June 28, 2018 | Lani Smith | 1pm–4pm |
| July 5, 2018 | Lani Smith | 1pm–4pm |
| July 12, 2018 | Tori West | 10am–1pm |
| July 19, 2018 | Kathy Grissom | 10am–1pm |
| July 26, 2018 | Connie Sauve | 10am–1pm |
Get Involved with SAME
The Southern Arizona Miniature Enthusiasts meet the first Saturday of each month to share their love of the hobby, work on projects, and discuss tips and techniques. Annual membership to SAME is $10 for individuals or $15 for families. If you are interested in learning more, visit them at https://tucsonminiatures.weebly.com/
About the Community Corner
The Mini Time Machine Museum of Miniatures' Community Corner is exhibit space dedicated to featuring the work of Arizona artists working in miniature. Exhibits are selected to demonstrate the diversity of miniature artwork that is being created in our community.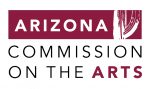 This exhibition is supported in part by the Arizona Commission on the Arts, which receives support from the State of Arizona and the National Endowment for the Arts.