Miniature Paintings on Clayboard and Coins: Lee Roy Beach and Bryanna Marie
December 17, 2019 – June 28, 2020
In this Community Corner exhibit, painters Lee Roy Beach and Bryanna Marie, present the landscape genre on diverse miniature supports, clayboard and pennies, using two diverging styles: abstract interpretation of the landscape and traditional atmospheric perspective.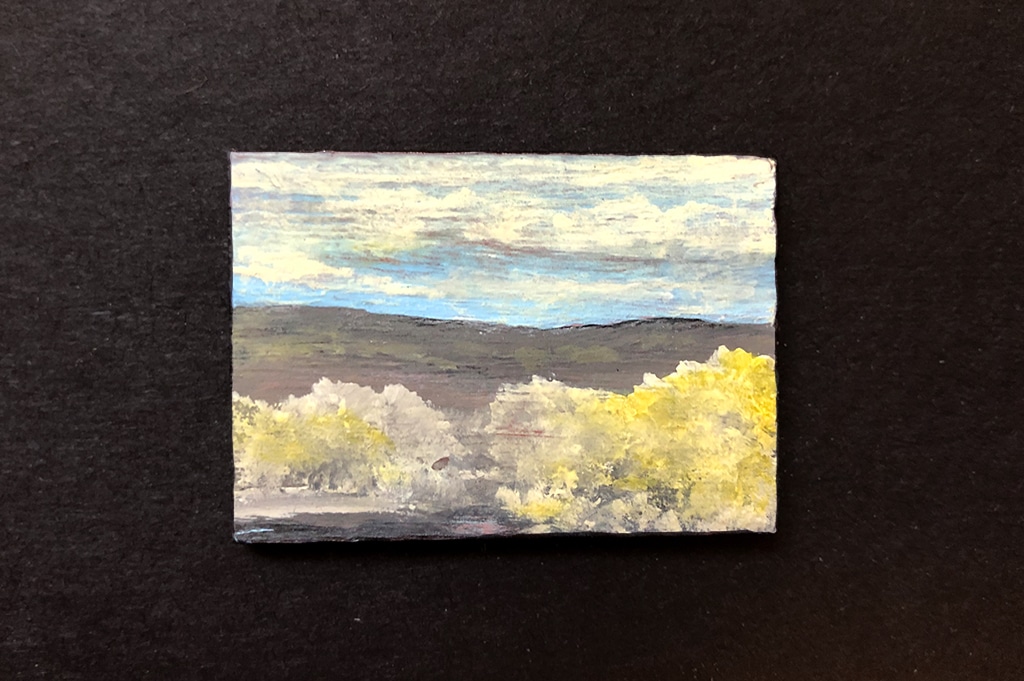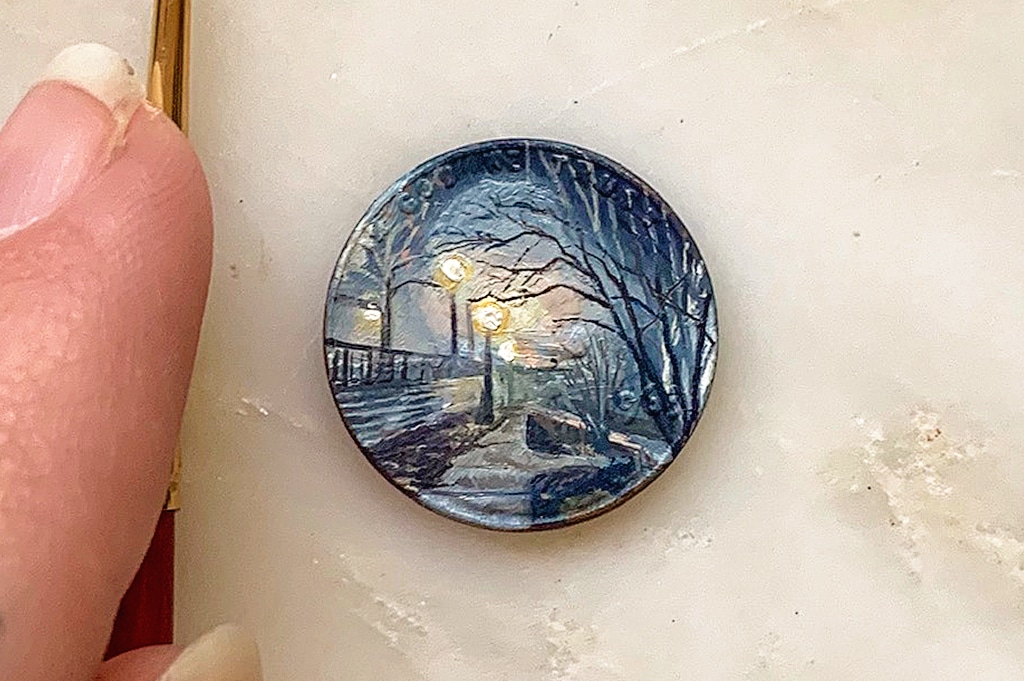 Lee Roy Beach's Creative Vision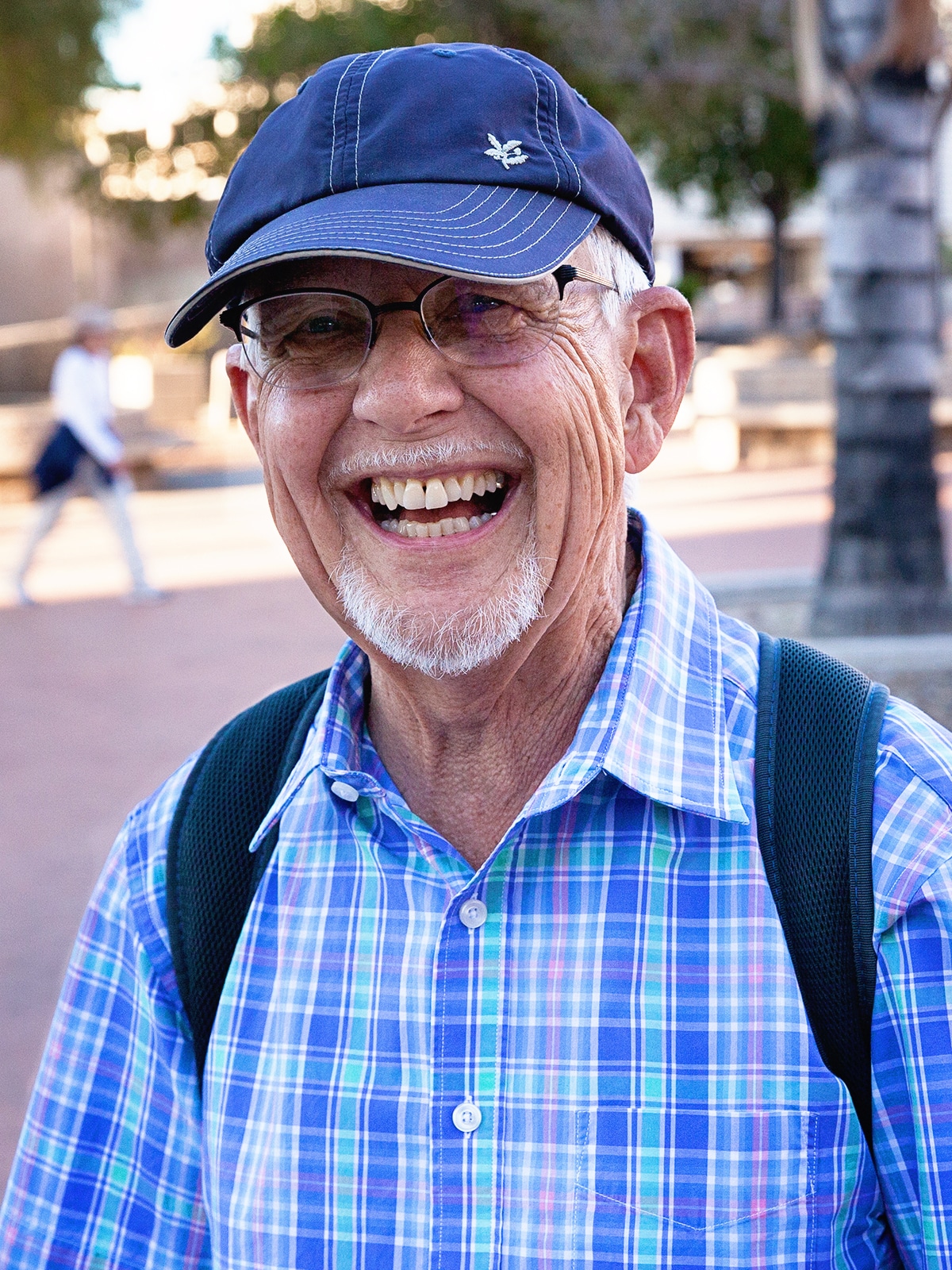 "Throughout my forty years as a cognitive scientist, I studied among other things, the neurological and experiential aspects of visual perception; how the mind creates visual representations of environmental events from partial and ever-changing sense data. I found that this act of creation makes the representations both meaningful and compelling to the observer. Using this to guide my painting, I strive to avoid dictating the observer's experience, providing only enough visual data for the observer to create his or her own experience, thereby inviting participation in the creation of the work. I believe that in all art, each work is a partnership between the observer and the artist."
His Painting Process
Lee Roy Beach uses acrylic paint on clayboard, which is Masonite coated with a thick layer of clay. He explains his process: "I frequently prepare a sky, then paint in the 'distance' layer of paint followed by successive layers to create depth, ending with the foreground. Then I paint clouds and work the surface with both cotton swabs and lift paint and other tools to add detail. The two most important tools are small brushes and patience. Note that I do not put humans, animals, buildings, roads, etc. in these paintings. Such objects draw the eye, becoming the focal point of the painting, which is the landscape as a representation of nature, free from human influence, instead, my focus is on places that invite the observer to pause and simply be. To solitary places where one is alone. To peaceful places that refresh the soul. Hence, I call my landscapes Quiet Places."
Bryanna Marie's Creative Vision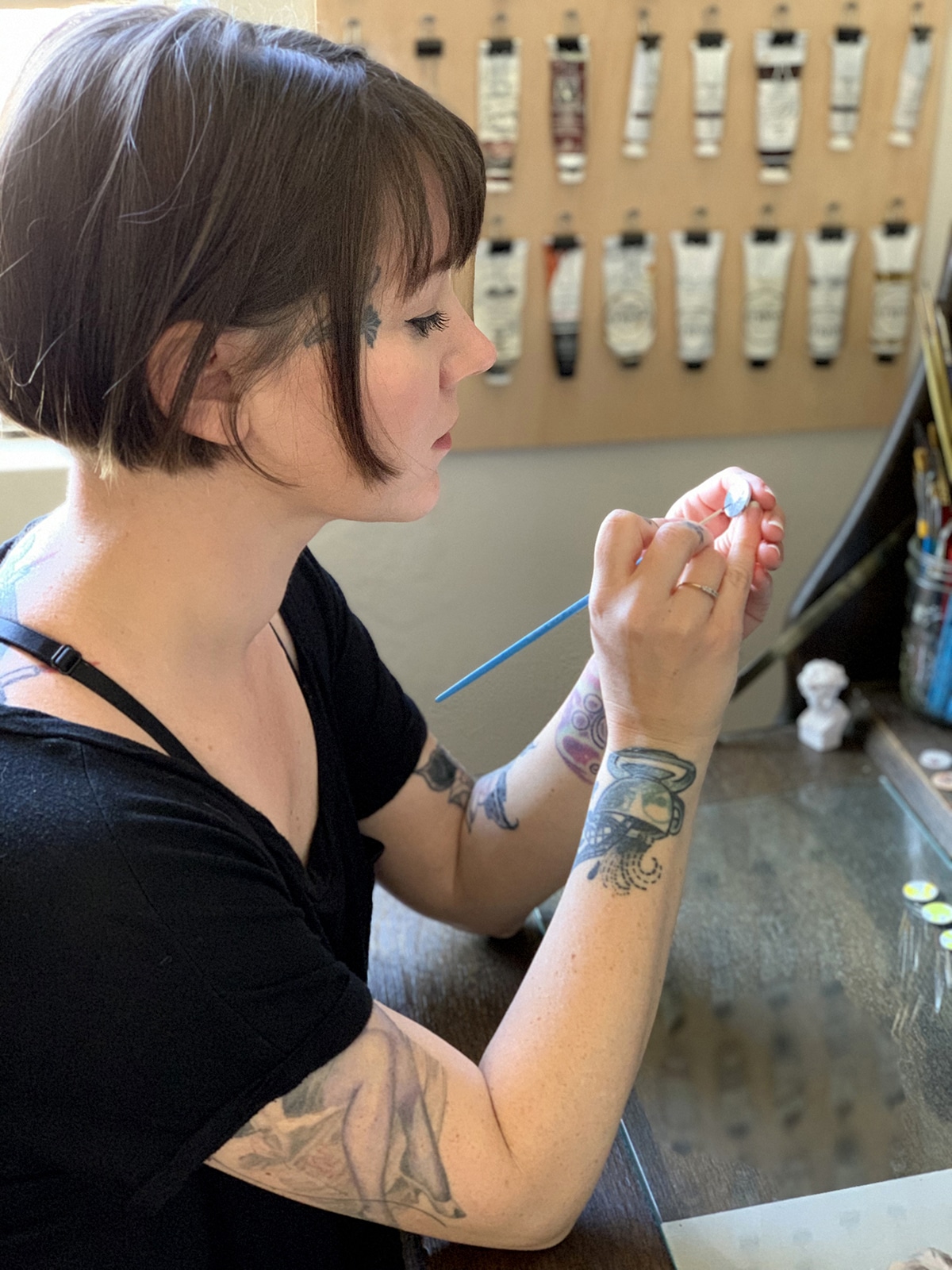 Bryanna Marie's landscapes, wildlife pieces, and portraits painted on pennies call upon the viewer to get close to examine the minute details painted on a surface that is only ¾" in diameter.  She says, "In the world of narrow attention spans and instant gratification, I build my works with the desire to deliver an authentic representation of the world I see; and hope to impress upon the viewer an intimacy with nature that I hold dear. I ask the viewer to step close to see the detail in my art, ignoring all the distractions of the outside world and taking a moment to simply get lost in the piece. I believe experiencing art is a deeply personal journey, just as much as creating it. By compressing large scenes onto small canvases, I invite the viewer to meet me halfway, reminding them that there is hidden beauty in the world that surrounds all of us each and every day. And I hope that after they absorb my art, they will continue to look for beauty in all things big and small. Because big art can come in small packages."
Her Painting Process
In 2016, with the intention of challenging herself to see how much detail she could fit into a small area, Bryanna Marie reached into the change jar on her desk, grabbed a penny, and began painting on it. The exercise appealed to her and she started to paint on pennies as a daily warm up. With time, she found herself more and more engrossed by the challenge of painting small, working diligently to achieve very fine detail. Eventually this exercise became her focused work.
Bryanna Marie enjoys everything about painting in miniature, including "the smell, the tiny brushes, the importance of laying down each specific brushstroke with precision…" She goes on to explain that the process feels deeply personal. "Because I have to work so close to each piece, I feel that it is a true extension of myself and is fully mine until it is completed and ready to be shared with the world."
Bryanna Marie's materials are like any other artist who works with oils, however she only paints with small brushes and her support is a penny instead of traditional canvas, board or paper. She also uses scopes and glasses with special lenses that have 2X magnification, allowing her to see the fine details as she paints. When asked what specialized skill she brings to this practice, Bryanna Marie says, "Patience". She elaborates, "If I can speak to any kind of specialized skill, it is my ability to take the time to give each piece the consideration and detail that it deserves, as I continue to push the boundaries of what I am capable of on a miniature canvas. The unforgiving nature of working on such a small scale requires that every aspect of the painting be completed with accuracy and intent. There is no room for uncertainty."
About the Community Corner
The Mini Time Machine Museum of Miniatures' Community Corner is exhibit space dedicated to featuring the work of  Tucson-area artists working in miniature. Exhibits are selected to demonstrate the diversity of miniature artwork that is being created in our community.
Our 2020 Exhibition Season is supported in part by Tucson Lifestyle Magazine. Tucson Lifestyle Magazine is Tucson's only glossy, monthly city magazine, targeting Southern Arizona's affluent residents. With over 35 years of publishing experience, Tucson Lifestyle is committed to highlighting the people, places, cuisine, and attractions that make our city unique.