Mini Mid-Century Neon Signs
October 12, 2021 – January 23, 2022
After Route 66 connected Chicago to Los Angeles, neon signs were erected along the famous stretch of highway, glamorizing road travel and lighting up the night. In this spotlight exhibit, miniature replicas of three iconic Tucson mid-century modern neon signs made by sign maker Jude Cook transport us to the age of the automobile­, illuminating the history of neon signs here in the Old Pueblo.
Not Fade Away– Neon's Allure
When it comes to capturing attention, there's nothing quite like the glow of a neon sign lighting up the sky. Neon took off in the US following its 1923 debut at a Los Angeles car dealership. From there, it made its way across the country, casting its glow along Route 66 from the West to the East. Recognizing Route 66's potential for tourism, Tucsonans built one of the first median split roadways in the country: AZ Route 84. The strip was christened the Miracle Mile of Safety. Miracle Mile, as it is better known to locals, connected US Routes 80 and 89. It was soon flanked by motels and restaurants with flashy neon signs, enticing tourists to spend a night, grab a bite, and be entertained in the Old Pueblo.
By design, advertising perpetuates the "new," so it stands to reason that neon's popularity would eventually decline. By the 1960s neon was falling out of favor; it was considered garish, tacky, and difficult to maintain. Businesses started to replace the exposed undulating tubes of light with fluorescent backlit plastic signs. Moreover, the signs were no longer being seen the way they once were. The affordability of air travel coupled with the construction of the interstate changed the way people vacationed, and long drives to destinations lost their allure. Here in Tucson, the abundance of neon monument signs overwhelming the skyline resulted in the city implementing strict sign codes, deterring neon signs as eyesores. Between the sign code laws, changes in taste, and declining traffic along Miracle Mile and Routes 80 and 89, business owners in Tucson and other parts of the country either removed their neon signs or simply left them in disrepair until the electrical lifeline disconnected and the gaseous light no longer glowed.
And so it was, until the late 1970s when the baby boomers reached adulthood. The memory of bright neon light still glowed fondly in their minds. Boomers remembered peering out of the backseat window of the family car while gliding along the highway, searching the horizon for the gaudy glow of neon, signaling arrival at their vacation destination. Magical memories like this fostered a neon revival in the early 1980s. Neon's comeback started in art galleries and eventually made its way into the commercial industry, beckoning people into nightclubs, video arcades, and restaurants once again. Since commercial trends are cyclical, neon saw a second decline in the 1990s, but recently there has been renewed interest in the gaseous lights. With mid-century modernism making a comeback, restoration of neon signs is taking place around the country.
In this Exhibit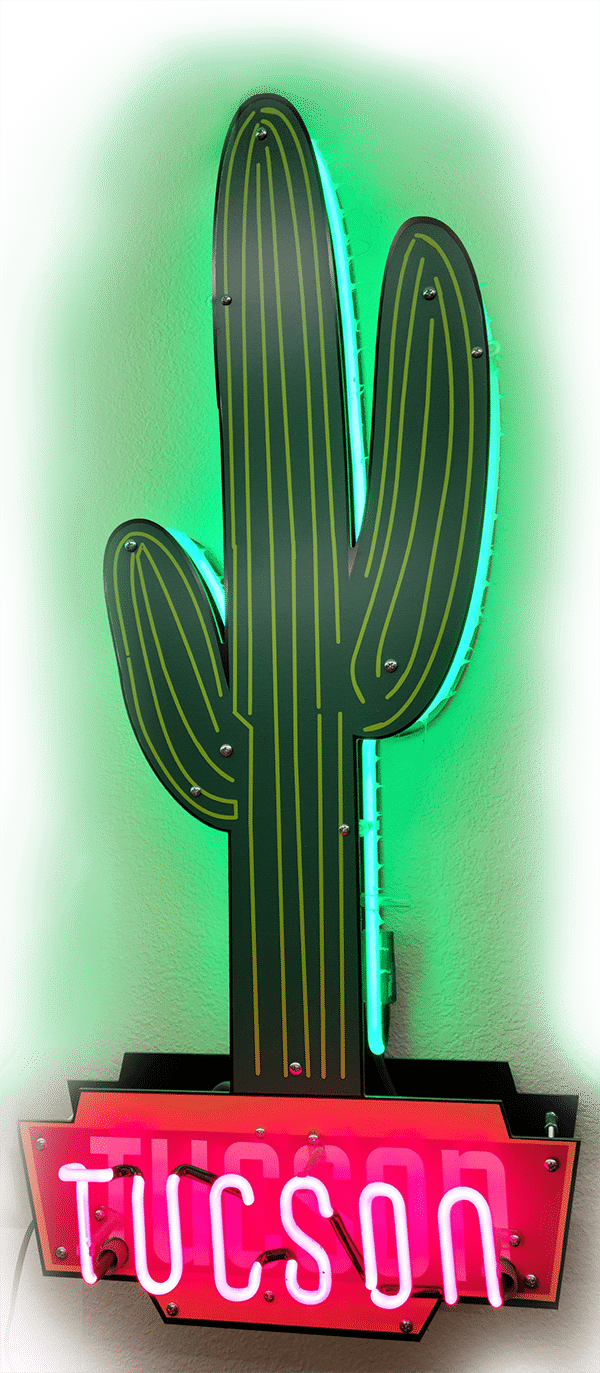 The neon signs in this exhibit are miniature versions of Tucson-area monument signs, recreated by sign maker, neon artist, collector and business owner, Jude Cook. Together, they represent the history of neon in Tucson over the last seventy years. The original Tropicana Motor Hotel sign was commissioned in 1960 by motel owner B. Migliore, and manufactured by Arizona Neon Advertising Inc. It reflects the typical design forms of the 1950s and 60s – the palm leaf motif lets vacationers know they have reached a desert oasis. Created in 1971, the sign for Magic Carpet Golf utilizes neon and backlit plastic elements demonstrating the trend away from neon. The Gateway Saguaro was designed by local artist Dirk Arnold in 2011, capturing the retro look and feel of mid-century neon sign design. The original 30-foot saguaro sign this miniature replicates can be seen in the median at the intersection of Drachman Street and Oracle Road, where it was installed to commemorate and memorialize Tucson's historic Miracle Mile.
About the Artist
While considering a career in commercial art, Iowa native Jude Cook worked part-time with a local sign painter learning the art of hand lettering signs. Following a 2-year stint in Community College, he worked as a technical illustrator before opening his own sign shop, Cook & Company Sign Makers, in 1976. Around 1982, he and his wife became tired of Iowa winters. Charmed by Tucson, they moved his business to the Old Pueblo.
About nine years ago, Cook joined the Tucson Sign Code Committee. Through this experience he gained appreciation for the preservation of historic signs, and began collecting discarded neon signs, many of them monumental. Additionally, Cook was invited by Tucson Historic Preservation Society and Pima Community College to engaged in a historic sign restoration project. He has been instrumental in restoring 23 signs around the city of Tucson. He was also invited to restore and repair 12 signs for the Casa Grande Neon Sign Park. He is honored to maintain Tucson's Gateway Saguaro sign located near the Drachman Street and Oracle Road median.
With a growing collection of monument signs filling the walls and backyard of his sign business and home, Cook determined he could preserve his collection and share it with others by opening a museum. In 2018, he and his wife Monica opened Ignite Sign Art Museum. Cook continues to run Cook & Company Sign Makers and create and sell miniature neon signs.
About Ignite Sign Art Museum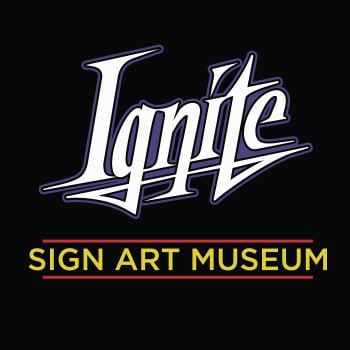 The mission of Ignite Sign Art museum is to preserve historically significant signs, educate the community on the value signage plays in our everyday lives, and to entertain visitors by offering a visually unique and entertaining experience. VISIT IGNITE SIGN ART MUSEUM'S WEBSITE.