Log Cabin- 1870s Rural Mid-Western Christmas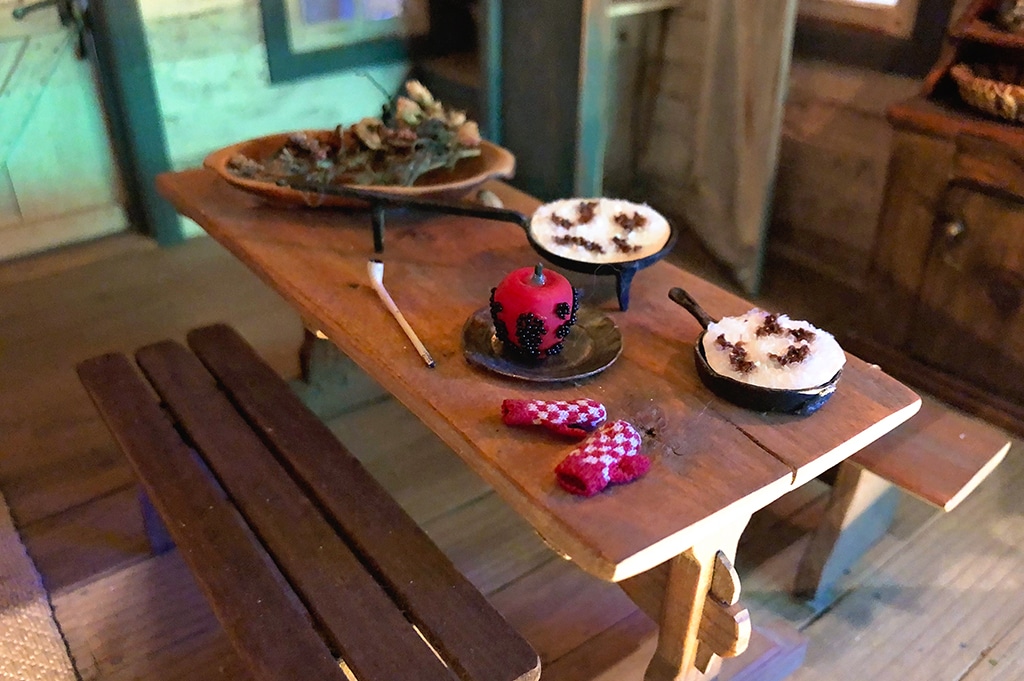 Decorated for an 1871 Christmas as remembered by Laura Ingalls Wilder in her book Little House in the Big Woods during a Wee Winter Wonderland as part of Holidays Around the World and Through Time.
Thomas and Catherine Latané
1987
1:12 Scale
WHAT A HAPPY CHRISTMAS IT HAD BEEN!
Rural American life in the late 1800s was strenuous. Holidays were a time to enjoy special treats and exchange hand-made gifts. But above all, it was a time to be with family. Laura Ingalls Wilder recalls the Christmas of 1871 in her book Little House in the Big Woods. Laura's aunt, uncle, and cousins came to celebrate the holiday that year.
At this time, rural seclusion, and the perils of travel, meant that families didn't see one another as often as possible with today's modern conveniences. To be with family, the Ingalls' relatives bundled up in layers of clothing and fur to sustain temperatures hovering around zero degrees, for a day-long trip over rivers and through the Wisconsin woods, by horse drawn sleigh­– traveling at a rate of 8-10 miles per hour.
In preparation for the holiday and visitors, Laura recalls Ma making traditional holiday foods including salt-rising bread, rye'n'Injun bread* (made primarily of rye flour and cornmeal), Swedish crackers, vinegar and dried-apple pies, and a big jar of cookies. Vinegar pies, or "desperation pies" came about as a way to make a fancy treat with vinegar substituting lemon, as citrus was often scarce in this region- having to come from warmer locales. Several of these holiday baked goods were made with white sugar, a rare and expensive commodity, making them extra special treats.
Though only four years old, Laura's parents taught her how to make molasses candy by boiling molasses and sugar into a syrup and drizzling it into squiggles onto pans of fresh snow to harden it. The girls were allowed to eat just one piece of candy, and the rest was saved for Christmas.
Simple things we take for granted were cherished gifts in this pre-industrial era. On Christmas morning the children were excited to find gifts from Santa in their stockings. Santa left each child a pair of red mittens and a single striped peppermint candy stick. Being the youngest, Laura received an extra gift, a rag doll. Pa and Uncle Peter received red-checked mittens hand-knit by their wives. Ma gave Aunt Eliza a needle-book made with bits of silk and flannel. From Aunt Eliza, Ma received a sweet-smelling red apple, stuck full of cloves to keep it from spoiling.
Laura remembered "what a happy Christmas it had been".
* rye'n'Injun bread was a colloquial term for bread made primarily of rye flour and cornmeal; it is more commonly known today as Boston brown bread