Tom Del Giorno: Itty Bitty Backlots of the Boroughs

December 15, 2020 – May 2, 2021
In this Community Corner exhibition, Sahuarita resident, Tom Del Giorno, pays homage to the setting of his youth– the neighborhood backlots and gritty street scenes embodying life in the boroughs of New York City from the 1950s through the 1970s.
Exhibition Overview
Tom Del Giorno was introduced to making miniatures through model kit construction – a popular pastime when he was going up in Brooklyn, NY. Tom says, "In those days, mass-produced products were everywhere. Every neighborhood had a hobby shop and many young people enjoyed building just about anything. But inexpensive kits, although they looked good enough, they were not enough for me as I got older." As a child, Tom found refuge in making models; he enjoyed getting lost in the creative process and forgetting his cares.
As time passed, life got in the way of model making. School, work, and family became Tom's priority. Even though he didn't have the time for building models, whenever he was relaxing Tom's mind would wander back to miniatures, filled with thoughts of what he hoped to create, someday. Still determined, Tom eventually found the perfect solution: sitting on the floor of the family room and making models at the coffee table. He was able to do his work while his family gathered to watch TV or do homework. To this day, though his children are grown and gone, Tom still works on his models comfortably seated next to the coffee table on the family room floor.
Tom's miniature scenes represent the place he called home: the neighborhoods in and around the boroughs of New York City. He creates waterfronts, neighborhood backlots and gritty street scenes embodying life in the boroughs from the 1950s through the 1970s. The centerpiece of this Community Corner exhibition is his most ambitious piece, the Third Avenue El– which ran from City Hall along the Bowery and Third Avenue to the Harlem River.
Tom is fascinated with the Third Avenue El, which he remembers riding with his grandmother as a child. He always asked to sit at the front of the train so he could see down the rickety track as they moved along the Bowery. This miniature scene is a composite of vague childhood memories, archived material from the NYC transit authority, and reference pictures mostly found in the book By the El: Third Avenue and Its El at Mid-century. 
Working under a bright light with a magnifier, Tom used a scale ruler, single edge blades, and an X-acto knife to scratch-build his Third Avenue El. Using these same tools, he customized various plastic building kits to reproduce the actual buildings that stood along the El track at Third Avenue. He carefully selected the cast figures and accessories, augmenting them with weathering techniques and adding fine details with paint, chalk, and inks. Ultimately, each miniature element was strategically placed within the scenes, bringing these HO scale miniatures to life and encapsulating the rhythms and flavors of the backlots that he so fondly remembers.
This exhibition includes mature subject matter.
Recollections from the Artist
I grew up in the working-class ethnic neighborhood of Bensonhurst Brooklyn. Despite some hardship, I was an incredibly lucky child. We had access to so many things for which we needed no money to enjoy- from having many friends, many things to do, and daily interaction with all kinds of people and cultures. Every neighborhood was an enclave of people from all over the world. Always something happening in the neighborhood with all the external stimulation and characters. Plenty of days and nights playing street games.

As pre-teens, we were able to walk a few blocks to the subway station and in less than 40 minutes be in Manhattan Times Square, world-famous museums, and of course one of our three major league baseball teams. As far as we knew, it was normal to see your neighborhood or city in TV and movies. Didn't everybody have tour buses drive by your apartment?

Like my peers, my childhood summers and weekends were about leaving the apartment in the morning and returning sometime for food and such and finally calling it a day in the evening and coming home to sleep. I lived in a one-hundred-family apartment complex with lots of kids my age. Always someone in the hall to hang with even on a rainy day.

As I got into my pre-teen then teenage years, it was necessary to get a part-time job. My 25 cents a week allowance was not doing it for me- so like so many, it was a series of jobs from a paperboy, delivery boy, shelf stocker, and an office boy at a major publisher in Manhattan.

Finally, I graduated high school at 17. And as soon as I turned 18, I was off to my career job at the phone company. This worked out well. I went from a union tech cable splicer then on to managing techs, engineering, corporate staff, sales manager- among other assignments located all over the country. I worked in an industry I loved for more than 40 years. I am still hanging on to the industry as a consultant and just the retired guy that joins in on projects led by the State government of AZ and the UA.

I have been able to travel to Europe and Japan. I have been to every state except Hawaii. I love to be on the road. I always enjoy my adventures out- even if it is only to the supermarket. I figure my windshield is a 72" monitor to the world full of sights.

~ Tom Del Giorno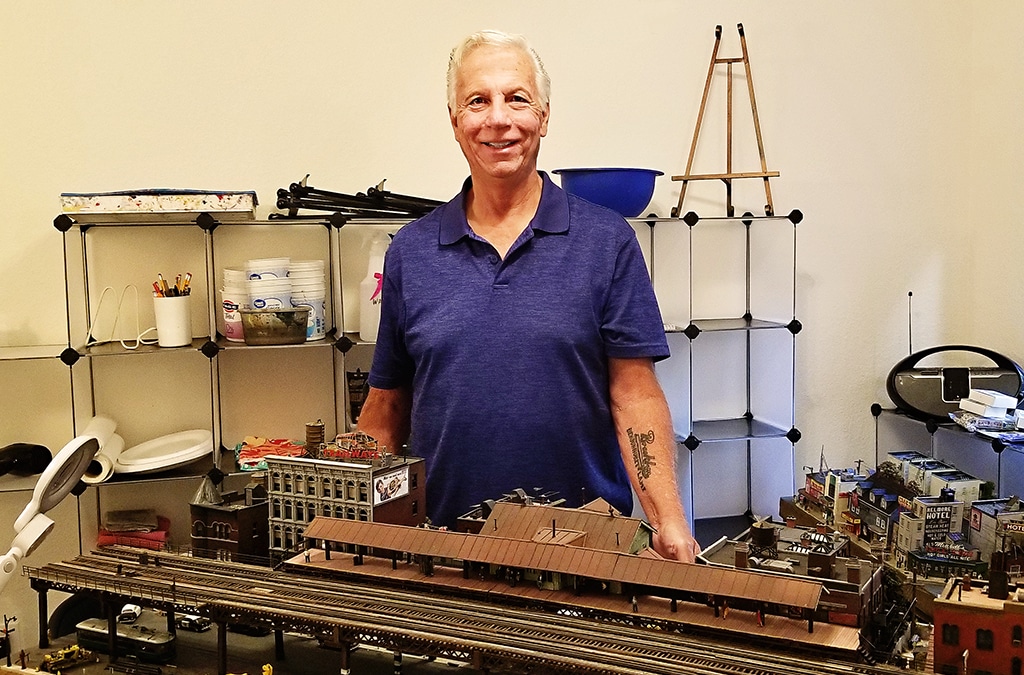 Virtual Artist Talk with Tom Del Giorno
Join us from the comfort of your home while Tom Del Giorno joins us live from his home to share stories about his work and take questions from the audience.
Thursday, January 21, 2021 from 6:30pm–8pm
This is a free program. Please register to receive an email with details to join the Zoom presentation.
About the Community Corner
The Mini Time Machine Museum of Miniatures' Community Corner is exhibit space dedicated to featuring the work of Tucson-area artists working in miniature. Exhibitions are selected to demonstrate the diversity of miniature artwork that is being created in our community.
Our 2020 Exhibition Season is supported in part by Tucson Lifestyle Magazine. Tucson Lifestyle Magazine is Tucson's only glossy, monthly city magazine, targeting Southern Arizona's affluent residents. With over 35 years of publishing experience, Tucson Lifestyle is committed to highlighting the people, places, cuisine, and attractions that make our city unique.