German Dollhouse- A Traditional German Christmas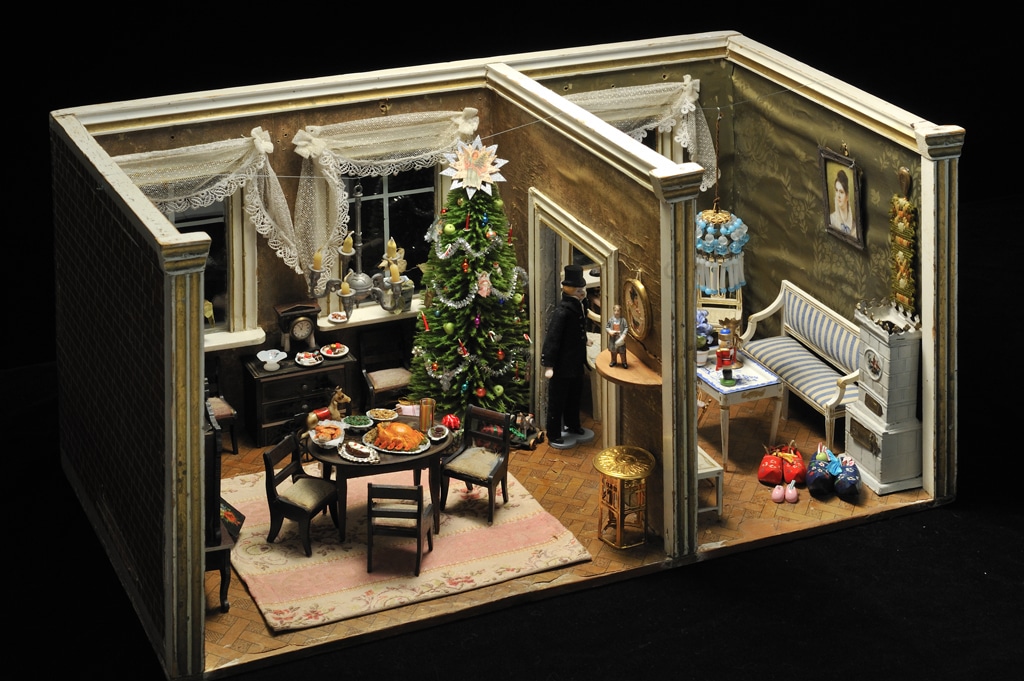 Decorated for a traditional German Christmas during a Wee Winter Wonderland as part of Holidays Around the World and Through Time.
Artist unknown
ca. 1885
In Germany the Christmas season officially begins the first Sunday of Advent (four Sundays before Christmas Eve.) Stollen sweet bread with candied and dried fruit, and holiday cookies (including gingerbread and spice bars) are baked in preparation of the holiday. It is at this time that the Christkindlmarkt (Christ Child Markets) open.
Nutcrackers and German smokers are traditional German holiday décor. Standing wooden nutcrackers depicting soldiers and kings appeared in the Sonneberg and Eragebirge regions of Germany as early as 1800. There is a German legend that says nutcrackers represent power and strength and thus they were given as keepsakes to protect the home and bring good luck and goodwill to the household. German smokers are incense burners that appeared in southeastern Germany in the 1600s. The tradition of burning incense stems from religious traditions. Incense is burned in religious ceremonies to cleanse the air of evil spirits. Unlike the nutcracker, German smokers are traditionally images of every day workers such as shepherds, farmers, carpenters and chimneysweepers. This family's smoker depicts a fireman dressed in blue.
On December 6thGermans celebrate St. Nicholas Day. At nightfall St. Nicholas, the patron saint of children, travels from home to home to deliver treats to good children. He carries a book of sins similar to Santa's list. Children set out their shoes or boots in the hopes of receiving delicious holiday treats. Those who have been naughty will find their shoes filled with twigs or coal.
The Christmas tree originated in Germany. The presentation of the tree takes place before Christmas Eve dinner. Traditionally the mother trims the tree with apples, candy, cookies, angels, glass ornaments, tinsel and candles or lights, while another adult (usually the father) occupies the children in another room. Presents are placed under the tree and a bell is rung to signal the children that it is time to enter the room and behold the beautiful sight. The presentation of the tree is followed by Christmas carols, the reading of the Christmas story, the opening of gifts and sometimes sparklers are lit.
Near the tree are plates of fruit, nuts, marzipan, chocolate and cookies one for each family member. There is much feasting on Christmas Eve and Christmas Day. Dickbauch which means "fat stomach" is the popular term for Christmas Eve. Christmas lasts for twelve days beginning December 25th and ending on January 6th with the Festivity of the Three Wise Men. Since incense was giving to baby Jesus by the Three Wise Men many Germans light incense in their smoker on the twelfth day of Christmas marking the end of the holiday season.