February 4, 2019 – February 23, 2020
A Spotlight Exhibit of Historical Figures by George Stuart
In 2017, through a generous donation by Eunice and E.G. Hernandez and Family, the museum acquired a collection of 32 one-quarter-life-size Historical Figures made by artist George Stuart. Created between 1957 and 1958, these early works by Mr. Stuart include individuals who were the driving force that shaped human history, featuring the famous and infamous from ancient civilizations, European nobility, and political crusades. Three spotlight exhibits per year feature different selections from the collection through a variety of themes.
How you dress and present yourself tells others about your identity long before you say a word. Pronouncing who we are in words can often be a challenge, but through appearance styling - physical features, clothing, accessories and grooming practices – people are able to articulate their varied and complex notions of identity.
Clothing and accessories have been a principle means for declaring identity, visually representing one's personal occupation, regional identity, religious or spiritual beliefs, social status, power relations, national identity, political affiliations, and much more.
This spotlight exhibit explores the symbolism of the attire of four Historical Figures created by artist George Stuart.
The Historical Figures on display in this exhibit are; Erik the Red, Young Queen Victoria, Robes of State, 1837, Mt. Vernon Lady, and Ivan the Terrible.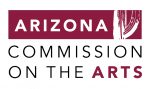 This exhibition is supported in part by the Arizona Commission on the Arts, which receives support from the State of Arizona and the National Endowment for the Arts.