Dayvewood Drive- 1940s Holiday Season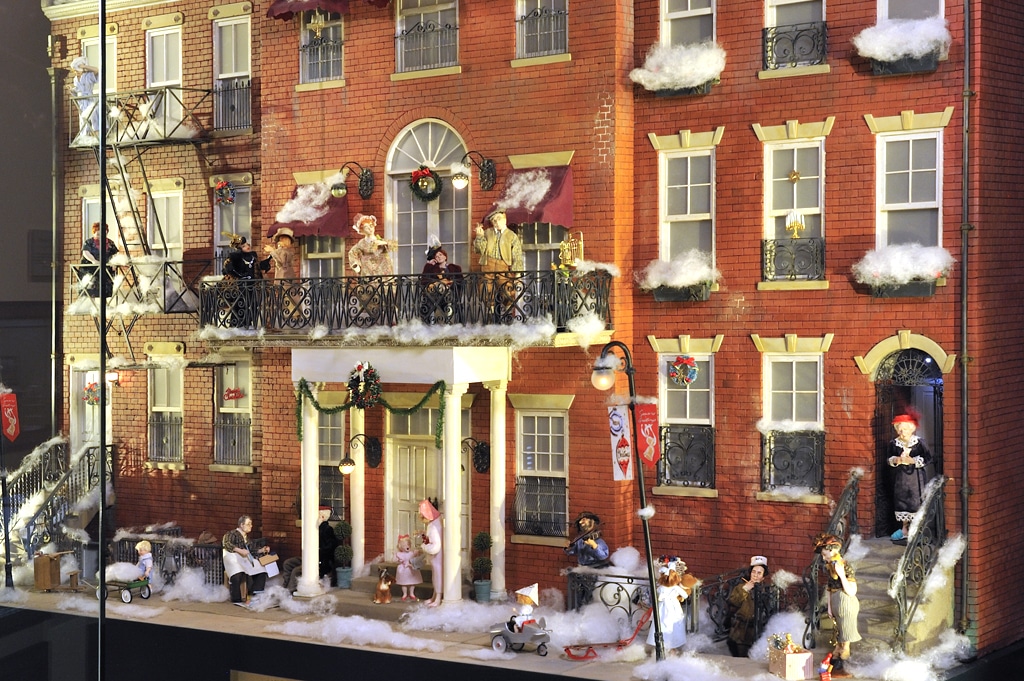 Decorated for a 1940s holiday season during a Wee Winter Wonderland as part of Holidays Around the World and Through Time.
Ron and April Gill
1999
1:12 scale
SEASONS GREETINGS FROM NYC!
With WWII in the background, holiday celebrations in the 1940s were tinged with a bit of melancholy expressed in the song Have Yourself a Merry Little Christmas sung by Judy Garland in the 1944 musical film Meet Me In St. Louis. Americans did their best to "let their hearts be light" despite war time rationing and the stress of worrying about their loved ones overseas.
Macy's Annual Thanksgiving Day Parade kicked off the holiday season in New York City with giant balloons, marching bands, and Santa Clause. Despite cold weather, children gathered in front of Five and Dime store windows pressing their noses against the glass to view the elaborate displays of animated toys. Christian families decorated their homes with paper chains, candles, fresh cut trees and wreaths. The Jewish community encouraged families to create festive family-centered Hanukkah celebrations. Jewish community leaders encouraged parents to shower their children with gifts each night of the Festival of Lights in part to engage children in the holiday and also to keep them from becoming envious of Christian children and their Christmas presents. Judaic manufacturers began marketing a wide variety of menorahs to play up the Hanukkah spirit.