Dave Cummins: Envisioning Bugatti
December 18, 2018 - April 28, 2019
Dave Cummins applied his passion and work experience in the auto industry to create two imagined Bugatti Type 57SC coupes in miniature. Dave's passion for Bugatti got him collecting die-cast models in both the 1:43 and 1:18 scales. While admiring the Bugatti die-cast models he had collected, Dave reflected on the short production run of the real-world Bugatti 57SC coupe.  A professional automobile stylist for 30 years, he couldn't help but envision a future model that would take the styling of the coupe forward. Before long, Dave found himself drawing up a plan and executing his vision for the next evolution of the car in the form of a miniature prototype. He named his model Bugatti coupe the Aerolante.
After completing the Aerolante, Dave decided to build the 1938 Bugatti 57SC chassis in miniature. He says, "This effort began as a show chassis without coachwork which would demonstrate Ettore and Jean Bugatti's genius in creating museum quality jewelry for every component". Once the chassis was complete, he was compelled to design and create a coach for the chassis that was clearly an evolution of the Bugatti Atlantique coupe from 1938. This piece he named the Aerolantique.
This community corner exhibit will feature Dave Cummins' scratch-built evolutionary Bugatti coupe designs alongside the die-casts cars that inspired his work. Concept sketches and masters used to cast Dave's original scratch-built automobile bodies will accompany the scale models, describing the process of automobile styling, and Dave's method for constructing these fine-scale miniature automobiles.
Meet the Artist, Dave Cummins, Saturday, January 26, 2019, 10am–12pm
Meet the Artist, Dave Cummins, Saturday, March 2, 2019, 10am–12pm
Meet the Artist, Dave Cummins, Thursday, April 18, 2019, 2pm–4pm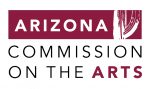 This exhibition is supported in part by the Arizona Commission on the Arts, which receives support from the State of Arizona and the National Endowment for the Arts.