Charlie's Angels' House- Kwanzaa Celebration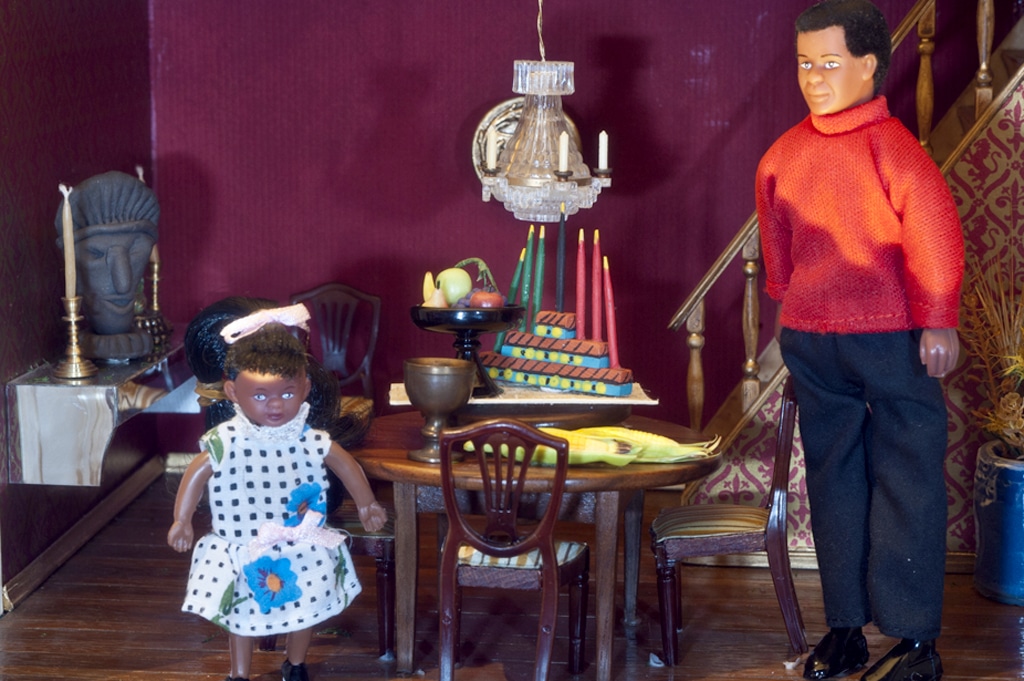 Decorated for Kwanzaa during a Wee Winter Wonderland as part of Holidays Around the World and Through Time.
Pat Arnell
1970s
Kwanzaa is an African-American and Pan-African holiday celebrated for seven days beginning on December 26th. Ron Karenga founded the holiday which was first celebrated in 1966-1967 in the midst of the Black Freedom Movement. The name of the holiday is derived from the Swahili phrase "matunda ya kwanza" which means first fruits of the harvest. Kwanzaa is based on the African "first fruits" celebrations recorded in African history as far back as ancient Egypt and Nubia.
Families and friends come together on this holiday to celebrate their heritage and to honor their values. The seven days of the holiday celebrate seven principles: Unity, Self-Determination, Collective Work and Responsibility, Cooperative Economics, Purpose, Creativity and Faith. Here in Charlie's Angels' House the ladies are celebrating with their friends.
The Kwanzaa holiday colors are red, green and black. Look on the dining room table for the following symbolic decorations: Mazao (The Crops) symbolic of African harvest celebrations and of the rewards of productive and collective labor; Mkeka (The Mat) symbolic of African tradition and history and therefore, the foundation; Kinara (The Candle Holder) symbolic of continental Africans; Muhindi (The Corn) symbolic of children and the future which they embody; Mishumaa Saba (The Seven Candles) symbolic of the Nguzo Saba, the Seven Principles, the matrix and minimum set of values which African people are urged to live by in order to rescue and reconstruct their lives in their own image and according to their own needs; Kikombe cha Umoja (The Unity Cup) symbolic of the foundational principle and practice of unity which makes all else possible; Zawadi (The Gifts) symbolic of the labor and love of parents and the commitments made and kept by the children.
Some families may also decorate with items from African such as African baskets, African cloth and traditional African sculptures.