Casita Bonita- Christmas in the Southwest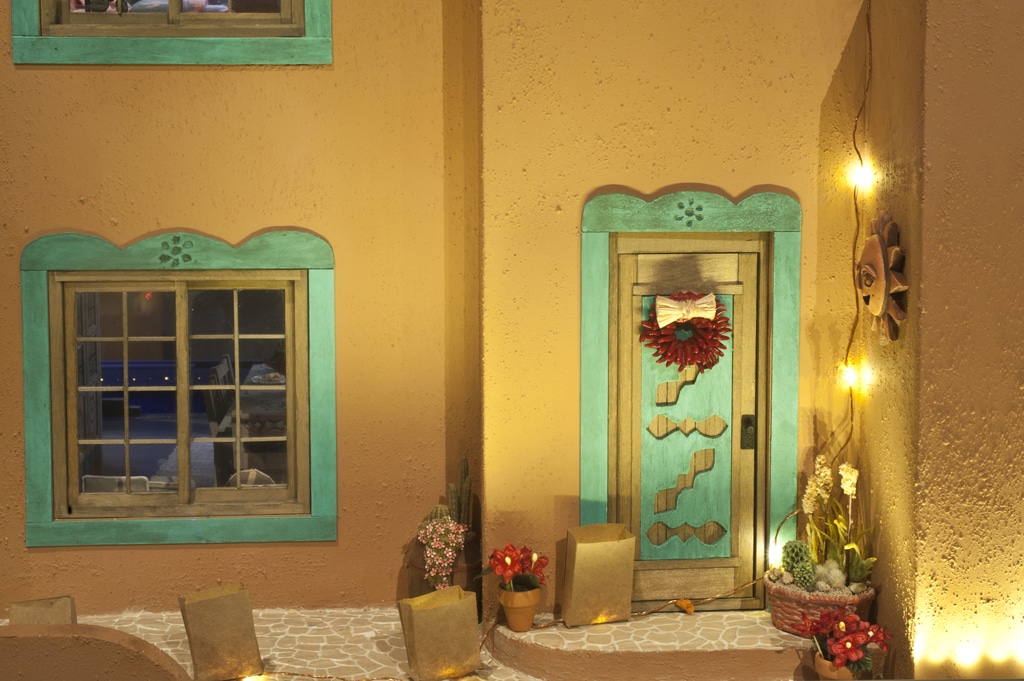 Southwest House Casita Bonita
Decorated for Christmas in the southwest during a Wee Winter Wonderland as part of Holidays Around the World and Through Time.
Pat Arnell
1992
1:12 scale
For many Hispanic and Native Americans of the Southwest, the month of December is filled with religious celebrations including the Fiesta of Our Lady of Guadalupe, on December 12, Las Posadas, which traditionally begins on December 16th and continues for nine evenings (but today is generally a one-night pageant), and finally Christmas. The Fiesta of Our Lady of Guadalupe and Las Posadas celebrations include a procession ceremony followed by music, prayer and feasting.
Casita Bonita is decorated with potted poinsettias which you will see in abundance. Instead of a holiday wreath made of pine, Casita Bonita has a ristra, a bunch of red chili peppers forming a holiday swag. Though many families put up a pine Christmas tree it is also common to decorate a cactus or tumbleweed with strings of lights. A beautiful sight to see along the walkways, walls and roof of Casita Bonita is a row of luminarias or farolitos (Spanish for little lanterns). These small lanterns are lighted candles set inside paper bags weighted with sand. Historically luminarias were small bonfires which lined the road to guide people during holiday processions and to midnight mass on Christmas Eve. In the 1820s goods began to arrive via the Santa Fe Trail including brown wrapping paper. Residents began using the paper to create simple little lanterns that cast a warm glow against the adobe walls and gradually the bonfires diminished. Today brown paper luminarias might light a path for a procession or maybe to guide you to a holiday party.
A Southwestern Christmas party includes a variety of traditions from Mexico. One favorite Mexican tradition for children is the breaking of a piñata at a holiday party. An earthenware or paper piñata is filled with candy, fruit and toys. Children put on a blindfold and swing at the piñata with a stick while the adults have fun pulling on the rope that holds the piñata. Once the piñata is broken children scramble for the treats and toys.
When Christmas Eve arrives families get together to celebrate; they may gather around a nacimiento (Christmas nativity scene) and enjoy hot chocolate and bizcochitos (a diamond shaped anise and cinnamon flavored shortbread cookie also referred to as a Mexican wedding cookie) and buñuelos (a anise flavored doughnut coated with sugar and drizzled with honey or syrup) or a full Christmas Eve dinner. The traditional holiday meal must include tamales. The Christmas tamale is filled with meat and spices along with green olives. In preparation for the holidays women get together to make dozens of Christmas tamales which are not only eaten for the holiday meal but are also given as gifts.
Following Christmas Eve dinner many families will stay up late and attend La Misa de Gallo, the Mass of the Rooster which is the Midnight Mass. A Christmas feast may follow the midnight mass and extend into the wee hours of the night.