Borrowed Time / Borrowed Books
June 4, 2019 – September 15, 2019
Borrowed Time / Borrowed Books features six miniature libraries, constructed of steel, which were inspired by iconic libraries featured in the following classic films and shows: All the Presidents Men, Fahrenheit 451, Wings of Desire, The Time Machine, The Breakfast Club, and Time Enough at Last (Twilight Zone, season 1, episode 8).
The artist is Jill Orlov, a Baltimore-based architect-turned-miniature-metalsmith. Using off-the-shelf steel bars, strips, and tubes, Orlov cuts, welds, and shapes the steel to create these libraries from our cultural collective memory.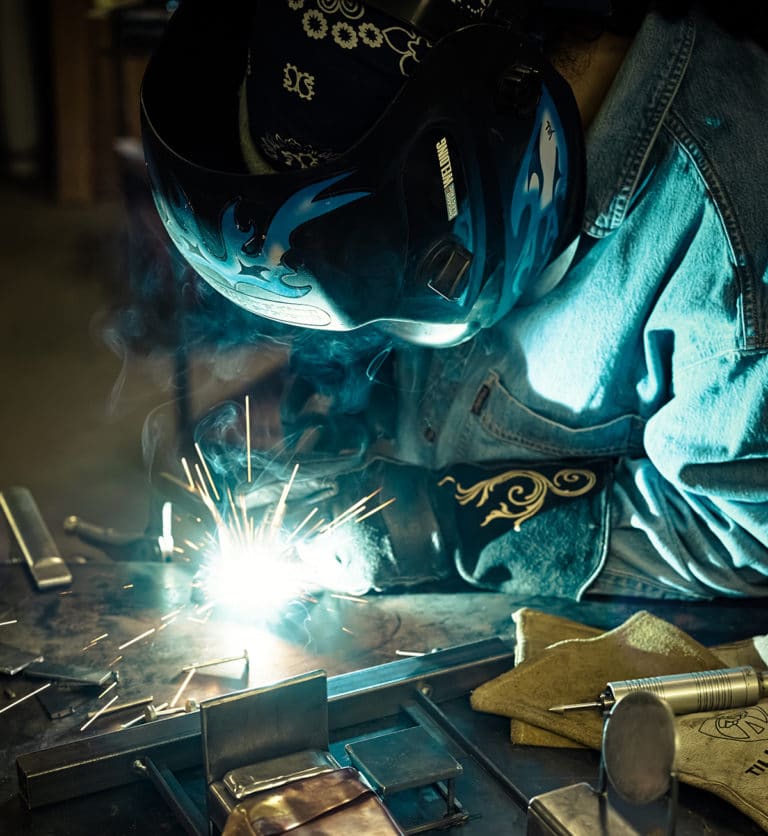 Orlov did extensive research before making her one-of-a-kind miniature libraries for this exhibit. Since many of the libraries depicted do exist, Orlov studied the architecture of their real-world counterparts. In re-watching all the film footage, she contemplated how each library was presented on the screen.
"I find it fascinating that futuristic movies still depict libraries with shelving upon shelving of books when everything is digital," states Orlov. "Libraries are more than just reading resources. These days, they are computer labs for people who might not have one. They are community centers. Most importantly, they are welcoming of all people."
After much reflection, Orlov interprets the scenes in steel– sometimes combining full-scale objects like fragments of architectural salvage, bicycle parts, mesh, rivets, and furniture, to create an alternate world, modern but familiar.
It is noteworthy that the artist chose films in which the libraries are the primary setting for scenes which explore the gain or loss of sanity when the world seems to be coming undone. Metaphorically, these libraries offer a glimmer of hope in the face of despair, be it an apocalyptic future, as in Fahrenheit 451, or the lives of angst-ridden teenagers in The Breakfast Club.
Orlov muses, "Books slow us down, they can calm, invigorate, educate, clarify, and create worlds in which we can learn about ourselves, others, the past, the future; there are endless possibilities. In the end, libraries represent places to learn and grow while in a quiet and contemplative environment."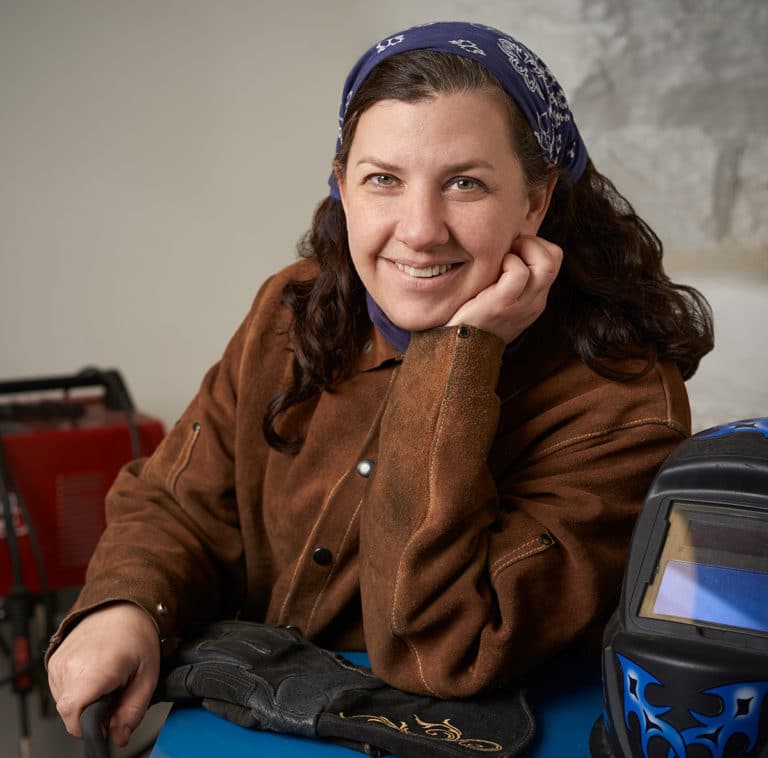 Jill Orlov's love of miniatures goes back to her childhood. She spent hours designing her own dollhouse, laying miniature brick floors in the kitchen, and hanging wallpaper with a miniature fruit pattern in the dining room. She trained as an architect in an era when drawing by hand, physical model building, collage, drafting tables, and multiple pen weights were the design methods and materials of choice. Each of her designs in school and at the beginning of her career started with several tiny models.
She explains, "My way of conveying my thoughts was through the physicality of creating a little form to hold in your hands or to put close to your eyes and look within, from several angles, in real time."
Orlov has two degrees in architecture and worked in the field for over two decades. After taking a welding class at a nearby art school, her love of transforming found objects was rekindled. But once an architect, always an architect, and her model-building skills infiltrated her new metal working passion and converged with her love of all things small. As a sculptor of miniatures, Orlov has garnered national recognition for vignettes.
Associated Events and Programs
Member Reception | Thursday, June 6, 2019 from 5pm to 7pm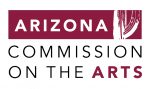 This exhibit is supported in part by the Arizona Commission on the Arts, which receives support from the State of Arizona and the National Endowment for the Arts.