Behold the Big Top: Jean LeRoy's Circus Parade
February 4, 2020 - May 10, 2020
This exhibit of hand-carved folk art is a nostalgic slice of Americana– depicting the circus' main attractions parading down Madison Wisconsin's Main Street, along with behind-the-scenes dioramas of circus life, as experienced by LeRoy during the 1930s when he was a clown with the Cole Brother's Circus.
More information about this exhibit is coming soon.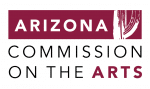 This exhibit is supported in part by the Arizona Commission on the Arts, which receives support from the State of Arizona and the National Endowment for the Arts.