Automata: Miniature Mechanized Narratives
October 4, 2018 - January 27, 2019
This exhibit, from the collection of metalsmith Michael Croft, includes over forty miniature machines created by twenty-three contemporary automata makers from around the world.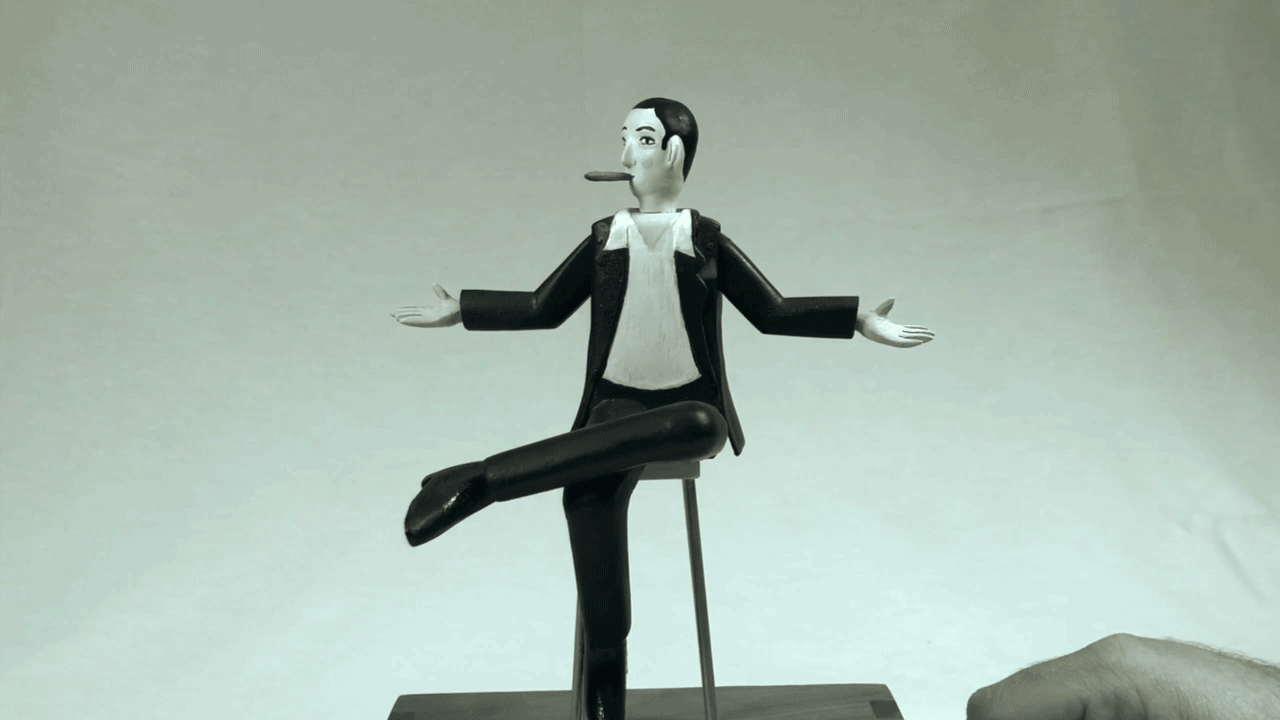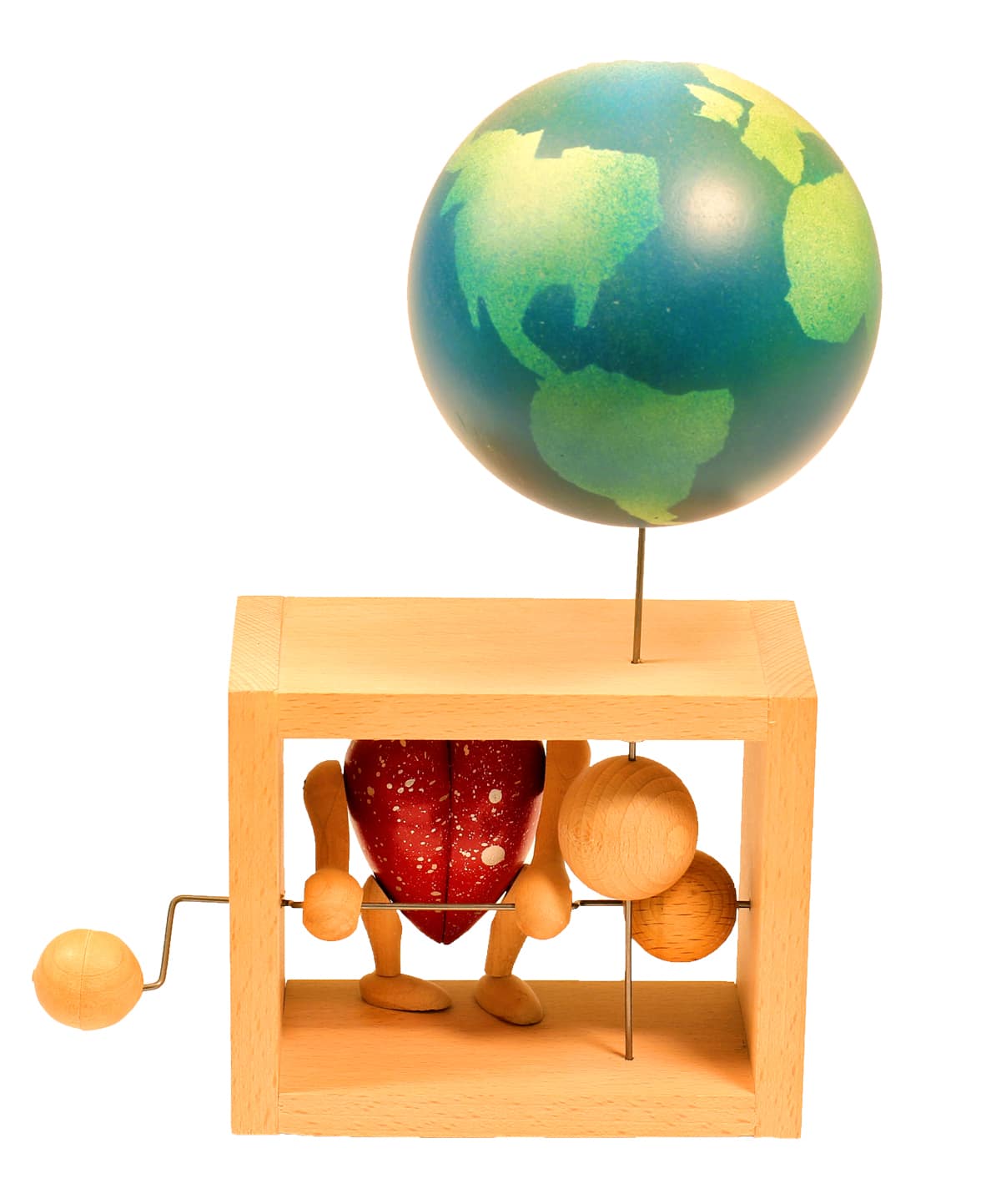 Contemporary automata combine problem solving and mechanical ingenuity with imaginative storytelling, delighting both the eye and the mind. Most modern automatons do not use clockwork mechanisms, which were once a prominent tool for animating the pieces. Instead, many artists invite the viewer to participate in the work by winding up the crank, which builds the narrative, with the punchline revealed through its release.
Historically, an automaton's mechanical elements were hidden from view. Quite the opposite is true today. In most cases, modern automata prominently feature the mechanisms that bring the scene to life. What's more, many automata artists like to blur the narrative scene and the engineering for added effect. Love Makes the World Go Round, by Malcolm Brook, in which a heart uses limited friction to rotate a sphere, which in turn, rotates another sphere, causing the world to "go round" is the perfect example. At times the mechanics may seem to be hidden from view but are actually right out in the open – if you pay close attention. Pierre Mayer's Fechner's Levitation on Stool is a great example of this type of illusion. As the figure rises off its stool, you may ask, "how did he do that?" but if you are observant, you will notice that the lower leg of the figure is gliding along the stool's leg.
Contemporary automata are made from a variety of materials. The mechanical elements might be straightforward wooden wheels, camshafts, levers and pulleys positioned below a narrative scene, but not necessarily. Some artists, such as Keith Newstead, place wheels, levers, and gears in the center of the piece. When doing so, Keith uses attractive materials like brass, wire and wood, creating an elegant mechanical presentation. Ark of Reticent, by John Morgan is an example of an automaton in which the mechanism plays double-duty: the gadgets are sculpted and painted characters narrating the scene. Artists such as Simon Venus and Robert Race use found objects in pun-ny ways to create their automatons. Whether whimsical, clever, absurd, or amusing, these miniature, mechanized narratives always delight.
Michael Croft, Artist/Collector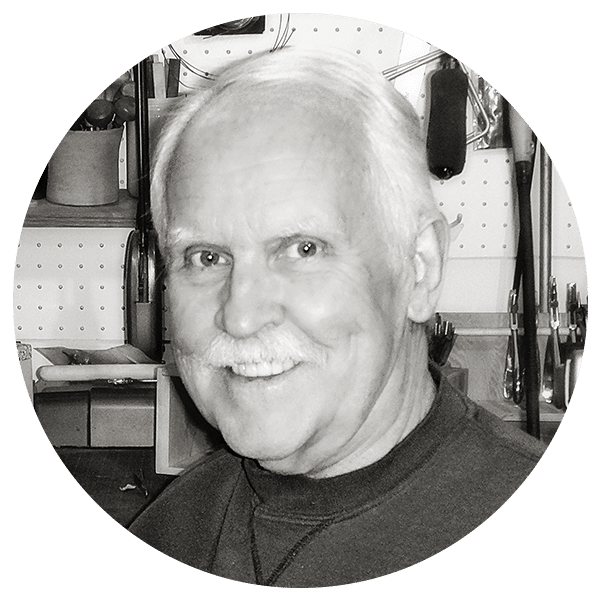 Michael Croft is Emeritus Professor of Art at the University of Arizona where he taught from 1972 through 2003.
During a trip to England in 1989, he stumbled upon the Cabaret Mechanical Theatre. Located in Covent Garden in London, the CMT was an eclectic blend of gallery, shop, penny arcade and museum, featuring push button and coin operated exhibits displaying a dazzling array of mechanical toys which were called "automata".
He started collecting contemporary automata about 6 years later and struggled to educate himself about mechanics and movement. He used it to introduce the rudiments of kinetic movement to students in his design classes at the U of A. His personal collection is now comprised of almost 100 artist-made works along with countless prototypes, models, and kit pieces.
He began to create his own mechanical works in 2001, and his creative energies have been focused almost entirely upon automata since then. As he states, "I think it may have gotten a little out of hand."
As a recognized authority on contemporary automata, he has shared his love and knowledge of the art through lectures on automata and workshops in automata construction across the country at such venues as the University of Wisconsin, Syracuse University, Cabrillo College and Haystack School of Crafts, among others.
Fifty photographs of his collection and mechanics appear in Figures in the Fourth Dimension, the new definitive treatise on mechanical figurative movement. More examples of his own work and his collection can be seen be visiting his website at www.contemporaryautomata.com.
Opening Reception for Museum Members– Thursday, October 4, 2018,  5pm–6:30pm
Artist Demonstration with Michael Croft– Thursday, October 25, 2018,  10am–12pm
Artist Demonstration with Michael Croft– Thursday, November 15, 2018,  10am–12pm
Artist Demonstration with Michael Croft– Thursday, December 13, 2018, 10am–12pm
Flyer Workshop: An Introduction to Automata, taught by Michael Croft, registration required, Saturday, December 1, 2018 | 9am–5pm