Ara Bentley's Addams Family Mini Mansion
October 5, 2021 – November 5, 2023
Texan Ara Bentley became a YouTube sensation after starting her channel, Bentley House Minis, to share progress on her miniature Addams Family mansion. After nearly 10 years, Bentley completed the 16-room mansion in 2020. The mini mansion will now be on view to the public in an extended spotlight exhibition at The Mini Time Machine Museum of Miniatures.
The Addams Family Mini Mansion
Ara Bentley's foray into miniatures stemmed from her experience building models as an architecture student. When she began working in the field, she soon realized that making models was not a common architectural practice, and it became something she missed. To remedy this, Bentley purchased a dollhouse kit in 2009, and began making what would grow to become her Addams Family Mini Mansion. Bentley says, "I was inspired by the Addams family because they are a loving family who are not afraid to be themselves." She quickly fell in love with customizing the kit and creating incredibly detailed furnishings and accessories.
Seeking to share her passion with others, Bentley joined an online group of miniature enthusiasts which provided a forum for indulging in her new project and an opportunity to enhance her skill. When the online forum closed in 2016, she started her own YouTube channel, Bentley House Minis, to share her Addams Family Mini Mansion project with others. At that time, she was seven years into the making of the mansion and had completed about half of it. After just a few posts, online interest in the project grew, expanding her YouTube channel audience quickly.
Based on both the 1960s television series and the Addams Family movies from the 1990s, Bentley's Addams Family Mini Mansion was ten years in the making. Over that time, she added multiple kits and custom builds to the original Real Good Toys Alison Jr Kit. The finished project is comprised of fiberboard, plywood, and foam board. Most of the items in the house were handmade by Bentley, who shared her creative process as tutorials with her social media followers. Not all of the accessories are handmade; she included some found objects and store-bought miniatures. Other miniaturists participated in swaps or sent gifts of miniatures for the project, as well. One of the final additions to the house is the tree in the yard, added in 2019 as an homage to the most recent Addams Family animated film.
Virtual Artist Talk with Ara Bentley
On Thursday, September 23, 2021, viewers from around the world joined The Mini Time Machine Museum of Miniatures' Executive Director Lisa Hastreiter-Lamb via Zoom for her interview with miniaturist and YouTube sensation Ara Bentley to discuss Bentley's mega project: the Addams Family Mini Mansion. Watch the recording here.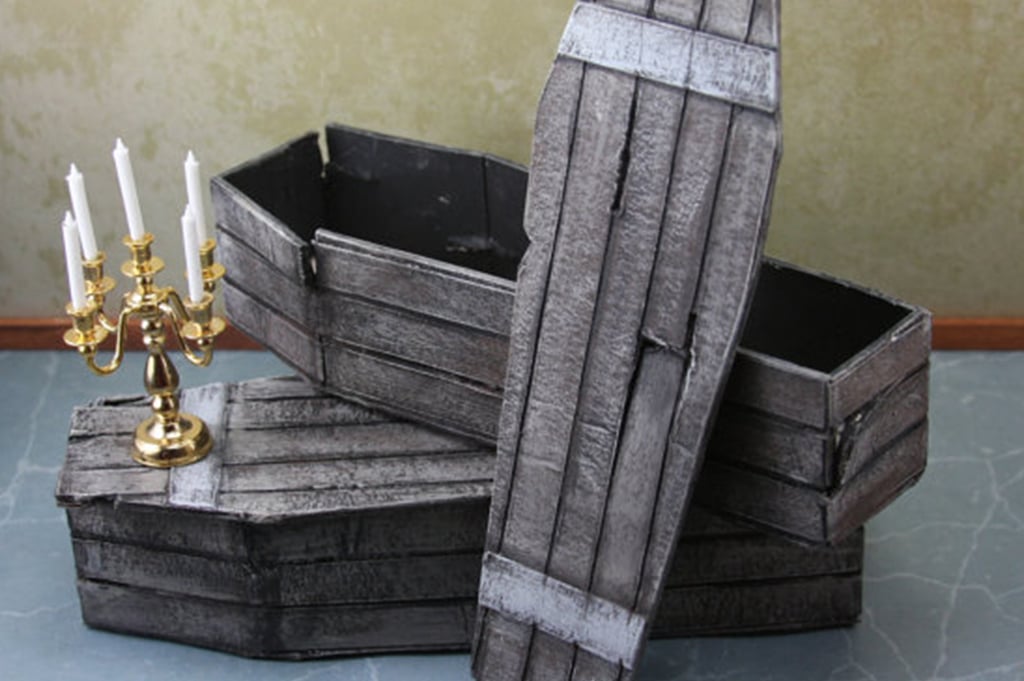 Creepy Coffin Workshop with Ara Bentley
Join Ara Bentley for this beginner-level workshop to make and distress a 1:12 scale miniature coffin.
Sunday, October 3, 2021 from 1pm–3:30pm
$45 / $40.50 Museum Members. Advance registration is required for this program.