Alderley Manor- An Edwardian Christmas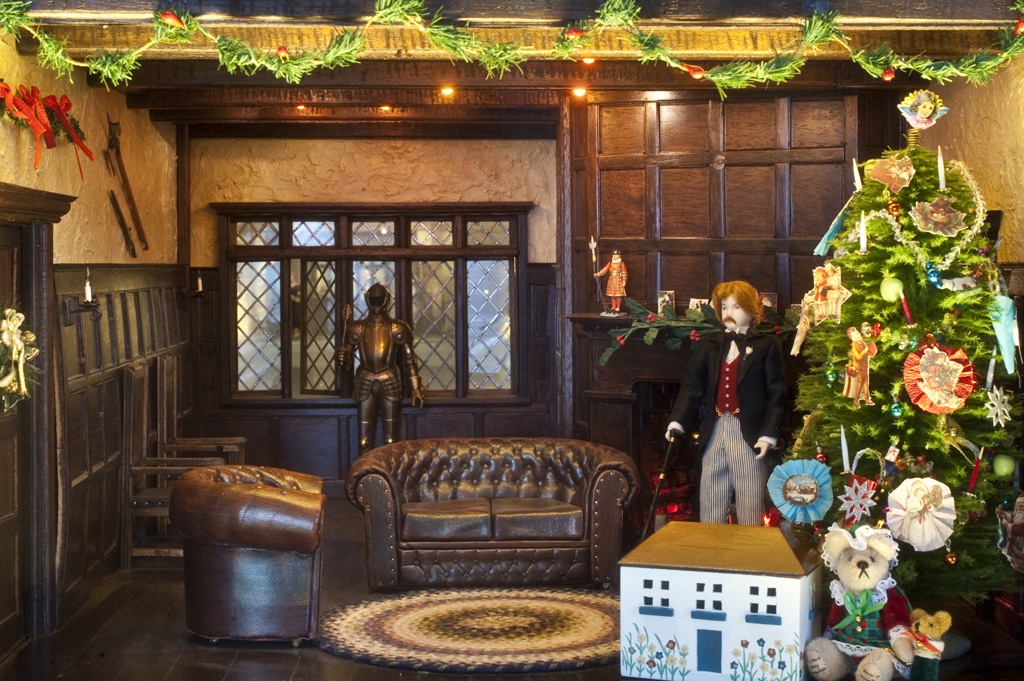 Decorated for an Edwardian Christmas during a Wee Winter Wonderland as part of Holidays Around the World and Through Time.
Pam Throop
1985
1:12 scale
HAPPY CHRISTMAS FROM ALDERLEY MANOR!
The Christmas season in Edwardian times was a festive celebration that warmed hearts when cold winter winds chilled bodies. The house was decked with boughs and wreaths of ivy, yew, laurel, mistletoe and holly. People expressed holiday spirit and good wishes to their relatives and friends by sending Christmas postcards. The turn-of-the-century brought more advanced printing, photography and coloring techniques resulting in affordable high quality cards. Many featured photographs or illustrations of children playing outdoors in the snow or depictions of Santa. Millions of postcards were sold. Notice the holiday greeting cards and postcards on the mantel near the Christmas tree.
When German Prince Albert married Queen Victoria, he set up a Christmas tree at Windsor Castle as was tradition in his home country. The English were enamored with the decorated fir and wealthy families embraced this new tradition. The tree was cut and decorated on Christmas Eve. Alderley Manor's tree, located on the first floor, is typical of the period. It is decorated with predominately hand-made trims and ornaments including: bows of gold ribbon, jewels (which may be made from broken necklaces), paper festoons, fruit and nuts. Glass ornaments from Lauscha, Germany were also popular with the well-to-do. Candles clipped to the branches in metal holders made the tree sparkle. You may also see small toy presents such as penny whistles and small toy soldiers hung on the tree.
Like the Christmas tree decorations, many gifts were hand-made items including candies and sugared nuts or embroidered handkerchiefs. Children usually received only one present. The children of Alderley Manor were particularly lucky as they are receiving the prized toys of the day, a doll's house, and the newly introduced teddy bear. Edwardian society was generous when it came to giving to others less fortunate than oneself, particularly at Christmas time. The middle and upper class presented less-fortunate families with hampers of food and presents.