SDMB Take-N-Make SnapTite Kits
October 31, 2020 @ 1:00 pm - 3:00 pm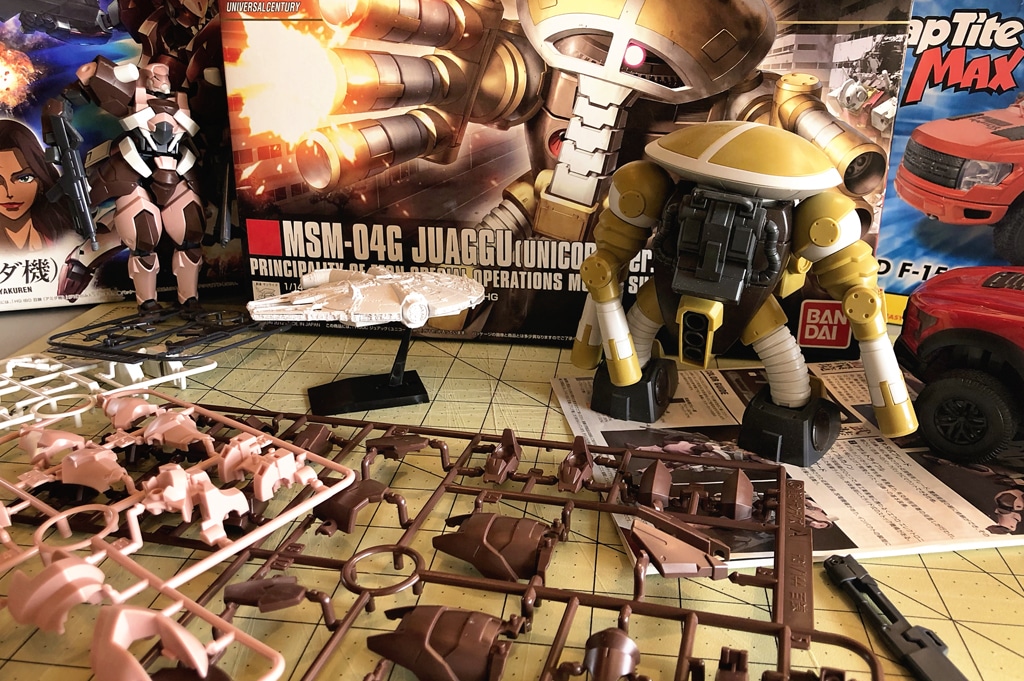 Model On! This Take-N-Make with members of the Sonoran Desert Model Builders (SDMB) is an online/ at home program suited for kids between six and ten years of age.
Saturday, October 31, 2020 from 1pm–3pm
$ 7 / $5 museum members, per participant
Registration is required. Limited to 28 participants.
How it Works:
Register for each child who would like to make a kit. We'll email you with details on how to pick up your kit and join the Zoom virtual workshop.
Pick up your kits at the museum prior to the live Zoom event on October 31, 2020 from 1pm–3pm.
Join us for the Zoom virtual workshop where members of SDMB will be on-hand to answer questions and provide tips.
Additional Info:
The SnapTite kits for this project have been generously donated by members of the Sonoran Desert Model Builders. Registrants will not have their choice of kit. Kit subjects may include vehicles, action figures, sci-fi, or other. SnapTite kits are designed for the abilities of children ages 6-10, and each kit will include manufacturer assembly instructions. The Zoom virtual workshop will not provide step-by-step instruction. Rather, it will be a time for kiddos (or their adult helpers) to ask specific questions about assembling their kits, and for the kids to share their work. Seeing as it's Halloween, costumes are encouraged!
Refund Policy
Kits that are not picked up or claimed by November 15, 2020 will be considered a donation to TMTM. Refunds will not be possible except in extreme situations or if the program is cancelled by the museum. Refund requests must be submitted by email to mackenziem@theminitimemachine.org by the end of the month.
Terms and Conditions
The Mini Time Machine Museum of Miniatures is committed to ensuring a safe and welcoming environment for all participants at its meetings or events. A museum staff member will be monitoring chat logs and content to ensure that all behavior is appropriate and respectful. Anyone participating in inappropriate behavior (including, but not limited to, demeaning, discriminatory, or harassing communication, bullying, solicitation, or the use of profanity) may be asked to leave the online meeting without a refund. Participants are advised not to share any personal information and practice internet and online safety measures when attending the virtual meeting. We encourage adult caregivers to view and participate in the Zoom presentation with any minors and to notify museum staff as quickly as possible if they have any concerns about the behavior or content.
Notice of Filming and Photography
By participating in this program you consent to photography, audio recording, video recording and its/their release, publication, exhibition, or reproduction to be used for news, webcasts, promotional purposes, telecasts, advertising, inclusion on websites, social media, or any other purpose, by The Mini Time Machine Museum of Miniatures (TMTM), its affiliates and representatives. You release TMTM, its officers, and employees, and each and all persons involved from any liability connected with the taking, recording, digitizing, or publication and use of photographs, video and/or sound recordings. By participating, you waive all rights you may have to any claims for payment or royalties in connection with any use, exhibition, streaming, webcasting, televising, or other publication of these materials, regardless of the purpose or sponsoring of such use, exhibiting, broadcasting, webcasting, or other publication irrespective of whether a fee for admission or sponsorship is charged. You also waive any right to inspect or approve any photo, video, or audio recording taken by TMTM or the person or entity designated to do so by TMTM.
Questions? Contact our Education Director, Mackenzie Massman at 520-881-0606 ext. 113 or email mackenziem@theminitimemachine.org