Essence of Island Books Collection Cameo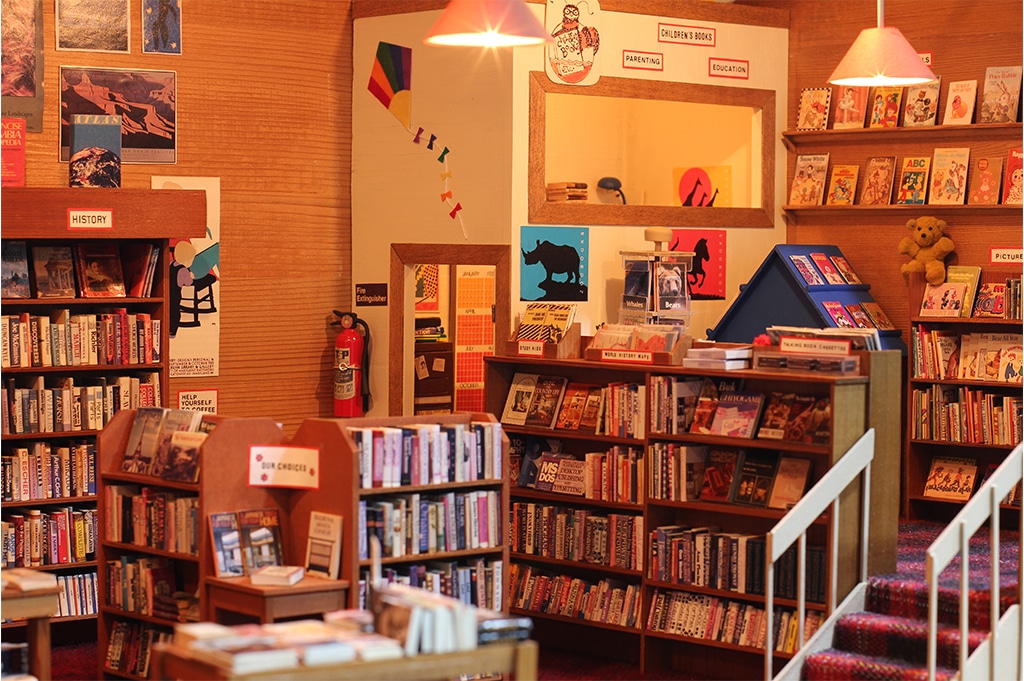 Essence of Island Books, Etc., Annie Herzfeld, 1988, Mixed Media, 1:12 Scale, gift of Annie Herzfeld, 2020.7.1
---
---
Essence of Island Books, Etc. was donated to The Mini Time Machine Museum by miniaturist Annie Herzfeld. Completed in 1988 and created in 1:12 scale, where one inch in miniature equals 12 inches in full-scale, this contemporary piece is based off an actual independent bookstore named Island Books, which has been in operation on Mercer Island, Washington since 1973.

Known throughout the miniature community for her remarkable contemporary settings, this piece was Annie Herzfeld's first attempt at recreating an actual place. As an avid lover of both books and miniatures, Annie joked at the time that it was inevitable that these two hobbies would eventually unite. The bookstore owners welcomed Annie's enthusiastic project, allowing her to measure their shelves, take countless Polaroid photos from every angle, and even gave her a complimentary diagram of the store's layout.

Viewer's will delight in the nostalgic glow of this bookstore, packed full of charming details including the upper-level children's area with a playhouse reading nook. Nearly everything in the room was handcrafted by Annie herself, along with the help of her husband John, who built and electrified the roombox according to her design. There are approximately 1,500 books in this piece, which Annie arranged by subject matter and carefully positioned according to their shape and size.

When this piece was featured in the magazine Nutshell News in 1989, Annie revealed that she knew she had truly captured the essence of the bookstore when her neighbor's five-year-old daughter peered into the children's area and excitedly exclaimed, "I was there! I was there!" We're sure that anyone who sees this loving recreation will want to visit Island Books too!
---
The Mini Time Machine Museum of Miniatures is a nonprofit 501(c)3. Our mission is to preserve and advance the art of miniatures. A donation to our Collection Fund allows us to properly care for, and expand, our permanent collection for the enjoyment and education of people around the world for generations to come. Please consider making a donation to support this work.