Colonial Room Collection Cameo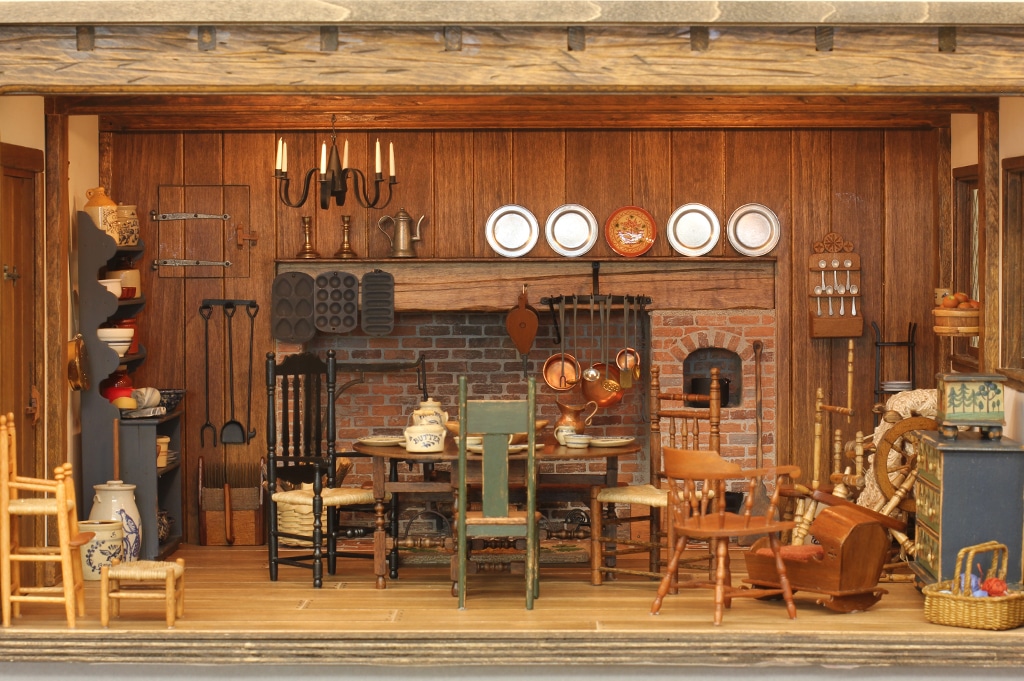 Untitled (Colonial Room), Shirlee Greenberg, c. 1991, mixed media, 1:12 scale, gift from the Family of Shirlee Greenberg, 2020.4.001
---
---
One of our 2020 acquisitions is an untitled Colonial room box by the late Shirlee Greenberg. Shirlee was an accomplished miniaturist, an IGMA* Fellow in the needlework category, whose work was profiled in Miniature Collector, Nutshell News, and Newsday. Celebrated for her intimate and personal roomboxes and fine needlepoint work, Shirlee created this particular piece in 1991, originating with a class taught at the IGMA* Guild School by IGMA Fellow Carol Hardy. The room box was assembled by Shirlee Greenberg herself, and carefully curated with artisanal miniatures to be authentic to the American Colonial era. These artisan pieces include stunning reproduction work by Bert and Norma Oldham of Oldham Studios, including the spinning wheel and the delightfully curious cranberry picker. There is a handsome salt-glazed stoneware butter churn and numerous plates by Sid and Eileen Vernon, as well as a charming assortment of pottery by Jane Graber, including her pitcher and bowl set, butter dish, and a chamber pot. There is ironwork by Mary Carson, stellar wooden reproductions by Jack Chasteen and Jim Ison, and a cradle by Larry Garnet. Carol Hardy, renowned for her exquisite sleighs and furniture, made the table and the rush seat chairs.
Shirlee Greenberg had a diverse background in the arts, which included photography, painting, and textile design. As a graduate of the Pratt Institute, her unique career path included greeting card design and working as a colorist for the Superman Comics; but in the 1980s, Shirlee dedicated her talents and wide-ranging skills to the art of miniatures, eventually being recognized as an IGMA* Artisan and IGMA Fellow. In an interview with Nutshell News in 1994, Shirlee says, "I count those two honors among my most cherished achievements."
We are thrilled to have Shirlee Greenberg's Colonial room box as part of our permanent collection, inviting our visitors to reflect on the Colonial era of American history through the wonder of fine-scale miniature reproduction.
*IGMA is the International Guild of Miniature Artisans
---
The Mini Time Machine Museum of Miniatures is a nonprofit 501(c)3. Our mission is to preserve and advance the art of miniatures. A donation to our Collection Fund allows us to properly care for, and expand, our permanent collection for the enjoyment and education of people around the world for generations to come. Please consider making a donation to support this work.